Wendy Diamond is a Social Entrepreneur, Humanitarian, Endangered Animal and Rescue Advocate, World's Premiere Pet Lifestyle expert, Best-Selling Author, and TV Personality. Diamond is heralded as a trailblazer in the animal world; dubbed "Martha Stewart of the Milk Bone Dish" by The New Yorker, and crowned the "Canine Queen" by Forbes.
In 1999, after rescuing her first shelter animals (a purebred Russian blue she named Pasha, and then a Maltese named Lucky), Diamond became ardently motivated to help save the 12 million animals euthanized in shelters every year. Wendy founded Animal Fair Media with a specific mission in mind and spirit: to save disenfranchised, helpless animals in shelters as well as endangered wildlife worldwide by promoting animal welfare and rescue, healthy pet lifestyles, and responsible breeding. She refused to just sit and roll over – she launched the premier lifestyle media company specializing in the promotion of animal welfare and rescue. She reined in the leash and got busy.
Diamond coined the term "pet-lifestyle", and in 1999, she launched Animal Fair , the first magazine focusing on the protection and promotion of fairness to animals while simultaneously bridging celebrity/pop culture with pet rescue. Animal Fair featured celebrities promoting animal welfare and advocacy, pet parenting, pet lifestyle, pet travel, health tips and pet art. Renée Zellweger appeared on the cover of the premiere issue in 1999, and since then, A-List celebrities including Beyoncé Knowles, Halle Berry, Regis Philbin, Charlize Theron, Pamela Anderson, Ashley Tisdale, Shania Twain, Jessica Alba, Jessica Biel, Serena Williams, Kim Cattrall, Matt Leinart, Hilary Duff, Eric McCormack, Kristen Bell, Bo Derek, Diane Lane, Alicia Silverstone, Hayden Panettiere and LeAnn Rimes have all graced the cover alongside their pets. The New Yorker called Animal Fair "the first to cross-breed two American passions: celebrity and pets."
Diamond revolutionized the pet industry by creating premiere pop culture benefits to endorse animal adoption, advocacy, and fundraising, including the Yappy Hour® cocktail parties, the foremost pet celebrity fashion show called Paws For Style®, Howloween, St Pawtricks Day, all with proceeds benefiting animal rescue. She quickly realized that she could direct her business agenda to promote animal rescue, and she has been doing that ever since!
Since the establishment of Animal Fair Media, the number of animals euthanized annually has dropped by 58 percent, from an astonishing 12 million to 4 million — but by NO means is she stopping there! To this day, organizations across the country and the world alike emulate Wendy/Animal Fair's events to drive the success of their own organizations in their communities. As a pioneer of the industry, Wendy is looked to as a leader in the animal fairness community. Charities worldwide also mirror Wendy's pet-lifestyle approach in their fundraising for local community animal organizations.
In her never-ending quest to promote animal welfare, rescue, and the conservation of endangered species, Diamond was motivated by her furry muse, shadow, and inspiration: Lucky. Together they created a truly unique media mindshare where the marriage of charity and celebrity bolstered animal welfare public awareness. Lucky served as the Katrina Pet Memorial Chair Dog, Barkus Grand Marshall, was inducted into the Guinness World Records, and hosted thousands of fundraisers in her lifetime. She was the only civilian dog admitted into the United Nations, and she was the inspiration for the White House Pet Correspondents Benefit. Lucky's relationship with Wendy evolved into unconditional love, loyalty, and a genuine bond that inspired her to make a difference in the world by defending animals.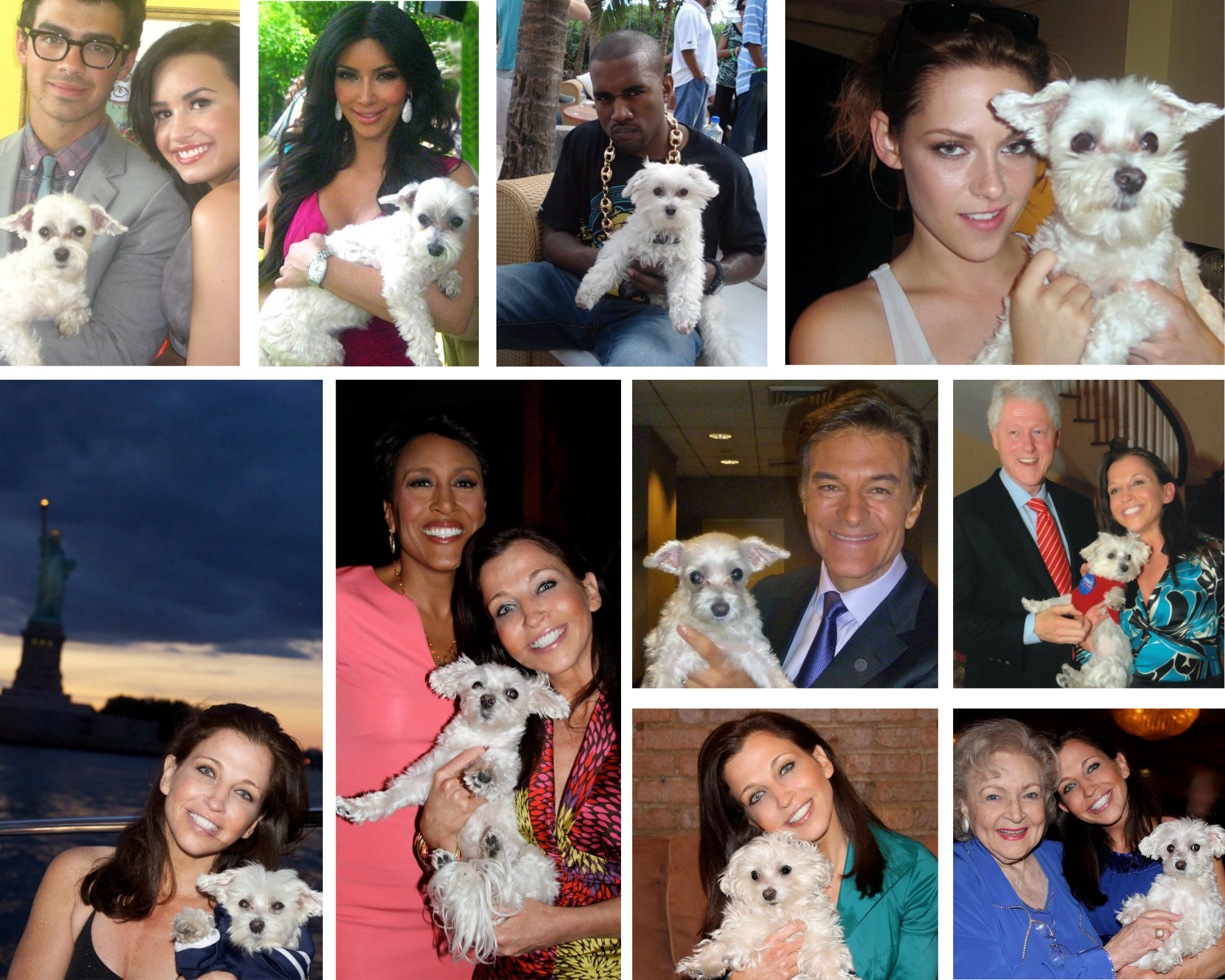 Despite its many hardships, life can be absolutely magical in its spontaneity. Just before Lucky died, a friend asked Wendy to foster a senior dog named Baby Hope. She never planned on keeping the dog at the time, but the little Coton de Tulear, though a little ruff around the edges, was paw-sitively heaven sent. The morning Lucky passed, Diamond awoke to find Baby nestled right up next to her. It was as if they had their own spiritual canine code. Baby comforted Lucky as she went to the big doggie park on the other side. Since then, Wendy decided to adopt Baby after fostering her for three weeks. The Celebration of Lucky's Life and Baby Hope's Wedding  was on  July 12, 2013 with a Guinness World Record and aired on TLC's hit show Cake Boss and Conan O'Brien! Wendy is proud to call herself a "Foster Failure." 
Equipped with a charismatic presence and boundless pet knowledge, Wendy is constantly promoting animal welfare, adoption, and healthy pet lifestyles through her own Facebook, Twitter, Instagram and various media outlets including; Today Show, Good Morning America, FOX News, CNN, The View, E!, MTV, VH1, The New York Times, Vogue, People Magazine, The New Yorker, Oprah, and many others! Wendy created, hosted, and served as the Executive Producer for the NBC pilot Mutt Makeover and the "Paws for Style" special on FOX, wrote and produced the documentary In Search of Puppy Love and starred in the Style Network series Relationship Rehab. Wendy and Lucky were judges on the CBS hit series Greatest American Dog and WE Network's America's Cutest Puppy. You can also catch Wendy popping up on Bravo! TV's- Real Housewives of New York, Mad Fashion, and on two episodes of  TLC's Cake Boss — episode one with the world's most expensive cake and our very own Most expensive Pet Wedding in History!
For Wendy's latest best-selling book, How To Train Your Boss To Rollover! Wendy interviewed billionaires and industry alpha dogs such as Virgin's Richard Branson, Spanx's Sara Blakesley, Patriarch Partners CEO Lynn Tilton, Subway CEO Fred DeLuca, and more to research what "treats" would make them roll over. Craig's List founder Craig Newmark, who wrote a quote for the book, inspired Wendy to dedicate her book tour to Veterans with PTSD, with rescued service dogs through K9s For Warriors. " Not just for dog lovers(including me), How to Train You Boss to Roll Over is a real serious guide to real-world situations in work life. It delivers practical advice that can really make a career difference. I wish I had it thirty years ago." – Craig Newmark, Founder of Craigslist
Wendy proudly holds 3 Guinness World Records: Lucky Diamond is The Animal Photographed with the Most Celebrities, with 363 celebrities (Lucky's Barkstory); Baby Hope had the most expensive pet wedding in history, raising money for a wing at the Humane Society of New York, and Wendy herself received a Guinness for the longest curtsey relay in 5 minutes of 314 curtsies. In addition to these world-record shattering awards, Wendy joined the ranks of former presidents, media icons, humanitarians, and more when she was awarded the Ellis Island Medal of Honor. Other recipients include President Bill Clinton, Muhammed Ali, Frank Sinatra, and Rosa Parks, just to name a few. This honor is reserved for accomplished, admired humanitarians who are recognized for their passion and prominence. Thanks to her amazing experiences with her endearing pets, Wendy has penned the best-selling books: Chicken Soup for the Soul: What I Learned from the Dog, What I Learned from the Cat, My Cat's Life, My Dog's Life, How to Understand Men Through Their Dogs, How to Understand Women Through Their Cats , It's a Dog's World: The Savvy Guide to Four-Legged Living. and How To Train Your Boss To Rollover.
Wendy continues to extend her wealth of animal and entrepreneurial knowledge, continuing to blaze her trail in the animal kingdom. She serves as a keynote speaker on topics such as animal rescue, endangered animals, pet lifestyle, women's empowerment in business and designing your own passionate career at universities and conferences around the world, from Harvard University to the United Nations. In addition to her work for animal rescue and welfare, she's an avid endangered species advocate, Grand Marshal of Barkus, Serves on the Animal Welfare Leadership Council of the Classy Awards, Chairwoman of the Katrina Pet Memorial (Lucky was the Chair Dog) and has authored two Best Selling Cookbooks with Madonna, Aerosmith and other artists: A Musical Feast and All Star Feast. She also serves on the Board of Advisers for the Ellis Island Honors Society, Grey Muzzle Foundation, Humane Society of New York and Global Women in Blockchain.
In the next five years, Wendy Diamond would like to see a movement to establish a universal animal welfare policy in this country, as well as globally. The national initiative would be a comprehensive package that includes; a "No-kill" nation, responsible breeding, FDA stricter regulations on pet food, a national animal rescue and shelter database, and stiffer penalties and punishment for animal cruelty, including puppy mills. The big-picture goal would be for a worldwide shift in the way humans view animals; they are not chattel, but living and breathing creatures with souls, feelings, and personalities.