Lately, the music industry has been buzzing loudly with rumors that Justin Bieber has found real love! It's true; the 21-year-old pop star recently admitted that he is in love, of the furriest kind – puppy love.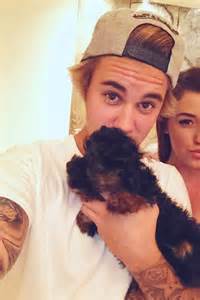 During an interview with The Morning Show's Z100 host Elvis Duran, Bieber vocalized, "Yes. I am in love. Her name is Esther, she's my little puppy! She's adorable. She's a Silky Terrier. She makes me smile."
It appears Esther has inspired Bieber to become a better person and pet parent (second chances after his monkey Mally mishap). Bieber has turned over a new leaf, and leash on life by surrounding himself with healthier influences. Bieber revealed, "I just want to be around people who I feel are supporting me, uplifting me, and making sure I'm the best version of myself because there are so many people in this industry who just want to keep seeing me fall."
Justin Bieber recently released the first single, What Do You Mean, a tease from his new album drop expected on Friday, November the 13th. Spooky – BOO – Bieber Is Back!
Bieber posted on Twitter, "Say hello to the newest member of the bieber family 'Esther.'"
On National Puppy Day, Esther's Twitter fan account launched, and the first post said, "I feel safe in your arms," — Esther Bieber (@EstherThePuppy).
Is there a new furry tat in Bieber's future?
Animal Fair Media wishes Justin Bieber and Esther all the barkin' best; healthy inspiration and a happy home! Do we hear a new Bieber song soon titled: Baby Pup Esther?
For the Best that Pet Lifestyle and Animal Welfare has to offer follow Wendy Diamond on Facebook, Twitter, and right here at AnimalFair.com!
Comments
comments