Exercise Needs for Pets
Maintaining good healthy habits for your pet contributes to their physical well-being and how they develop as they grow. Healthy pets often demonstrate good behavior and are less likely to be infected with illnesses. They have high energy levels and enjoy a better quality of life. 
Scheduling regular checkups will help in improving existing healthy habits. One of the fundamental ways vets promote pet health is through regular wellness checkups. Dunedin at-home vets offer mobile vet examinations. They provide regular veterinary checkups while monitoring your pet's overall health. Monitoring your pet's health is especially important in Florida's hot climate. 
The Importance of Exercise for Pets
Consistent exercise routines for pets are essential to the pet's overall physical health. Health issues like diabetes, joint problems, and cardiovascular diseases can be prevented through good health and nutrition. 
Exercise promotes muscle development and coordination, ensuring that pets can function optimally. Exercise not only benefits pets' physical health but also provides mental stimulation.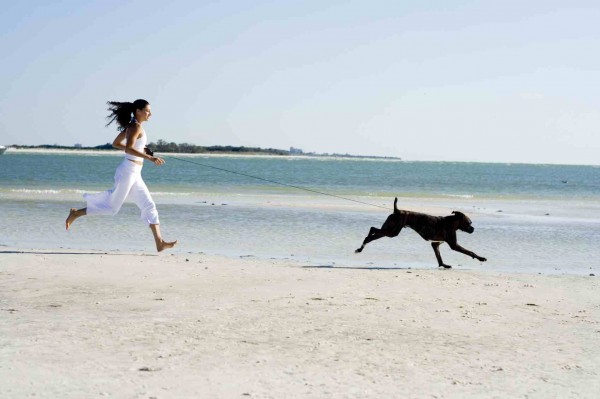 Benefits of Exercise for Pets
Ensuring that your pet participates in exercise often helps burn calories and maintain a healthy weight. A nutritious diet is the foundation of good health for your pets. 
A balanced diet and enough exercise ensure the pet maintains a healthy body weight while reducing the potential risk of obesity-related health problems. 
Pets have a lot of energy that exercise needs to release adequately. Regular exercise helps them expend their energy positively and control, promoting a calmer and well-behaved pet.
Guidelines for Exercising Pets
Different pets have different exercise requirements. Smaller breeds need less exercise compared to large species. Age, physical condition, and breed characteristics are all factors that should be considered when determining the appropriate amount and intensity of training for a pet. 
To fully benefit from exercise, pets should have a consistent exercise routine. Regularity enables pets to anticipate and enjoy their exercise sessions. Regular exercise promotes overall well-being. Providing a variety of exercise activities ensures that different muscle groups are engaged. Pets can benefit from a mix of aerobic exercises and outdoor activities.
The Benefits and Types of Exercises for Pet Health and Well-Being
Walking
Walking is a fantastic exercise suitable for most pets. It provides physical stimulation, helps them maintain a healthy weight, and promotes cardiovascular health. Daily walks also offer great opportunities for them to explore their surroundings and engage their senses.
Running and Jogging
For more energetic pets, running or jogging can be a great exercise. This high physical activity allows your pet to maintain moderate energy. You will notice changes such as consistent weight management and other related healthy habits. To reduce the risk of injuries, ensure that running or jogging is done on grass, trails, or any other soft surface that will be gentle on their joints.
Playing Fetch
Playing fetch is an excellent way to engage your pet in physical exercise. This activity encourages them to run, jump, and use their coordination skills. It also helps strengthen their muscles and promotes mental stimulation. Pet owners can initiate a game of fetch indoors and outdoors using toys, balls, or frisbees.
Swimming
Swimming is a low-impact exercise that is gentle on the joints, making it ideal for pets with certain health conditions or those recovering from injuries. Most house pets are natural swimmers and can enjoy water exercises. Swimming helps improve muscle tone, enhances cardiovascular fitness, and provides a refreshing alternative to exercise during the hot summer months.
Agility Training
Pets must be led through a rigorous obstacle course in agility training. This motivates them to jump, maneuver around obstacles like poles and tunnels, and ascend ramps. In addition to providing cerebral stimulation, this type of exercise helps increase physical strength, better coordination, and confidence. Agility training is popular with smaller animals.
Puzzle Toys and Treat Dispensers
Puzzle toys and treat dispensers engage our furry friends mentally while motivating physical activity. These interactive toys keep them entertained as they work through intricate puzzles to access treats or toys. This mental stimulation sharpens their problem-solving skills, wards off boredom, encourages healthy exercise, and fosters active participation.
Conclusion
Explore activities that align with your pet's age and breed. Whether it involves daily walks, engaging playtime, or interactive toys. Regular physical activity is essential for promoting your furry friend's health and overall well-being.
Pet owners should carefully consider the physical abilities of their companions. Consider interests and underlying health conditions when deciding on the most suitable exercises.
By incorporating a routine of regular exercise into the daily lives of their furry friends, owners can ensure that their beloved companions remain content, healthy, and mentally engaged throughout their entire lifespan.
Comments
comments