Is there anything out there cuter than a child with a dog? Possibly not! Children and dogs tend to develop very strong bonds and it couldn't be any more adorable. The two are more than just a dog and a kid, they're lifelong pals!
Kids absolutely love to play with dogs, and dogs love to play back! However, not every kid and dog interaction is a good one. In fact children are the victims of half the estimated 4.7 million dog bites in The United States each year. OUCH!
Dog bites can more than often result in permanent scarring and extreme pain to children. This also affects the dog too! Many dogs that attack children are relinquished to a shelter. If so, the dog has a low probability of adoption, which can lead to being euthanized. The worst part is that many incidents could be avoided by understanding certain actions to take when children interact with dogs!
Here are some ways to prevent YOUR or ANY child from scary dog attacks!
 

Teach your child how to properly greet a dog. Let your child know there are certain ways to approach a dog and that tugging on their tail or throwing things at them is not the right way. This will only anger the dog, making it more vulnerable to attack. Also remind your child that if it's approaching someone else's dog to always ask first before doing so!
Keep an eye on the scene at all times! Keep an eye out for any rough play that might go on. You may be able to predict a dog is getting angry with the child before an attack occurs.
Avoid free roaming dogs. Tell children to not interact with loose dogs. You don't know anything about these dogs, keeping, as much distance from the dog as possible is essential.
Never use physical force on the dog. Some dogs will ignore the fact that a child is smacking them in the head but there are plenty of dogs that wont stand for it. Let the child know to be easy with the dog!
What to do if the dog becomes too aggressive. Let your child know that incase the dog attacks to curl into a ball and protect head and neck with arms. This will prevent any harmful damage until help arrives.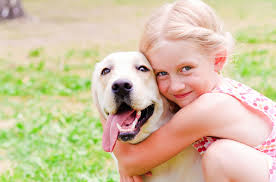 With the proper guidance and information you can help your child develop safe friendships with dogs! You can use these helpful hints in the future to ensure children safety around dogs. Remember the experience between a child and a dog should never be traumatic!
For the Best that Pet Lifestyle and Animal Welfare has to offer follow Wendy Diamond on Facebook, Twitter, and right here at AnimalFair.com!
Comments
comments