Nestled at the edge of Middleburg, VA, in the heart of Virginia horse country, the new Salamander Resort & Spa is a lush and luxe vacation get-away, with a distinct appeal for equine enthusiasts. And the horses seem to like it too!
For those of you who can't bear to be without Fido during your stay, the resort is decidedly dog-friendly. One of the few, in fact, in the entire state of Virginia. Alert the hotel in advance of your stay, and they'll furnish your room with some doggy delights. A comfy dog bed, food and water bowls, some tasty treats (organic of course), even a special doggie toy will be waiting for your four-legged guest upon arrival.
There are even specially designated rooms on the resort's ground level- to allow your pet easy access to the grounds. And in case you need to head out for some fun without Fido, On-site dog-sitting services are also provided.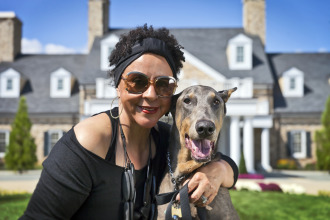 Ten years in the making, this deluxe destination is the work of Founder and CEO Sheila Johnson, co-founder of Black Entertainment Network and one of the country's top entrepreneurs. Inspired by her daughter Paige's love of horses and accomplished career in equestrian competition, Johnson has solidified the property's history as an equine lovers oasis.
The breathtakingly beautiful 340 acres was formerly owned by Ambassador Averell Harriman and his glamorous wife Pamela. The socialite couple entertained the likes of President John F. Kennedy and wife Jackie back in the day. The first lady would ride horses on the picturesque land where Salamander Resort & Spa now stands. It's a storied history of horses not lost on Johnson.
"From the moment I stepped foot on this land 10 years ago, I fell in love with it and envisaged creating an iconic retreat," says Johnson.
A decade later, her dream has finally come true. Respecting the traditions of the past, with the best innovations of the present, the resort features a world-class spa, delectable dining and full-service equestrian center. It's the latter which really sets this resort apart.
Its highlights: a gleaming new 14,0o0 square-foot stable with 22 stalls, a 28,000 square-foot riding arena and miles and miles of bucolic trails for rides through pristine countryside. Over half of the property has been placed in conservation easement, assuring its natural state into perpetuity. The accommodations even allow overnight guests to board their own horses during their stay.
Equestrian Director Sheryl Jordan has developed an innovative roster of horse programs that sound more New Age than Old School. Classes like "The Equi-Spective Experience". The session allows personal growth with one's communication styles and leadership skills, all by working one-on-one with a horse. It requires no previous riding experience, and is a favorite activity for corporate team-building.
"Horses will teach us," says Jordan, "that our thoughts do indeed manifest our reality."
So I gave it a whirl with "Snowy", a beautiful 14.3 hand Appaloosa gelding who resides at the spotless barn. He first approached me with little more than disinterest and even a bit of horsey disdain, not quite sure who this stranger was. Unsure of what to do myself, I carefully followed Jordan's advice: letting the horse free in a small ring, with only my voice and training flag in hand, I began giving Snowy instructions.
As I grew more comfortable with my authority, Snowy responded, evolving from docile disinterest to complete devotion. By the end of the session, I had won him over! Snowy was following my every command: walk, trot, canter, change directions, do it all over again. All with just the encouraging sound of my voice and a tip of the training flag. I had a new boyfriend and I was in love! I think he was a bit smitten too! The experience, for me, was empowering.
"Horses, " Jordan told me, "can teach us a lot about ourselves and can impart very valuable life lessons." I firmly agree.
Another program, the pioneering "Yoga on Horseback'", was recently recognized by Huffington Post as the best program of its kind in the country. It allows riders to get in touch with their inner Yogi while astride a horse. It allows for deep stretches that you just can't get on a mat. Forget Downward Dog, let's call it Hanging from a Horse! I was doing stretches and moves that I never thought possible!
There are other programs too. "Human/horse synergy rides" provide a customized body work program for both horse and rider using massage, acupuncture and chiropractic modalities. I didn't check it out, but it certainly sounded relaxing! And "Mindfulness Trail Rides" stress harmony between horse and rider. The miles of trails winding through the resort's dense forests allow plenty of alone time for you and your trusty steed.
In developing these programs, Jordan said her goal was to elevate the bond between horse and rider, to learn more about one's self through dealings with the animal. It gives people, she says, "an opportunity to reconnect with their authentic self." I know I walked away feeling refreshed and rejuvenated, thanks to my new pal Snowy.
But there are other equine delights beckoning as well. You don't have to just stay on property to enjoy them. Using the resort as base, there are myriad ways guests can enjoy Virginia's Horse Country.
The twice-a-year Virginia Gold Cup is always a regional draw, to watch steeplechase racers thunder over fences while you comfortably sip on a glass of bubbly. World-Class jumping events, like the Upperville Horse Show, are also popular, as are the seasonal Polo Matches featuring notable players from around the globe.
All this and just an hour's drive from downtown Washington, D.C., and 35 minutes from Dulles International Airport, Johnson's dream is now a reality, and thanks to Snowy, I'm still living the dream too!
Salamander Resort and Spa
500 North Pendleton St, Middleburg, VA 20117
(866) 938 7370
Room Rates- start at $275.00 a night
http://www.salamanderresort.com/
Comments
comments