Princess Lwoff-Parlaghy layed to rest her lion named Goldfleck, rescued from the Ringling Brothers Circus, in the Hartsdale Canine Cemetery in 1912.  1920's Celebrity, Irene Castle, buried Rastus, her pet monkey, on this ground.  Mariah Carey interred her cat, Clarence in March 1997 and Doberman, Princess in December 1998, and now our very own beloved pet icon Lucky Diamond June 2012 will be at rest within this peaceful sanctuary.  Thousands more beloved dogs, cats, birds, horses, and even turtles, are buried at the oldest pet cemetery in the United States, the first place available for grieving pet owners to give a proper goodbye to their beloved companions.  Today, there are many resources for people to deal with the death of their pets – through proper burials and virtual memorials, counseling services, and pet grief hotlines.
In Westchester County, New York, there is a rolling hill dotted with gravestones.  Unlike other cemeteries, many of the headstones have affixed to them wallet-sized photos of the dearly departed, some dating as far back as the early 1900s.  The faded and wrinkled snapshots and loving epitaphs underscore the relationship that has existed between people and their pets for as long as animals have been invited into homes.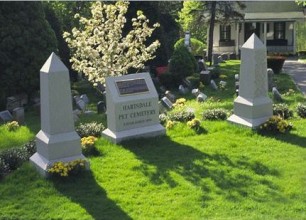 It is estimated that over 75,000 animals have found their final resting place at the Hartsdale Canine Cemetery since 1896, when veterinarian Dr. Samuel Johnson buried a grieving woman's dog in his apple orchard as a favor.  This one generous act gave way to a greater acceptance and understanding of the strong emotional bond forged with a beloved pet.  Today approximately 500 pets are buried each year at the cemetery.  Ed Martin Jr., director of Hartsdale Canine Cemetery, calls the place a celebration of life,  acknowledging that many people feel a bit embarrassed about the desire to give a proper burial to their pet, however upon one visit to Hartsdale they realize that the feeling is quite normal and that they are in good and plentiful company.
Hartsdale was the first U.S. cemetery to provide services for pets, and many others have followed suit, ranging from traditional to hi-tech memorials, counseling services, and grief hotlines.  Hollywood's oldest and most famous burial ground, the Hollywood Forever Cemetery (where a host of notables including Rudolph Valentino, Cecil B. DeMille, Bugsy Seigel, and many others are buried), added pet memorials.  These tributes come in the form of video life-stories and in true 21st century style can be accessed via the web or at cemetery kiosks.
The Internet is home to countless virtual pet cemeteries where one can post a photo, place virtual flowers and play hymns in honor of a best friend lost.  One such resource is Rainbows Bridge, a New York-based pet loss bereavement organization that provides online memorials to lost pets.  Rainbows Bridge offers space for people to create virtual interactive memorials, in order to help with the process of acceptance, healing, and closure after losing a pet.   When visiting the memorial, one can leave toys and treats, change flowers and shrubbery, post poetry and share stories.
"Losing a pet is one of the most difficult things to deal with, but the process doesn't have to be so lonesome," says Ginny Brancato, founder of Rainbows Bridge.  We provide a safe haven that says, it's OK to cry.   The organization offers people a place to  talk about their loss and experience with others who understand.
Pet loss grief counseling has surged in popularity in recent years.   The SPCA of Texas facilitates monthly pet grief counseling support meetings in Dallas.  A pet grief hotline, available for anyone, has been established as well: 1-888-ANIMALS. Calls are returned within 24 hours by a trained counselor.
The pet grief counseling program offers comfort, guidance, and support, as well as tools that can facilitate grief recovery,  including moving beyond the need for counseling.  Services include telephone, one-on-one, and group counseling.  The SPCA has also published a children's book to help children cope and recover from the loss of a pet. "Because grief is one of the least understood and little-discussed emotions, the death of a pet is often a child's first experience with mortality,"  says SPCA of Texas spokesperson.
"All responsible pet owners are destined to reach the stage where they will have to deal with the death of a beloved animal companion,"  adds Warren Cox, SPCA of Texas President.   "We want people to know that this program is available."
Pet parents today have many choices by which to honor their pets as well as support services to work through the loss.
"The death of an animal is not usually recognized as important, " says Rainbows Bridge founder.
"There is nothing worse than feeling you are alone and isolated in a time of tragedy and hearing the words, 'it was just a cat, just a dog'."   "Although our friends and family love us they sometimes cannot understand our loss.  We need to talk and we need to walk through our grief, to finally accept and understand just what it is we are feeling.  It's important to know that it is OK to cry, to be angry, to feel helpless, to feel guilty.   By talking through our feelings, we can understand that ultimately, part of loving is letting go."
Hartsdale Pet Cemetary: http://www.petcem.com
Our very own beloved pet icon Lucky Diamond passed away on June 5, 2012.
For the Best the Pet Lifestyle, especially animal welfare has to offer follow Wendy Diamond on Facebook, Twitter, and right here at AnimalFair.com!
Comments
comments