Wendy and Baby Hope sat down with Grace Kelly (no, not the princess – but she's a princess in her own right!), co-founder of the animal welfare organization Finding Shelter. Finding Shelter is a no-kill animal rescue group committed to the saving, rehabilitation, training and permanent placement of dogs and cats in need.
Finding Shelter takes great pride in their dedication to carefully screening adoptive parents and providing all of their animals with the best available medical care so that they're ready to start their new lives on the right paw! Grace talks about her dedication to the organization and tells the story of Sprout, the inspiration behind Finding Shelter, who shares a lot with our beloved Lucky Diamond.
WD:  What inspired to you start Finding Shelter? Was there a special animal in your life?
GK: Finding Shelter was inspired by Sprout, a little blind chihuahua who was found as a stray and was in great need of rescue. Steve Herbert, my co-founder, and I knew we had to help the 3-pound dog who was found on the side of the road and taken to a county shelter. The shelter took him in as a foster with plans to get to him healthy enough to be placed with a forever-family, but Sprout was very underweight, afraid and sick.
After an initial visit to the vet, it seemed that Sprout's future was looking grim. He had a gran mal seizure and it was suggested that Sprout be euthanized, as he was expected to live only two weeks. But Steve and I knew that the little dog with a healthy appetite had lots of fight in him, so we started hospice care for Sprout and a miracle began to unfold. Sprout began to gain weight, learn commands, walk on a leash, and even play. His personality began to shape and the smallest of milestones like drinking out of a water bowl, wagging his tail and playing with another family dog were celebrated. We adopted Sprout and he survived and thrived for two years, two months and 17 days as a beloved member of the Kelly-Herbert family before succumbed to complications due to hydrocephalus (or "water on the brain") on February 1, 2012.
In Sprout's memory, a special foster and adoption program for Chihuahuas was formed called "Sprout's Angels." Sprout still serves as an inspiration to the people who love him.
Finding Shelter provides the most loving care for the animals who need their help finding a permanent home. It is an organization based on love and respect for animals, supported by an incredible group of volunteers who work together to give these animals a quality life and the best chance for adoption.
WD:  If Sprout were a celebrity, who would he have bene?
GK: Sprout was a celebrity in his own right with multiple television appearances and over 860 Facebook "friends." People would come out to Finding Shelter weekend adoption events just to meet Sprout and get their photos taken with him. The outpouring of love and remembrance after he passed away was remarkable.
But, if Sprout could have been any celebrity, he would have been or would have aspired to be Michael J. Fox. No matter what challenges he faced as he battled his illness, he did it with the greatest strength and tons of charisma. He was a positive example of what could be accomplished even with the greatest struggles in everyday life. He never stopped living life to the fullest or serving as a wonderful example of what could be done while bringing light to a cause and he made a difference every day of his life.
WD Did you adopt any pets after you lost Sprout?
GK: Losing Sprout was devastating, but he was an inspiration and a light in our lives for the short time he was with us. About a month after he passed away, we searched for another Chihuahua who was in a shelter who we could love and care for. We found a beautiful, blonde Chihuahua puppy and adopted him, but could not leave his brother behind since he was listed as special needs and had hydrocephalus, the same disease that Sprout had. When the two Chihuahua puppies arrived to our home, we named them Ollie and Tooch. A visit to the neurologist confirmed that both Ollie and Tooch had severe cases of hydrocephalus, but with good care they could potentially live long and full lives. Ollie and Tooch are happy, friendly and loving dogs who have not shown any of the symptoms of hydrocephalus. They bring us a great deal of joy every day.
WD: What goals do you hope to accomplish with Finding Shelter?
GK: Our goal is to raise awareness about the plight of homeless animals and the beauty of adopting a homeless animal in need of forever loving care. We hope to accomplish this by recruiting volunteers, foster parents, and raising much-needed funds to care for the animals. It is our long-tern goal to have our own adoption facility that is a happy and stress-free environment where homeless animals can receive wonderful and loving care and training until they find their forever homes.
WD: What do you think of as the qualities of a great foster parent?
GK: We love our fosters and appreciate all that they do to make our animals' lives better until they are adopted. A great foster commits 100% to the animal in their care from the first day until adoption day! They see things through until the end and work with the rescue and our trainer to keep the animals healthy and well managed. They keep the dogs and cats safe and never set them up for failure. They follow the rules and use their common sense to make good decisions, with the animal's best interests at heart.
WD: How much money does your organization need to raise to meet its greatest needs, and what are those needs? How can an individual donation help a special animal?
GK: Our immediate need is for cash donations so that we might reach our $50,000 matching gift goal. An anonymous donor has graciously offered $50,000 as a matching gift for every donation received until we meet the match! The $50,000 will start an endowment fund that will be put towards the eventual purchase of our own facility. Any donation collected is counted towards the $50,000 including funds received for medical care and supplies for the animals. As a 100% volunteer run organization, every penny donated is used for the benefit of the animals. Finding Shelter is a registered 501c3 charity.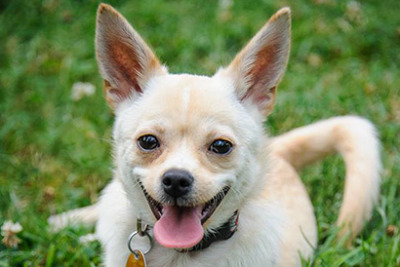 Toby is in foster care
Major personality traits: Playful, happy, energetic.
Health status: No known health issues.
Interaction with dogs: Loves to play with other small dogs!
Interaction with cats: Good.
Child requirements: Good with children.
Fence requirements: Secure, physical fence strongly preferred.
General activity level: High. Toby is a young and energetic and just a puppy!
Work schedule best suited for: Very flexible.
Leash manners: Working on it.
To get involved with Finding Shelter, visit their website at www.findingshelter.org. You can also participate in their Annual Community Super-Adoption Event: 3rd Annual Sproutfest, co-sponsored by the Upper Merion Township Department of Parks and Recreation. You can also get involved by participating the Sprout's Angels Foster Program, dedicated especially to Chihuahuas like Sprout.
For more information on animal welfare and pet tips check out Premier Pet Lifestyle Expert and Animal Welfare Advocate Wendy Diamond at www.wendydiamond.com and www.animalfair.com
Comments
comments