There are three groups of dog parents in the world. Those who smooch their dogs, those who try to avoid it but get over it if it happens, and those who are repulsed by doggie germs. Which one are you?
We all have heard the myth that a dogs mouth is cleaner than a humans. But how can this be true when they lick the floor and clean themselves after frolicking outside? And furthermore, if they are dirty, how come there are barely any cases of disease spreading from dog to owner?
This may not come as a surprise to some people, but dogs mouths are just as dirty as human mouths. Dr. Paul Maza, co-director of the health center at the College of Veterinary Medicine at Cornell University states, "because most of the bacteria and viruses in a dog's mouth are the same as in a person's mouth, it is safe to kiss a dog, just like a person." Even though the risk of spreading a disease is minimal, just keep in mind that your pup may have licked or bitten a few things in or outside that you wouldn't want on your mouth.
So if you pucker up to smooch your pup a lot, it may make your risk of contracting an illness less if you frequently brush your dog's teeth! I have kissed my mini-dachshund for years and have never gotten a cold from her. In fact, colds do not spread from species to species but rather stay with in the same species due to the fact that they are viruses. Bacterial infection, however; is spreadable between species which is why brushing your pup's teeth is a good idea!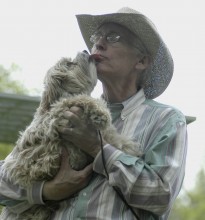 For the Best that Pet Lifestyle has to offer follow Wendy Diamond on Facebook, Twitter, and right here at AnimalFair.com!
-Rebecca bartles
Comments
comments