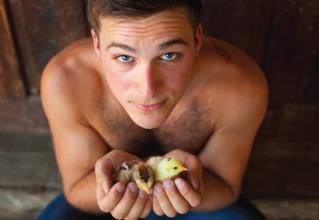 Just when you think the coop craze couldn't get any hotter, gorgeous male models cuddle up to some seriously cute chicks? Baby chickens, that is.
Hot Guys and Cute Chicks, features absurdly funny photos of male models posing with their fuzzy little friends, paired with tongue-in-cheek personals giving the likes and dislikes of the guys and the chicks.
It doesn't get much sweeter than an adorable little fledgling cradled in the arms of a strong and sexy man. Hot Guys and Cute Chicks will have you saying "Whoa!" and "Awww…!" at the same time.
By Audrey Khuner and Carolyn Newman, Andrews McMeel Publishing.
For the Best that Pet Lifestyle and Animal Welfare has to offer follow Wendy Diamond on Facebook, Twitter, and right here at AnimalFair.com!
Comments
comments