We all love our pets and everyone who has ever been a pet parent knows that they enrich our lives so much. Along with that love we feel is a huge desire to make them as happy as can be… and, yes, this often resorts in a very pampered and spoiled pet. The summers get hot, and since we'd all rather see wagging tails than panting pooches, swimming has become a common activity for pups. Perk up your ears, everyone, cause we're gonna show you some of the most extravagant puppy pools a canine could ever dream of. Ahhh, what a life!
The Can Jané Canine Resort is a full functioning pet resort in Spain just a half hour away from Barcelona. One of their coolest features is a huge puppy pool – scratch that – puppy water park for their guests to enjoy. The dog days of summer are perfect for a dip in this massive attraction. The resort pampers your pooch with a spa/grooming service and it also takes care of picking up and dropping off your little vacationing pup.
There's a puppy heaven on Earth in Topanga, California, and its name is Canyon View Ranch. They believe that every dog has its day… but that should be every day. This pool is a part of Wonderland portion of the park, where pups cool off in this extravagant bone-shaped pool!
Sorry, pet parents! This pool is just open to our buddies with four legs and a black, wet nose. This pool looks a whole lot nicer than most of the ones we've seen – for pets or humans! Kepala Pet Resort is the home of this fabulously decorated, solar-heated outdoor lagoon. If your pup is more of an indoors hound, there's a pool inside for him or her, too! Swimming lessons are available for those that don't know how to doggy-paddle quite yet so that everyone can enjoy these pools!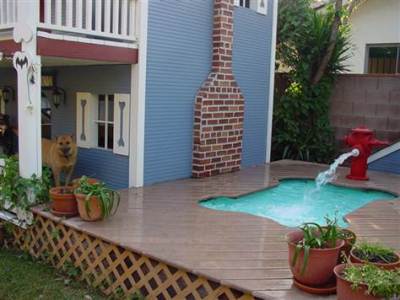 Dirty Dog Landscape knows that boredom causes trouble, so they make dog pools and activities like this paw-tastic pool! The bone-shaped pool features a fire hydrant water spout for added fun! The pool is connected to a little canine condo for your pampered pooch to relax and dry off after they soak up the summer sun in their custom pool.
Bone voyage! You'll feel as if you've been transported to a puppy wonderland in this place!.Regal steps lead your majestic mutt to his or her bone shaped pool surrounded by very artfully crafter bone shaped hedges! If it's a little chilly out, you can always play shuffleboard with the bone shaped equipment. Located at the Historic Bachman Family Home in Minneapolis, this display was out for a decorating showcase, but any pooch would love to have this as  permanent part of their home!
For the Best that Pet Lifestyle and Animal Welfare has to offer follow Wendy Diamond on Facebook, Twitter, Instagram, and right here at AnimalFair.com!
Comments
comments