With the arrival of the winter holiday season, Lucky is looking foward to social gatherings where she can sniff out new celebrity friends and don on her new designer duds! Read about her latest encounters.
What many may not know about Regis Philbin is that this notable television personality is also an actor and producer!  The host and producer of exceedingly popular morning talk show Live with Regis and Kelly, Philbin has also appeared in a myriad of television shows, performed roles in films such as Bad News Bears, Go to Japan and Roberto Benigni's Pinocchio, and hosted hits like Who Wants to be a Millionaire? He continues to enchant and entertain on Live with Regis and Kelly.
Is there anything this man can't do?  Snoop Dogg is the unforgettable rap and hip-hop artist, actor and Girls Gone Wild host who has even crafted his own language—showcasing it on the MTV series Doggy Fizzle Televizzle.  He recently appeared in the Ben Stiller/Owen Wilson comedy, Starsky and Hutch, Soul Plane and we will soon see him in The L.A. Riot Spectacular.  Snoop's most recent album, Paid Tha Cost to Be Tha Boss, is a major success due to hits like "Beautiful," and he is currently getting ready to release his next album, The Hard Way, on which he collaborated with Warren G and Nate Dogg.
Best known as the actress on the long-running series, Hart to Hart, Stefanie Powers has recently appeared in the television film, Someone is Watching and the series, Doctor.  She is currently devoted to her humanitarian work at the William Holden Wildlife Foundation, which she founded after the death of her husband, William Holden.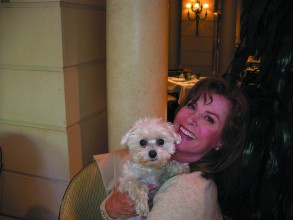 Vanessa Williams possesses a talent worthy of Broadway and a beauty deserving of the silver screen. Williams launched a music career that included hit albums such as The Comfort Zone and The Sweetest Days.  She later began acting, appearing in television shows and music videos, until the extent of her star power was finally fully acknowledged. She played opposite Arnold Schwarzenegger in Eraser, and had significant parts in Soul Food and Shaft.  She also appeared on Broadway in Kiss of the Spider Woman.  Vanessa continues to divide her time between studio, stage, screen and, most importantly, her family.
'You're not fired!' Those are words rarely heard from Donald Trump, especially if you're his apprentice, Bill Rancic, 32 years of age from Chicago, IL. Rancic, Trump's winner of the first season of the television show, The Apprentice, is currently studying under the auspices of New York construction executive, Greg Cuneo, courtesy of Trump and Rancic's win. It looks as if they won't return to Rancic's home town until January, when construction begins for the tower.
Don't let those dreamy eyes and striking eyebrows fool you! Peter Gallagher is a talented and versatile actor who has made over sixty two film and television appearances during the course of his career.  His achievements include roles in critically-acclaimed films such as American Beauty and Sex, Lies and Videotape which put directors Sam Mendes and Steven Soderbergh on the map.  Peter is currently preparing to work on the second season of The O.C., depicting Sandy, the cool and nonetheless incredibly shrewd dad and lawyer on Fox's newest television sensation.
For the Best that Pet Lifestyle and Animal Welfare has to offer follow Wendy and Lucky Diamond on Facebook, Twitter, and right here at AnimalFair.com!
Comments
comments