Those wide puppy-dog eyes glisten back at you as you leave your dog with the grumpy attendant at the counter of your local boarding kennel. That's the moment when you get the overwhelming urge to cancel all your plans, run to your pup and force out through sobs, "I'll never leave you again!"
But everyone needs a vacation, but also the peace of mind that their dogs will be taken care of — and with DogVacay.com, the California start-up that pairs dog sitters with vacationers, you can have your cake and eat it too.
And, really, why should humans have all the fun? With this motto, DogVacay.com, sets the tone for an all-inclusive canine experience your dog is begging for. If you can't take your dog on vacations with you, for whatever reason, you can now easily find an amazing dog sitter who will cater for your beloved pet, while you are away, thanks to CEO Aaron Hirschhorn and his wife Karine Nissim Hirschhorn.
Like many pet parents, they struggled finding good places for their two dogs, Rocky and Rambo, to stay when they wanted to get away from the dog-eat-dog world. So, they found a solution, and started a business: Dog sitting. This is a ten billion dollar industry and there are 58 million dogs in the U.S. The Hirschhorns saw a great opportunity in this big market, and decided to create their dog-loving company, based on trust and transparency where pet parents and dog sitters work paw-in-paw to ensure pets (and pet parents!) get the best vacations ever!
Animal Fair met with Aaron Hirschhorn, co-founder of DogVacay.com, and asked him a few questions about his amazing company.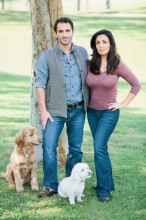 Animal Fair: So, first things first, what inspired you to start DogVacay.com? How did you originally came up with the idea of DogVacay.com?
Aaron Hirschhorn: My wife and I have two dogs, Rambo and Rocky, and when came back East to visit our family, we had to leave them in a kennel. Just for the privilege of them being in a cage 23 hours a day, we had to pay a $1400 total bill. I remember Rocky was hiding under the desk for like two days afterwards. So we thought that there has to be a better solution, and asked ourselves "what do dogs really want?" They want cuddles and to hang out on someone's lap on a couch! So we opened up our own home for a couple of friends, and created a misting on Yelp. Then people wrote reviews, and all of a sudden, our phone was literally ringing off all the time! We did that for 9 months and watched a hundred dogs.
AF: There is now a lot of different companies promoting dog sitting. How is dogvacay.com different?
AH: We were the first company to do it this way, but we're obviously not the first people to watch dogs. You can  schedule and book online — it's really easy. We do the quality control and deal with the insurance later. If you put that together, in a community, then yes, we are the first ones doing it. And we're growing really fast: we have now over 10,000 approved hosts in every single states of the U.S. and every single province of Canada and we've had over 30,000 applications.
AF: So, you can imagine it pet parents might be a little hesitant about leaving their dogs with strangers. How does a person qualify to be a trusted dog sitter?
AH: We have a five step vetting process for our dog sitters. If you want to become a host, you need to go through an online application, phone interviews, reference checks and then an online training process, where you watch a video and learn about best practices to watch dogs. We also have customer reviews. The best way to see if you can trust a host is to organize a meet and greet. We really encourage people to meet those who want to watch their dogs, see how they interact with the dog and with you, so you get really comfortable with them. But you know, hosts are doing this because they love dogs. These are not people trying to make thousands of thousands of dollars; they just love dogs and enjoying caring for them. It's a community.
AF: Does dogvacay.com include  insurance?
AH: God forbid something goes wrong but if it does we cover your dog — we have the best policy in the industry and a 24/7 customer support. Let's say your dog strains an ankle or is stung by a bee, we cover everything from the vet bill to the transportation over there. We really are standing behind our customers, and we understand as pet parents ourselves, how important it is to have the best care service for your dog and how good it feels.
AF: So, how is DogVacay.com different from the competition? What is really unique about your services at DogVacay?
AH: It's completely customizable! Let's say you have a dog who doesn't get along well with other dogs; we would suggest that you find a host that doesn't have dogs of their own. We have busy professionals, who sign up for weekends only because they want to watch dogs just a few days a week, so that might be a match. We also have special people who care for special need dogs.
For example, if you have a dog who needs injectable medications, we can find you a retired vet tech! Or your dog has an arthritis issue and can't walk upstairs; we can find you a host with one story house who can give its medication to your pup. There are many tools on our website to help you research the ideal host, but we also have our own concierge team. Just call us (855-Dog vacay) and we will help you! The first level is to decide what's best for your dog and then either use the website or call us and we'll find someone that matches. On DogVacay.com, all is about transparency. Hosts get reviews, but dogs get them too!
AF: How much is the cost per night for a dog sitter? Can the hosts make a living out of dog sitting?
AH: People set their own rates. It starts at 15 dollars a night up to about 40 or 50. The average is about 25 dollars. Compared to 70 dollars in a kennel in New York for example it's pretty good. Your dog is in a real home, and there is often a big yard. DogVacay takes a 15 percent fee from hosts, and the more the host works, the lower rate they have to pay. A good host can earn an amount of $2000 a month. But we placed a cap because we don't you watching 10 dogs. We believe it's all about individual attention so the limit is three dogs. Plus we don't expect people to do that full time as their only job, this is a side thing for retired people who want to have more dogs in their life, to go out for a walk, stay at home moms and dads, or people who want to introduce their kids to dogs, professionals who dog have time for a full time dog! And there's zero investment! If you want to get set up, you don't need to buy a starter kit or do anything like that. You want to watch dogs, you go to our website and through the application process and assuming you pass you are ready to go. We also have a lot of professional dog sitters and dog walkers around the site.
AF: What is the future of DogVacay? Is there a BabyVacay coming?
AH: BabyVacay is probably a little farther away! But CatVacay is coming up, and actually all of the animal vacays: iguana, lizards, snakes etc. The pet business services industry is not just boarding and pet sitting. It's also walking, day care and training. We are really committed to building a community that offers to take the best care of your pets, across of their needs. We'll bring closer pet sitters and do training certifications. We will soon launch mobile apps so you can see where your dog gets picked-up to be walked and dropped off, as well as the exact route that they took for example.
AF: What is your social good/ philanthropy focus at DogVacay.com? 
AH: Our favorite charity is Adoptapet.com. They have a network of thousands of shelters across the US and it's such a great parallel to our mission to find vacation homes for dogs and to find real homes for dogs. Most of our efforts go behind that; we also work with some local charities around. It's a big part of our mission.
AF: How do you support military families and their dogs?
AH: Yes, but it actually happened accidentally when a family in Tennessee came to our attention. This gentleman, who was about to deploy in Afghanistan for four months, could not find an option for his dog. We heard about it later, and he found who agreed to watch the dog. He wasn't even in it for the money, and just asked for $5/day. We were just blown away! We covered the whole thing, and even gave the host extra, because being able to support that is so important! There are hundreds of thousands of active deploys right now who need solutions for their pups.
AF: Are dogs only allowed at the dogvacay.com headquarters? Is there any discrimination against cats or hamsters?
AH: Everybody loves all animals. We've even got a rabbit that comes to the office too! Pets just have to spayed or neutered, mustn't fight with others or bark excessively. We've had like 18 animals at one time at the office so we have to make sure people behave and dogs too!
AF: What advice do you have to be a great CEO?
AH: Customer service first! That is the most important thing! I believe that the best way to build a business is to go above and beyond for your customers. Two, you have to be excited about sharing your vision. The way you succeed is not keeping trade secrets. It's about executing a really good job and being out there to share it. And three, you need to find the best people! As a CEO, I can't do everything; I've got to find people that I trust. We have 40 employees now.
AF: So as a CEO, what would be the one treat to get you to roll over?
AH: We have at DogVacay a joined email address, and everyday each of our customer service associates send everybody in the company share their best success story. The other day they told us about this host with a blind dog hosting another blind dog. We have the most amazing and unique stories and match making techniques, and every time I hear these stories, I kind of want to roll over. Otherwise, I'll do it for even a cute dog, I roll over very easily. I'm already trained!
Holiday travel season is coming up, so give www.dogvacay.com a shot! 
For the Best that Pet Lifestyle and animal welfare has to offer follow Wendy Diamond on Facebook, Twitter, and right here at AnimalFair.com!
Comments
comments