The Giraffe Manor located between Nairobi and the Ngong Hills Nature Reserve is a really cool boutique hotel that is the true animal-lovers MUST do. With Giraffe's wandering about on the grounds, the price for having breakfast with a giraffe poking its head through the windows, is steep but for most happy clients, well worth it .
An iconic historical building of 1930′s grandeur with art deco features, elegant furnishings, four-poster beds, green gardens, terraces, and beautiful courtyards— The property is on 12 acres of private land within 140 acres of indigenous forest.
In 1974, animal-activists Jock and Betty Leslie-Melville purchased the property and developed the African Fund for Endangered Wildlife to rear and re-introduce Rothschild giraffes to the wild.

Betsy, often referred to as the "Giraffe Lady", was active in her efforts to preserve the subspecies of of the Rothschild Giraffe's of Kenya. Betsy and her husband Jock spent much of her life living and working in Kenya protecting and caring for the Rothschild's giraffe population there, primarily through her breeding program established at the Giraffe Manor. During Betsy/s time working there, the Rothschild's giraffe population grew from about one hundred twenty to over four hundred!!
As part of their fund-raising efforts, Betty and Jock Leslie-Melville collaborated on a series of books about animals– Raising Daisy Rothschild (1977) "the story of two delightful young people and how they raised and grew to love a young giraffe… or two" became a best seller.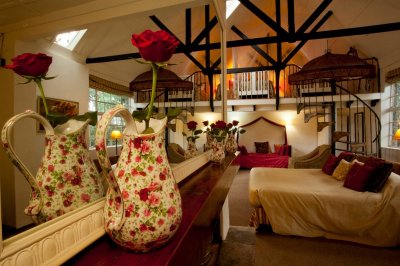 Since, the Manor has been converted into an intimate, upscale hotel with 10 double rooms decorated in colonial style.
Giraffe Manor is 20 km's from the city center of Nairobi, and sits on 12 acres of land with great views of the Ngong Hills.
Besides the resident herd of Rothschild Giraffe, you can also enjoy warthog and bushbuck on the grounds.
Book a room at the front of the house and the giraffe will come right up to take a snack from you!
Guests enjoy full-board during their stay, which includes all meals and most drinks. But the coolest and most unique thing about the hotel…
…is that giraffes freely roam about! There are ten giraffes that live on the property.
They might even try to kiss you 🙂 
Wow! SO FUN, another bucket list add for sure!
To find out more about the Giraffe Manor, check out The Safari Collection.
For the Best that Pet Lifestyle and Animal Welfare has to offer follow Wendy Diamond on Facebook, Twitter, and right here at AnimalFair.com!
Comments
comments