Animal Fair headed out to the 160-acre Green Chimneys farm in Brewster, N.Y. for a photo shoot with a lively cast of rescued animals and the children who love them. We're not the first to discover this haven for creatures with special needs. Green Chimneys has caught the attention of others drawn to the healing vibes of unconditional love. Among the long list of celebrated boosters: Richard Gere, Sylvester Stallone, Vanessa L. Williams, Paul Newman, Joanne Woodward and Mary Tyler Moore.
Everyone had fun focusing on fashion, a break from daily chores. High praise to the staff for pairing rescued animals with needy kids and the healing that happens down on the farm!
Green Chimneys offers a variety of social services and special events that include the annual Birds of Prey Day. For more information, log onto the Green Chimneys website at www.greenchimneys.org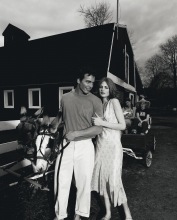 For the Best that Pet Lifestyle and Animal Welfare has to offer follow Wendy Diamond on Facebook, Twitter, and right here at AnimalFair.com!
Comments
comments