What pet parent doesn't wish they could talk to their pets?! If your pets could talk, Linda Lauren would tell you pet parents what they are saying! Psychic Medium, Pet Psychic, Energy Consultant, and Author Linda Lauren gives us less-talented pet communicators the scoop on how she gets inside the minds of our favorite furry friends!
What inspired you to be a pet psychic?
I can't remember a time when our family didn't have a puppy running around the house. They always became my dogs and I learned to pick up what their energy was saying because of that. I have found it easy to tap into their needs, as well as their frustrations. In my pet psychic capacity, I am able to share those concerns with other owners to encourage a happier connection.
Do you have any special dogs in your life right now?
We presently have two little dogs in our household, Gidget and Cosmo.
Gidget is my dog and is a Malti-poo, and Cosmo is a Westie-Poo. Both dogs were saved and adopted from an environment that was not healthy. They were products of the father jumping the fence and impregnating the mother, and both families were putting them up for adoption. Gidget is as white as Cosmo is black, and they are best buddies.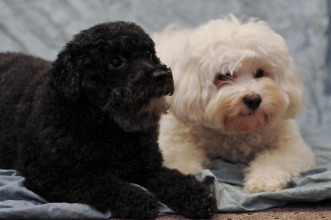 I named my Gidget after the surfer Gidget in those books and movies. Her namesake sent me an autographed copy of her late father's first book. In it, I discovered that my puppy was born on the same day the real Gidget first surfed. There are special circumstances that surround how my little girl was "sent" to me in a dream that are detailed in my book.
What is the difference in reading a human versus a pet's mind?
The only difference that I can see between the two is that humans verbalize, but the animals connect more via pictures and telepathy in a form of clairvoyance. Animals tend to take in information from me more slowly than humans do. It's like they want every word to really count!
Who are some of the famous pets minds you have read?
I've done specials for VH1 and BBC on Celebrity Pets and have been asked to offer my thoughts on everyone from George Clooney's pig (when it was alive) to Kelly Osbourne's dog that she had dyed pink! Some pets I've read via my Psychic Companion™ column were Jennifer Love Hewitt ,Lisa and Brittny Gastineau – some I just can't mention:).
What animal charities do you support?
I support St. Hubert's Animal Welfare Center and West Orange Animal Welfare League in New Jersey where I live. I plan to be more involved in the K9s For Warriors program.
WANT TO KNOW MORE? CHECK OUT LINDA'S BOOK "MEDIUM RARE"and visit www.lindalauren.com!
Sessions are by Skype or telephone and usually 15 minutes. If you want to open that dialog with your pet using Linda as the translator, call 908-518-9001. Your pet will know what to do!
For the Best the Pet Lifestyle and health has to offer follow Wendy Diamond on Facebook, Twitter, and right here at AnimalFair.com!
Comments
comments