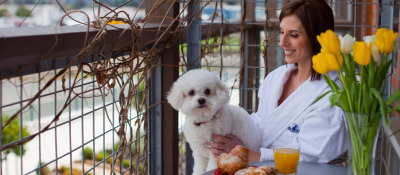 Looking for a beautiful bed and breakfast location to enjoy a relaxing summer Weekend with your furry friends? No problem! BnBFinder.com provides listings for thousands of B&Bs and Inns throughout the United States. It was recently awarded a five-star rating by INNSTAR, a leading rating service for Bed and Breakfast Guidebooks on the Internet. Guests can find the perfect B&B by searching more than thirty amenities, including location, price, activities and specific amenities like a hot tub or a full breakfast. A few of our favorites include:
Casa Laguna Inn & Spa
   2510 South Coast Hwy., Laguna Beach, CA 92651
(800) 233-0449
The inn welcomes well-behaved and healthy pets traveling with their people.
• A pet welcome kit – with local pet information, a water bowl, treats and more will greet your best friend upon arrival.
• Information on pet-friendly restaurants, pet services and local dog park.
• Proceeds from your pet's stay will be donated to the Guide Dogs of America.
The Lodge at Sedona 
125 Kall of Place, Sedona, AZ 86336
(800) 619-4467
The lodge is noted for being an extremely dog-friendly place to stay and offers 
many special amenities
 for your pet. It also has incredible Red Rock views for you and your pet to enjoy.
• Several designated main level King suites
especially for guests visiting with canine 
companions.
• Throw blanket, extra towels, a comfortable sleeping cot and water bowl.
• Canine goodie bag at check-in.
• Designated landscaped walking area.
Beside Still Waters Farm
   30901 Sherwood Rd., Willits, CA 95490
(877) 230-2171
Anderson, the inn's dog, welcomes you and your 
pet to come to the farm where his family will 
take really good care of you.
• Designated cottages for dog guests.
• Comfortable doggy beds and fancy crystal bowls.
• Homemade dog treats –
"faux chocolate indulgence."
• Property is 21 acres that are filled with wildlife, beautiful mountain views, and peacefulness.
Lazy L at Willow Creek 
16061 Willow Creek Road, Lewes, DE 19958
(302) 644-7220
The Lazy L is a pet-friendly resort with a creek
 that dogs love. They welcome well-mannered, house-broken dogs to come enjoy all they have
 to offer.
• Large fenced-in area for running,
exercise and off-leash play.
• Pet walking services and dog sitters can be arranged.
• Lots of other well- behaved canine companions to socialize with.
Gazebo Inn Ogunquit
   572 Main St. (Rte. 1), Ogunquit, ME 03907
(866) 275-0648
The innkeepers understand how wonderful it is
to bring the family pet on vacation, as they have
 in the past, which is why they allow guests to 
bring small dogs.
• Information on vets very close by and areas you can walk the dogs – beaches and pet-friendly parks.
• Does not charge a fee for bringing your canine family member.
• Designated rooms for dogs and their parents.
• Walking distance into town and the beach.
Cape Cod's Lamb & Lion Inn
   Route 6A, Barnstable, MA 02630
(800) 909-6923
You and your dog can enjoy this unique 
combination of a classic Cape Cod Inn
 with the spirit of a small luxury hotel!
• Provides special sheets and towels for your dog.
• Offers four beautiful acres that your furry friend is welcome to explore.
• Local Tavern allows dogs for outdoor dining
• Helps coordinate pet- friendly activities like whale watching!
Don't delay! Book a relaxing, enjoyable weekend for you and your pup at one of these AMAZING Bed & Breakfast's today!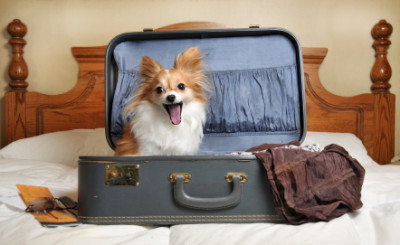 Bark about it!
For the Best that Pet Lifestyle and Animal Welfare has to offer follow Wendy Diamond on Facebook, Twitter, and right here at AnimalFair.com!
Comments
comments