Any puppy parent knows that dogs change people's lives, and no one knows this better than John Dolan.
The 43 year old Londoner sells his sketches for almost $7,000 apiece, has opened his second exhibition, is doing a show in Los Angeles, and is watching and waiting for his new memoir to climb the bestseller ranks. So where does his dog George fit in?
Dolan had been on-and-off living on the streets of London for years now, and he suffered from a heroin addiction. There didn't seem to be a silver lining to the foggy London sky until one particular Staffordshire bull terrier came into his life with a wagging tail and claimed a spot in Dolan's heart and his canvas.
As a child, John Dolan absolutely hated school. He was severely unhappy and disinterested in nearly everything – except art. And so it was art and his faithful subject-slash-muse, George, that saved Dolan's life. It started when the pup had to be given up and landed a place with John. Shortly thereafter, Dolan started sketching his pooch and the scenes around him. Passersby started giving him money and actually buying some of the artwork. Yet that was only the beginning.
Besides providing his parent with inspiration and a subject for his art, George also gave Dolan a reason to clean up his act and stop committing crimes."It was only because I had the animal and he's a responsibility. He's like my child in a sense and I feel obliged to keep a roof over his head and keep him warm," says Dolan about his faithful companion.
Despite a rough relationship with his family growing up, Dolan invited them all to his exhibition and is happy to report that he has been in more constant communication with them. Still, the closest family member Dolan has is the miracle in the shape of a Stafford bull terrier. "I feel like he's a guardian angel," he says of his best friend. "If it hadn't been for him I'd have never picked up my pen."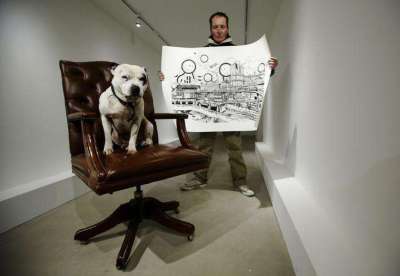 Although John Dolan is making enough money to live on now, he still feels most comfortable drawing and sketching outdoors in East London with his best friend to keep him company.
For the Best that Pet Lifestyle and animal welfare has to offer follow Wendy and Lucky Diamond on Facebook, Twitter, and right here at AnimalFair.com!
Comments
comments