Surya Brasil is a top dog in the beauty and body care industry, but their beauty isn't just skin deep. Surya is trying to make not only its customers healthy are more naturally radiant, but the planet, too!
The organic, earth-friendly company is based in São Paulo, Brazil, and its products are top of the line. Surya feels a duty to the environment and its customers, and to prove that they keep to their values, the team only sells vegan, organic, and non-animal tested products! Surya celebrates the connection between all life and that makes them so unique and wonderful.
The company originally got big because of their all-natural henna hair dye, but now they have a lot of other products, all of which are made from the most organic and natural ingredients found in the Amazon rainforest! The henna hair dye is still in high demand and is, of course, one of their best-selling products. After you dye your hair with the flair of the rainforest, try out the color-sensitive products to keep your hair as naturally healthy as the Amazon itself!  Amazônia Preciosa (meaning Precious Amazon) is one of their product lines that has everything you could possibly need for your skin and hair care! My personal favourite is the face mask – easily the best one you'll ever use.
The loving soul that started the beauty brand is as unique and generous as the company itself. Clélia Cecília Angelon, the founder of Surya Brasil, has something that all too many people are missing in this day and age: passion.
Her passion is for helping those in need and spreading a little puppy love around. Clélia and her team are a breath of fresh air in the world of beauty and social consciousness. Their reputation is one of kindness and caring: so much so that even the local dogs know where to find a little puppy love!
Angelon truly is an angel to pups. She has eight of them living in her house – all of whom were adopted or rescued! From rehabilitating pups that were run over to taking in orphans without a warm house to go home to, this furtastic woman helps them all! It's hard to find a human being with a heart as big and full of genuine caring as a dog's, but that's exactly the kind of unconditional love that Clélia gives.
Angelon comes from a family with just as much good will in their heart. Wanda Angelon, also quite involved in the Surya community, is living proof that kindness flows through their veins. With eight cats living in her apartment and several dogs, Wanda is the foster mother to many Brazilian furry friends who needed it most. She has saved black cats from dark magic ceremonies and nursed kittens thrown out of windows back to health. Wanda feels quite lucky to have these animals as a part of her family, "These pets take all the stress away from my life, my family and I are madly in love with them." Cats don't need nine lives with someone like Wanda around to look after them!!
The door of the Angelon's house isn't where the love for animals stops. Surya Brasil does everything imaginable to ensure the welfare of all souls on Earth from the very beginnings of the plants and ingredients to the packaging and at last, the distribution. Social consciousness is so important in this dog-eat-dog world, yet it is all too rare.
"Surya Brasil respects the interconnectedness of all life and strives to create healthier lifestyle products for a healthier world," comments Angelon. "The brand harmoniously brings together nature, the science of Ayurveda and sustainable technology while respecting the animal and plant kingdoms for the purpose of preserving a better world, one that is ecologically sustainable and socially responsible," she explained.
Surya's heart is open to more than just your usual cats and dogs. The company gets their paws dirty and strives to help as many animals as they can: not limited to their community. We're not lion when we say that so many more animals are better off thanks to this inspiring team.
Alex, a former circus lion, used to spend his days miserable and abused; his teeth were filed down and his basic rights as a living thing were infringed upon. Now, he enjoys life and soaks in the Brazilian sun in a sanctuary in São Paulo thanks to Angelon's lion sized heart. The taste of freedom was also extended to two primates who can now spend their days monkeying around instead of worrying about their bleak future.
This little piggy went to the market, but Surya's little piggies went to a wonderland of a ranch. Saved from a pork factory, the family of pigs that Surya Brasil sponsors is sure to live out the rest of their lives in peace. If there were more companies out there like this one, maybe the world's animals would live without fear before pigs fly. But they didn't stop there! Two horses-slash-best friends live safely at a ranch as well as twenty chickens all because of these compassionate women.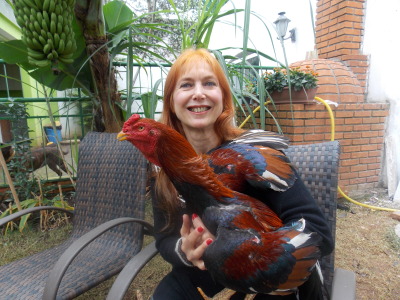 As if running a socially conscious and sustainable company wasn't hard enough, this superwoman has overcome the odds as an underdog in a male-dominated society and has become a role model for young women in the business world. But is it really that difficult? "Yes, it is," Clélia tells us. "Women's achievements happen  to  a  lesser  extent  than  men's,  even  though, in our country, 20% of women are heads of households." You go girl! Two paws up!
If kindness and compawssion had one universal name, it would be Surya. I think we speak for all the animals in the Amazon and worldwide when we say thank you from the bottom of our hearts – both human and animal – for all you have done and will continue to do!
If Surya Brasil has inspired you as much as they have us to take action for the wellbeing of animals around the globe, check out the charities and organizations they support! The company works with many animal protectors including Ethical Vegetarianism Animal Rights Society, Woof Farm, Nature Adoption Center, Kitten Cave, and Street Animals Support Group. Bow-WOW! Look at all that puppy love!
For the Best that Pet Lifestyle and Animal Welfare has to offer follow Wendy  Diamond on Facebook, Twitter, and right here at AnimalFair.com!
Comments
comments