Like a dog with a bone, notable pet photographer Ren Netherland discusses how his career as a pet photographer developed and he never looked back.
Supermodels step aside.  Hanging above the fireplace in a sleepy four bedroom colonial, is a portrait sized picture of Fluffy the cat sporting a multi colored calico coat. Her eyes fixed as if gazing into a mirror, making love to the camera. It could also be the can of tuna slightly opened, just out of sight.  No matter how he does it, Ren Netherland has been shooting pet photos that receive much acclaim for over two decades. "I made twenty appointments all from one photo of a kooky cat!"  He got his start by shooting humans at weddings and parties, pictures that is. One silly photo of a feline triggered the fates to grab him by the nape, place him on the top and avoid the need to claw his way there.  His work is in high demand. Throw a steak to ten hungry dogs and well, that's how sought after his pet photos are. He's even hot among Hollywood elite, working with the pets of celebrities Billy Bob Thornton, Kate Hudson and Jack Osbourne.  Famous for being able get the best possible snapshot, he waits, catlike, ready to pounce on the trigger,  "I'm very meticulous in my work. I never give up on getting it just right. There's never been a day that I couldn't get what I wanted to get with an animal. I have more patience with animals than people," Netherland laughed. He can catch any pooch or pussy cat in the right second to develop a superior picture!
No need to howl at the moon if you and your pet aren't local to Netherland's home studio in Florida. Ren is mobile and travels all over the country eight months a year. He teaches animal photo basics and how to follow in his paw-steps. You'll also find him photographing animals at clinics, shelters and at people's homes. But like a dog circling to lie down, he's not done yet! He's now making his way into the pet greeting card industry. With clever salutations and exquisite photos of animals, his project is sure to yield plenty of Scooby snacks!
His interest in photography started back in the first grade. He found a Kodak Duraflex that a family member had thrown away and like a dog with bone, he never put it down.  While in the Navy he took some basic photography classes, but nothing to do with animals. "I learned to photograph animals by trial and error: from getting their attention to lighting, posing… all of these things I had to teach myself," said Netherland. "After fifteen years I started getting requests from photographers to teach them how to photograph animals. I've now been holding classes for nine years and have taught many pet photographers out there."
When Netherland teaches his animal photography classes, he shares tips that ensure every pet takes a perfect photograph: "Posing an animal and using a background that will separate from their fur color, getting the animal's attention, correct use of lighting, and being able to see their eyes." Getting the animals attention can be tough also, "the best trick is to bark at them and that works 99% of the time."
What does a calendar shoot with baby chimps and a shoot with a little dog have in common? Absolutely nothing other than they both tickle Netherlands when he thinks of the funniest shoot he's done. The little dog swings to the top of the vine as the funniest. No offense baby chimps, but after the first shot the little dog ran around the whole studio and accidentally jumped into the fish pond. It took an hour to rewash and dry him to finish the shoot!"   Yorkies and Poodles are amongst his favorites to photograph, but he does admit that his best work has been done on larger dogs such as Golden Retrievers and Labradors.  "The hardest animals to photograph in a mobile studio are the large dogs. They don't do well in small, enclosed areas, but we always get the perfect picture."
Netherland is a big animal lover himself and owns two dogs; a Maltese named Peanut and a Pug named Sweetpea. "Sweetpea was from a litter of puppies from my pug Olive-Oyl and Peanut was a birthday gift for my girlfriend.  They travel with us in our mobile studio from Florida to California. Then we travel from Florida up the east coast: Pennsylvania, New Jersey, New York, Connecticut, Rhode Island, Massachusetts, South Carolina, then back to Florida where we finish our year," Netherland said.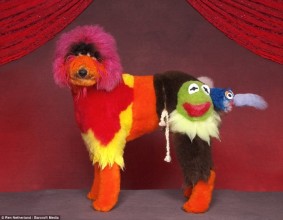 He is an avid supporter of animal charities. "I donate trading cards to local police canine officers. They use these in demonstrations they do in schools." He's not only talented but charitable! Being the animals lovers we are, it's easy to appreciate the unique (and adorable!) artwork that Ren provides.  So bark like a dog, woof it up and just maybe your baby will sit still and look at the camera. Otherwise, call a pro and make your pet pic the next Mona Lisa to adorn your living room.
For more information on Ren Netherland and how to book a shoot for your sweetie, visit his website at www.animalphotography.com
Comments
comments