After months of begging for biscuits, exploring the house for new scents, and excavating the back yard, Fido is due for a break.  Just like us two-legged creatures, man's best friend needs a vacation too.  And all too often, when we humans get a week or so away from the daily grind our best friend winds up in a kennel.
Many times this happens because there just aren't many places where dog owners and their pets can vacation together.  One of the few perfect spots for Spot is situated in the midst of some of Ma' Nature's best handy work.
Camp Winnaribbun in scenic Lake Tahoe Nevada is a guaranteed great time for dogs and dog lovers alike.  This year will be the 9th season for this unique camp.  "Basically Camp Winnaribbun is a wonderful getaway for people who want to vacation with their dogs," said the camp's creator, Lory Kohlmoos.  "It's one of the most beautiful settings in the country.  We're on 33 acres, we have a private beach, and our guests can stay in rustic log cabins with their dogs.  Plus we have wonderful forests and meadows for hiking and horseback riding.  There is also a special fire pit area, a craft center and an amphitheater.  This is truly the ultimate vacation spot for both dog and owner."
Camp Winnaribbun's "Summer Camp" runs from Sep 14-20 and offers a little bit of everything for dog and owner!
Dogs enrolled in "Summer Camp" have an opportunity to connect with their canine roots by herding livestock.  It's a sight to see—as Dobermans and Chihuahuas alike herd the sheep under the guidance of a professional trainer.
For the dog that really wants to put it in high gear, the camp also has flyball racing.  This popular form of relay racing gives dogs a chance to compete in teams.  The pooches jump hurdles en-route to a box filled with tennis balls, grab a ball and race to the finish line.
Other activities include swimming, homeopathy, and "hands-on" healing techniques.  Those interested in more serious dog competitions may attend a class on psycho cybernetics, focusing on the power of a positive mental attitude.  There is also an "animal communicator" at camp to help you have a "chat" with your furry pal.
And don't think you will be eating traditional 'camp food' on your Lake Tahoe vacation.  "We have award-winning chefs preparing meals for dogs and their owners," said Kohlmoos.
For additional information call: 775-348-8412 or visit www.campw.com
Not heading for the West Coast? Chicago more your speed?  Fear not, Camp Dogwood, just outside of the windy city will give you and your pooch an experience to write home about.  There are two sessions: May 30-June 2 and October 10-13. The top dog at the camp is Alysa Slay and her motto is "dogs just want to have fun."
And they are sure to at Camp Dogwood.   Slay says, "We have lots of different activities and programs like agility, carting, backpacking, tracking, and land and water retrieving."  No detail overlooked, after a hard day of romping and tail wagging Rover can kick back and put his aching frame into the hands of the camp masseurs for a soothing rub. They are even hosting a beach party this year for the dogs.
Camp Dogwood also offers a variety of classes on topics ranging from doggie first aid and basic grooming techniques to cooking classes for your dog.
"The crafts class is also a lot of fun," said Slay.  "We do a plaster casting of the paw, and this year we're also having the dogs paint with their paws."
For more information on Camp Dogwood, check out www.campdogwood.com or phone 312-458-9549.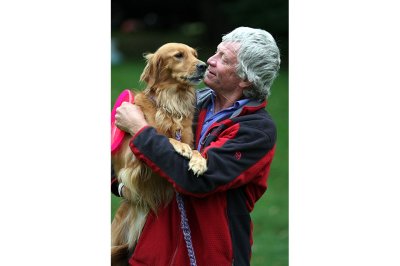 While Vermont may be the home of some of the best maple syrup in the world, it's also "going to the dogs" big time.  In fact, Camp Gone To The Dogs offers humans and pooches a beautiful place to romp and play.  Sessions are offered at several locations.  "We cater to people who adore their pets–not people who are pet competitive.  Our motto is 'Tails Up' because we want our dogs to be happy and when a dog is happy his tail is up."
At one of Loring's camps the dogs take over an entire college in the tiny town of Marlboro Vermont.  At this camp more than 50 activities are offered daily.  Classes in family dog obedience, flyball, lure coursing, hunting with fake ducks, herding, kissing contests and a tail-waging contest.  Taking advantage of the beautiful lakes in Vermont, the dogs also can take swimming lessons at Camp Gone to the Dogs.
"My favorite is the hot dog retrieving contest," said Loring, where the dogs do just that-retrieve hot dogs.  An exercise in restraint, the hot dog must return in tact!
For additional information about Camp Gone To The Dogs visit their web site at www.campgonetothedogs.com or phone 802-387-5673.
For the Best that Pet Lifestyle and Animal Welfare has to offer follow Wendy Diamond on Facebook, Twitter, and right here at AnimalFair.com!
Comments
comments