What if you could help out animal shelters around the world, just by leaving your house? Wouldn't it be great if you didn't actually have to spend a dime? I think so!
Well guess what? ResQThreads has just created a mobile app that does just that!
ResQWalk is an app that lets you choose from 450  shelters, which ones you'd like to support. Then, as long as you sign into the app, every time you go for a walk, that distance will be calculated into the donations sent to the shelter that week. And you didn't even have to take out your wallet!
How it works: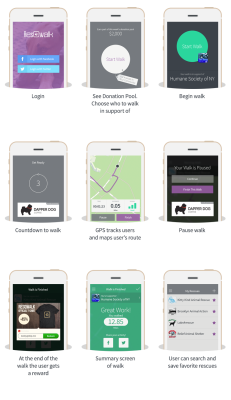 But wait, there's more! (I always wanted to say that.)
At the end of your walk, you'll get COOL PRIZES on your phone!
And be able to read a NEWS SECTION all about the pets you love so much!
And there's a SHOPPING SECTION with trendy product deals and offers!
You can even create a PROFILE PAGE so that you can access the pages of your favorite rescues, all while keeping track of the number of miles you've walked, and the number of dollars the shelter has raised.
This means you can save animals just by walking to work, or to Starbucks, or to class… Wow. This has got to be one of the most genius apps ever created!
So what are you waiting for? ResQWalk is now available on the App Store!
For the Best that Pet Lifestyle and animal welfare has to offer follow Wendy Diamond on Facebook, Twitter, and right here at AnimalFair.com!
Comments
comments