Many dog parents mostly like to socialize with their dogs only, but others love going out and meeting people too! For those that are in search of a new companion that you can bring home to your family, take to a coffee shop, go out on a busy walk, or over to their friend's house, this list includes some dog breeds that are predisposed to friendliness!
Here are the 10 friendliest dog breeds! 
1. Beagle
A happy-go-lucky breed that naturally enjoys the company of other dogs and humans, Beagles have lived in packs for hundreds of years and make wonderful family pets. They're a small breed that's very active and will be sure to keep up with you wherever you go!
2. Boston Terrier 
Nicknamed "the American Gentleman", Bostons are a lively breed that is sure to win your heart and the hearts of others. They are easy to train and are used primarily as a companion for those who are looking for a small but active breed!
3. Boxer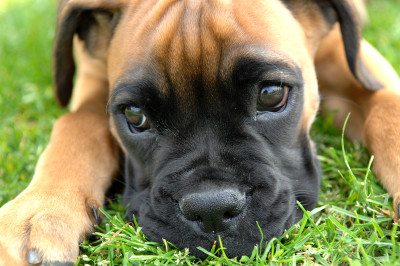 For those who enjoy large dogs, Boxers are a great choice as far as friendly breeds go. Boxers might look intimidating, but they're more likely to give out kisses than anything! They're patient, spirited and protective with children, making them a popular choice for families.
4. Cavalier King Charles Spaniel
The true purpose of the Cavalier King Charles Spaniel has always been as a companion dog, with its image being used alongside aristocratic families in paintings and tapestries for centuries! Their sweet, gentle nature makes them a trustworthy companion for children and a wonderful family pet.
5. English Bulldog 
Bulldogs are a great breed full of hilarious personality. While they do enjoy certain amounts of exercise, you'll likely find these pups snoring on your couch when you're relaxing at home. Bulldogs are very friendly with their families and strangers alike.
6. Golden Retriever
Goldens are one of the most popular breeds for families of all ages! They're extremely social dogs and are a great choice for those looking for a dog that will be friendly with both family, friends, and even strangers.
7. Labrador Retriever
Perhaps tied with being the most popular breed for families, Labs are right up there with Goldens in terms of their friendly demeanors. Because of their easygoing nature and trainability, millions choose to own a lab as a companion in the home!
8. Pug
Pugs have some of the funniest personalities in the dog world, and they love just about anyone that they meet with their silly antics and attitudes! If you're looking for a small dog to take with you everywhere, Pugs are a great choice.
9. Poodle 
Poodles have a friendly nature and outgoing personality! They are very intelligent, active dogs that are good with strangers and make wonderful companions for families and single individuals.
10. Welsh Corgis – Pembroke & Cardigan
Pembroke and Cardigan Welsh Corgis are very active dogs with shining personalities. These dogs love to be with their families but also getting out and meeting new people. They're bold, friendly and are easy to train!
If this article has convinced you to step up to the wonderful challenge, adopt one of these lovable animals here is some information you may find helpful. The ASPCA (The American Society for the Preventing of Cruelty to Animals) is a great place to adopt. All of the animals have their shots along with a clean bill of health. Most of the dogs are looking for great families to be apart of, a family that loves them.
For the Best that Pet Lifestyle and animal welfare has to offer follow Wendy  Diamond on Facebook, Twitter, Instagram and right here at AnimalFair.com!
Comments
comments