Have you ever wanted to share your home with a canine companion; preferably one that's going to make your life interesting. Well why not do it today; go out and adopt a dog that can't wait to get a new home. If you want to make your life more interesting, here are 10 dogs that may be messy but will make you smile.
1. The Newfoundland
This doggie giant may look like a teddy bear but the Newfoundland is no picnic to take care of. These adorable dogs have a thick double coat of fur which needs to be brushed daily. Twice a year you'll also need to cope with a shedding undercoat. But they reward you with real affection.
2. The Great Dane
Yes, we all love Scooby Doo, but a real life Great Dane is more about slobbering than mystery solving. You should prepared for major dampness. But you'll have fun too.
3. The Basset Hound
A favorite of the evergreen detective Columbo, the Basset Hound is very loyal and wonderful with children. That sounds great but have a Basset Hound and you'll have a home full of shed fur and drool. These are messy pooches; but just look at those eyes.
4. The St Bernard
Do not be fooled, this adorable little pup will grow into the type of dog that featured in the "Beethoven" movie franchise. St Bernard's are really friendly; unfortunately they're also prone to drooling, shedding fur, and often snoring.
5. The Boxer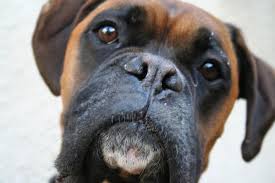 One of the most popular dog breeds in the US, boxers make a great household companion. But, be warned, they do have a tendency to snore very loudly, and some of them like a good roll in another dog's poop.
6. The Samoyed

Now this is one classy looking canine, and Samoyeds are friendly too. Watch out though, your home may look a little different if you're not careful; these furry friends love to chew.
7. The Bulldog
Bulldogs are compact and they don't need a lot of exercise. If you decide to parent one of the these adorable dogs you should remember that, like many short muzzled doggies they may let out quite a few snorts and sneezes, as well as drooling on a regular basis.
8. The Chow Chow
They look a little like a cuddly version of a lion, and much like a powerful wildcat, chow chows do need someone who is firm but friendly with them. If you have one of these pooches in your home you'll need to be prepared for a lot of grooming and some loud snoring.
9. The Bloodhound
A bloodhound will treat you to a shower, even if you've already had one. We're not just talking regular drool here we're talking a fountain of it. You'll get so much love but you'll say goodbye to pristine furniture.
10. The Great Pyrenees

These furry companions grow to a huge size and need a ton of exercise. They also shed a lot of fur so need regular grooming, and they will drool around your home. On the plus side they are docile and friendly, but they do have an independent spirit.
All of these dogs make great housemates, but they do need a lot of attention. If you want to adopt any dog that's going to be messy just make sure you are ready to make the commitment.
For the Best that Pet Lifestyle has to offer follow Wendy Diamond on Facebook, Twitter, and right here at AnimalFair.com!
Comments
comments