You want Thanksgiving to be a time of happiness for all the family, as you celebrate how thankful you are for everything you have in life. You don't want to increase the stress levels for you or your dog. Dr. Tina Wismer, medical director at ASPCA's Animal Poison Control Center, produced a podcast about the potential danger to pets at Thanksgiving. Speaking about the dangers of Thanksgiving food, Dr. Wismer stated, "We need to be careful if we are serving food that contains things like onion or a lot of garlic, this is certainly a case of the dose makes the poison, a small amount of garlic or onions for a dog or a cat is not a problem but too much can actually cause their red blood cells to rupture."
In consideration of the risk to dogs at Thanksgiving, we've got a few tips you might want to remember so that you and your furry friend can enjoy a day that you really can be thankful for.
1. Think carefully about food

You might enjoy having a table full of delicious food at Thanksgiving, but remember that your pooch doesn't eat the same things as you. It can be dangerous to give your dog things to eat from the table. As Dr. Courtney Pierce, from Greensboro Veterinary Hospital says;
"Most of the things on our Thanksgiving table are not safe for our dogs, so despite how hard they beg, we should avoid giving them things like turkey skin, onions and garlic are also very toxic. Many nuts can also be toxic to dogs, so think about that before giving them stuffing."
2. Make sure that you puppy is welcome

If you're spending Thanksgiving at someone else's home you need to make sure that they are okay with you taking your furry companion with you. If you make assumptions then you may find your host isn't as welcoming as you would like. In situations like this it can increase your stress levels, and as dogs can sense when you're unhappy, it can make them anxious too.
3. Be careful, and give your pet a getaway space

Your dog may be very placid and happy when they are just with you, but that doesn't mean they will be equally as happy at a loud Thanksgiving gathering. Remember to keep a careful eye on the behavior of your pooch, and make sure they have a place they can escape to, for some peace and quiet.
4. Be prepared for mishaps

It may never happen but make sure you have something with you just in case your dog gets over excited and poops in a place where they shouldn't.
5. Check if couch invasion is allowed.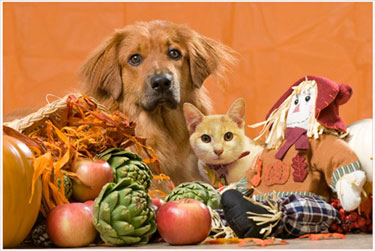 Never let your puppy jump on someone else's furniture unless you have got their permission first. Doggie fur on a new couch may not be appreciated by everyone, and it could put a real dampener on the Thanksgiving spirit.
Thanksgiving should be about including everybody in the celebration. It shouldn't be a time of stress for you or your pooch. If you check out our few simple tips you can feel relaxed in including your pet, and everyone can enjoy the day.
If you want to make it a really special Thanksgiving then go along to your local shelter and adopt a puppy. You'll make them very thankful for your love.
For the Best that Pet Lifestyle and Animal Welfare has to offer follow Wendy Diamond on Facebook, Twitter, and right here at  AnimalFair.com!
Comments
comments