HOT DAWG! It's summertime, and all around the country people and their pets are soaking up the sun. This week there is a heatwave expected to hit the USA just in time for the Fourth of July, so be prepared! Getting your tan on might sound great to you, but what about your furry friends? If you wore a fur coat 24/7, you probably wouldn't be quite so excited about so much sunshine. Keep your pets cool and happy this summertime by using a few of these tips!
H2Ohhhh So Refreshing
Water, water, water! Keep your pet hydrated and they will thank you for it. Your pals need lots of water, but they need even more when running around after a tennis ball in the heat. Pop the cap off that sports drink, but be sure not to give it to your pet, because their bodies aren't built for it. Humans sweat as a cooling method, and dogs pant. Their little furry bodies don't sweat out the drinks they consume, and any electrolyte-enriched drink might leave them feeling down in the dumps.
Feel the Breeze
Animals like air conditioning just as much as we do. In this upcoming heatwave, make sure your pet has access to a cool spot to lie down at all times! Never leave your pet in the car, even if you just have to run a quick errand. Cars are essentially little metal boxes and if you've ever hopped in a car that has been sitting in the sun for a while, you know just how miserable it can be! Air conditioning isn't always reliable, so be safe and keep your four legged compadre with you.
The Ground is Lava!
We all used to play that game where we pretended that the floor was lava and if we touched it, we would be hurt. Well, to our canine and feline friends, the asphalt on hot days feels a little bit like lava. Sidewalks and roads heat up a lot under the sun, and with their sensitive paws, our pals won't enjoy their walk too much on asphalt. Try to stick to grass, concrete, and dirt for a better experience for your buddy!
Sunny With a Chance of Heat Exhaustion
Know your pet! If you see that they are acting strange, heat exhaustion is a big possibility. Pay attention to the way they behave, and look for symptoms such as vomiting, excessive fatigue, and unusual panting. Call your vet right away if your buddy is feeling under the weather!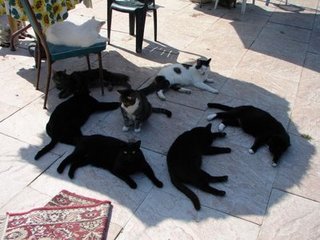 Adieu, Sun!
The best time to do activities outdoors with your pet is in the evening or early morning – before the sun is out full-blast. The cooler temperatures will feel better for both you and your four-legged friend. If necessary, also spray your pet with cool water (but never very cold) to keep them refreshed and their spirits high.
For the Best that Pet Lifestyle and Animal Welfare has to offer follow Wendy Diamond on Facebook, Twitter, and right here at AnimalFair.com!
Comments
comments