This is the thoroughbred race horse American Pharoah.
American Pharoah recently won both the 2015 Kentucky Derby and the Preakness Stakes. With two wins under his belt, only one more race is left to secure the Triple Crown of Thoroughbred Racing: the Belmont Stakes.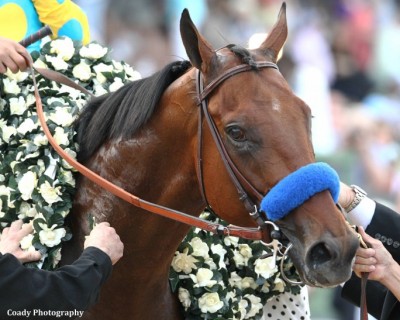 American Pharoah has become quite the horse celebrity since his two out of three wins. This handsome champion is worth more than $20 million!
This famous three- year- old horse does not drive to each competition or fly coach. American Pharoah hitches a ride on the Air Horse One, a plane tricked out with top notch stables and has all the hay his heart desires!
He gets his own entrance that is fitted for his four- hoofed kind…
And what would this luxury flying stable be worth if American Pharoah could not take his friends with him…
American Pharoah is flying over to Belmont Park, NY to race in the 147th Belmont Stakes! The race and televised event will be held on Saturday, June 6th. Good luck and health to American Pharoah on his quest to be the first winner of the Triple Crown since 1978!
Watch American Pharoah's journey to the Triple Crown on CNBC's "Secret Lives of the Super Rich" on Thursday, June 4th at 10pm! Catch a sneak peak here!

However, for most horses who do not make it big like American Pharoah, they are in need of rehabilitation and new homes. Here are some places where you can adopt a horse: New Vocations Racehorse Adoption Program, Doxy's Horse Recovery, Doris Day Equine Center, Amazing Grace Equine Sanctuary, Montana Horse Sanctuary, Last Chance Corral.
There are many other places across the world that rescue and adopt out horses!
If a horse is not an animal you have space for in your family, donating to a shelter or rescue can help improve the life of a horse and that is also a great gift to give!
Comments
comments