The 2015 James Beard Awards, known as the "Oscars of the Food World," are going to be held on May 4th, and presented by The Chew's Carla Hall. The foundation has been honoring the top chefs in the industry since 1990; past winners include famed restaurateurs and chefs such as; Mario Batali, Michael Symon, David Chang, Jean George Vongerrichten, and Thomas Keller.
The James Beard Awards winner's 2014 include; Outstanding Wine Program: The Barn at Blackberry Farm, Best Chef: Jamie Bissonnette, New York City, Outstanding Restaurant: The Slanted Door- San Francisco, Humanitarian of the Year: Matt Haley, Outstanding Chef: Nancy Silverton, Pizzeria Mozza – Los Angeles, California.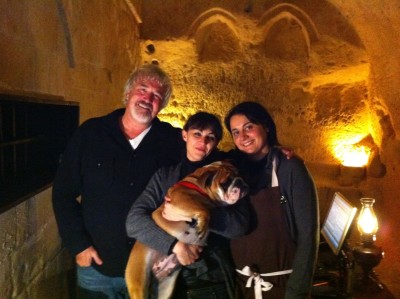 He was probably the best-fed dog in canine history. He never ate dog food from a can or a bag.  The house steward cooked his meals for him every day.  Of course, if your owner was one of the greatest culinary figures in American history, you would turn your nose up at processed dog food, too.  His name was Percy and he was a chunky pug owned by the late epicurean giant, James Beard, author of 22 cookbooks, food writer and cooking teacher – often referred to as the "Father of American Gastronomy" and "The Father of American Cuisine."
Percy's spirit lives at the historic James Beard House located at 167 West 12th Street in the heart of Greenwich Village in New York City.  This is where Mr. Beard lived, worked and entertained culinary figures from the legendary Julia Child to aspiring young chefs who are now stars in their own right.  The James Beard Foundation, which is headquartered in this four-story town home, is a not-for-profit organization established in 1986 after Beard's death to support and promote the culinary arts.  Today the Foundation has more than 4,500 members throughout the United States.  Each spring it holds the prestigious annual James Beard Awards, which are the highest honors any culinary professional can attain.
The Foundation has given away more than one million dollars in scholarships to aspiring culinary students.  The James Beard House is considered the Carnegie Hall of fine dining; to receive an invitation to cook at the Beard House is, indeed, an honor for any chef.  The James Beard House holds nearly 20 events each month featuring chefs and wines from around the world.  For one price, a guest can enjoy a multi-course menu paired with fine wines and meet the artists who prepared the meal.  It is a different show every night at The James Beard House where the chefs are the performers and the audience 'eats' it all – literally.
Percy the pug lived in this house during Jim Beard's later years.  Clayton Triplette was Beard's longtime house steward, a position he still holds today.  "One day I came to work and there was Mr. Percy at the head of the stairs. Someone had given the dog to Mr. Beard as a gift," says Triplette.  "At first Mr. Beard was concerned because he thought I didn't like dogs, but I grabbed Percy and gave him a big hug."
Triplette was in charge of preparing Percy's daily meals. "His favorite dish was chopped carrots and miniature meatballs," says Triplette.  Beard was careful not to indulge Percy with restaurant leftovers.  However, according to Triplette, Beard's companion, Gino Coffaci, slipped him hot dogs (without the bun), filet mignon and chopped livers from time to time.
Percy had the run of Beard's house and would sit next to Beard on a small ottoman, which Triplette had covered with a special fabric.  Percy slept with James Beard in his 'tomato-soup-red' bedroom with a giant mirror over the bed.  Yes, Mr. Beard was as colorful in his lifestyle as he was about food!  Today, Beard's bedroom and upstairs living quarters are filled with mementos from cookbooks to photographs, and it is still painted 'tomato-soup-red' thanks to an extensive renovation effort undertaken by The James Beard Foundation to preserve  The Beard House. Members and guests dine in Beard's bedroom and salon, which seat around 60.
James Beard was famous for wearing bow ties, and for special dining occasions, Percy would don a bow tie, too.  According to Triplette, Percy even had his own version of a tuxedo.  The relationship between man and dog had its ups and downs, however.  Percy would become jealous when Beard went out on the town without him and would jump on his master's bed and wet the pillow.  Because Beard relied on a cane, it was often difficult for him to walk Percy outside the townhouse.  A friend gave Beard a plastic fire hydrant to place in his landscaped garden for Percy to use.
Beard died in 1985, and Percy followed his master a few years later.  Today he is remembered in photographs taken with Beard and is mentioned in two biographies written about James Beard.  Percy became the mascot for The James Beard Foundation.  A few years ago the Foundation created a "Percy Bag" for event leftovers.  The canvas tote bag as well as T-shirts with Percy dressed in a trademark Beard bowtie can be purchased at The James Beard House.
Membership to The James Beard Foundation is open to both culinary professionals as well as "aficionados" of fine food and beverage.  In addition to receiving special invitations, and discounts to Foundation events, members receive Beard House Magazine, a glossy, bi-monthly filled with profiles of chefs, food news and recipes, and a Beard House Calendar listing Foundation events.
For more information on The James Beard Awards winners visit: James Beard Foundation Awards.
For the Best that Pet Lifestyle and Animal Welfare has to offer follow Wendy and Lucky Diamond on Facebook, Twitter, and right here at AnimalFair.com!
Comments
comments