Let's get this show on the road! Although not a mainstream genre, Lady Gaga's and Tony Bennett's extremely successful album, Cheek to Cheek, has won over the hearts of millions. It even has earned a Grammy nod! So, it was only right to name their tour after their Grammy Award winning album. They've been hard at work singing their hearts out every night for their adoring fans in the audience, but back stage is where you can find their biggest fans – their pups!
Lady Gaga added another little furry monster to her animal crew recently, a French bulldog she named Koji, providing a little brother for her other French Bulldog, Asia. She just recently posted this on Instagram:
Gaga may be trying to fill a heartfelt void since her family dog that she grew up with Alice, passed away from canine cancer.
Koji will be joining Gaga's furry monster family consisting of her other dogs Asia, and Fozzi, an adorable Cockapoo (a designer cross breed of American Cocker Spaniel with a Toy Poodle).
Tony Bennett adores his dog! He shared his initial reaction to seeing the little Maltese he calls "Boo" in the window of a Madison Avenue pet shop years ago. "I just said, 'I'm going to get this dog!.'"
Boo caught Bennett's eyes immediately as he was driving by in a taxi cab. "She was a tiny little puppy and so cute. Of all the Maltese I've ever seen she had this extra…" Bennett can't find the right word to describe that certain something that drew him to Boo. "Her eyes are warm and kind," he says in an attempt to describe Boo's allure. "She had that thing that certain performers have where you say – that guy has really got it. She had 'it'. It's hard to define."
Boo received her name because Bennett found her around Halloween, but there is nothing scary about the canine. "She has been a blessing," says Bennett, "because she is the most lovable. She is so kind and sweet and she hasn't got one mean bone in her body."
Surely Lady Gaga and Tony Bennett have spent many a day singing CHEEK TO CHEEK with their dogs!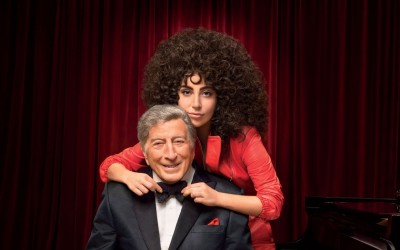 This dynamic duo also has a hand in philanthropy! They are supporting differing charities to support children and musicians in each city. One of their favorites is Kids in a New Groove, which provides foster children the tools they need to become successful once they transition out of the foster system. These charities intertwine seamlessly with the mission of the tour, which is to introduce jazz music to a younger demographic.
For more information on Lady Gaga's and Tony Bennett's Cheek to Cheek tour, click HERE!
Purchase your tickets HERE!
For the Best that Pet Lifestyle and Animal Welfare has to offer follow Wendy Diamond on Facebook, Twitter, and right here at AnimalFair.com!
Comments
comments