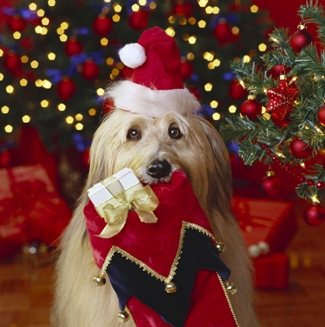 If you have a doggy dilemma or  a confused cat looking for advice, don't hesistate to ask Dearlucky.com @ lucky@animalfair.com. Baby Hope has taken on the legacy of Lucky – she has been around the block so no worries she is just as clever and can answer all your questions!
Dear Lucky,
I am a good little Scottie dog most of the year but during Christmas my owners put up a lot of lights around the house. They are really pretty and sparkly. I found that they are connected by long cords that are on the floor right to my bed. I sometimes end up chewing on them. My mom is always shooing me away. I don't want to get hurt but they are so tempting. What should I do?
– Pepper, Williamsburg, VA
Dear Pepper,
Those wires can be very dangerous to you. You need to tell your mom to unplug the lights when you are home alone. That way if you do accidentally put one in your mouth you won't get hurt. Another good tip is to tape the wires to the wall of another high area where you can't get to them. Instead of wires chew on a bone; it tastes much better!
Comments
comments