With the warmer months finally heading our way, thoughts of trips to new vacation spots with fresh sights and smells that will delight both owners and pets are starting to enter our minds. With gasoline prices rising we thought it might be a great time to take a look at the current crop of fuel stingy hybrids offered to consumers and their eco-conscious pets.
Driving a gas/electric hybrid is an excellent way to show you are a good neighbor to your fellow earth inhabitants. It sort of falls into the same category as picking up your furry friends deposits, but without having to carry around that less than chic plastic bag.
Keep in mind the entire hybrid vehicles mentioned in this article never needs to be plugged into an electrical outlet. The batteries are constantly recharged when you hit the brakes thanks to a process known as regenerative braking. For the most part each car or truck uses a downsized gasoline powered engine supplemented by powerful electric drive motors.
Toyota's recently redesigned Prius has quickly become the chariot of choice for the celebrity crowd. Its modern new shape not only means less wind resistance but also a surprisingly large cargo capacity especially with the rear seats folded.
Packaged in a four door sedan design this thrifty transporter gets 60 MPG in city driving and 51 MPG on the highway thanks to its small gasoline engine with electric motor assist. By design it is known as "Full Hybrid" since it can be driven over 15 miles an hour using only the electric motor and the battery pack. Push down on the accelerator and the traditional gas engine starts automatically. Price is in the $21,000 dollar range and dealers have a waiting list. Since the Prius is the vehicle of the stars, better budget for Jackie O style sunglasses for you and your pooch as well.
Toyota has also just announced pricing on its new Highlander hybrid SUV at $33,595 for the two wheel drive version and $34,995 for the all wheel drive that lets you and your pet get to those remote locations.
Lexus will soon offer two upscale hybrids including the RX400h SUV and the GS450h posh sedan. The all wheel drive RX400h is designed after the popular RX330 model with all the room and capability including the acceleration of a high performance V8 but the gas mileage of a four cylinder. Almost every high tech option in the Lexus arsenal will be bolted on to this puppy including a very advanced stability system. The RX400h will begin making its presence known in dealer's show rooms around mid-April with a price close to $50,000 dollars. We will have to see if that includes a rear seat kibble warmer and water dish cooler. The GS450h which was introduced at the New York Auto Show will coddle both you and your dog on those long trips allowing you to bond even closer. Pricing and fuel mileage of the Lexus GS450h were yet to be announced at this writing.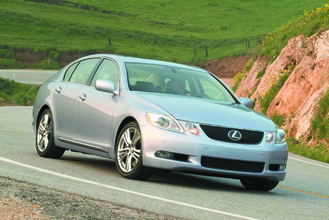 Supposed you and your furry traveler want to do your part to help mother nature, save a bit of gas, and add money to the kibble and toy fund but you don't want to tip your mitt that you're driving a hybrid. Well Honda has two models that might just be what you are looking for. On the outside it's hard to tell the Honda hybrid Civic apart from its gasoline only powered brothers and sisters. But underneath the hood sits Honda's version of the hybrid power plant that nets 48 MPG City and 47 MPG Highway and performs seamlessly. In case you think I might have switched the city and highway MPG numbers, remember since the gas engine does not always run in the city driving, thanks to the battery powered electric motors, gas mileage is higher in urban settings. If you need more room consider the equally stealthy Accord hybrid which brings in luxury options like voice operated controls and a navigation system. The Accord is the hotrod of the hybrid set with quick 0 to 60 times and a 255 horsepower V6 under the hood. Mileage is not bad either at 29 city and 37 highway, with a price in the low $30,000 ballpark.
The one down side to the hybrid Civic and Accord is that the real seats don't fold down since the battery packs are mounted on them. Something to consider if you and your pup like to carry your surfboards on road trips.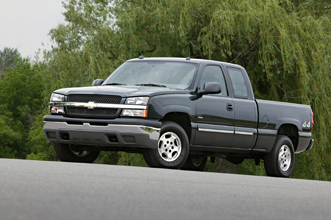 If you and your doggy really would prefer to haul how about in a hybrid pickup truck than General Motors has a full size pickup with a mild hybrid drive train that only shuts down the engine at stop lights or in standstill traffic, and it offers some other practical advantages. The Hybrid Chevrolet Silverado 1500 pickup can generate electrical power to run drills and saws and other equipment. Hmm, I see visions of a remote multi story dog house dancing in your four-legged friend's imagination! This truck is perfect for all those weekend projects and does not compromise hauling one tiny bit. Price for this big boy comes in slightly over $30,000.
Perhaps the hybrid model that offers the best storage and off road capability without hindering your budget is the Ford Escape hybrid. Ford has taken the popular, albeit small Escape SUV and managed to turn it in to a fuel sipping 30 mile per gallon vehicle that really offers just about everything the traditional model has without making big compromises. By the way the Escape has 27.6 cubic feet of cargo capacity with the rear seat up, with space for two doggy carriers or other pet gear, plus room for five passengers in the cabin. There's plenty of room for your four-pawed or two-legged friends when you set out on your next adventures!
There you have it, the Animal Fair happy hybrid guide that just might keep you and your pup clean and green with more money for all those hot new chewy toys. Are you ready to hit the open road in a hybrid? Happy Motoring!
Author Frederick Staab has been a print, radio and television journalist for more than 20 years. He is co-host of the nationally syndicated automotive radio show "Cruise Control" www.cruisecontrolradio.com
For the Best the Pet Lifestyle, especially animal welfare has to offer follow Wendy and Lucky Diamond on Facebook, Twitter, and right here at AnimalFair.com!
Comments
comments