Animal Fair magazine, the nation's first lifestyle magazine for animal lovers, is proud to announce the recipients of our Second Annual Five Dog Bone Awards for their excellence in pet-friendly services!  We feel it's our duty to inspect, report and award the top-level pet companies. The recipients are recognized for their exceptional hospitality and services, symbiotic ambience, cheerful atmosphere and superb cleanliness. Each category winner was awarded for its travel friendliness and overall sense of grooming and style. The categories are: Pet-Friendly Airline, Automobile, Destination, Hotel, Product, Resort and Shelter.
It's a 'dog-eat-dog' world out there and Animal Fair has very specific guidelines when determining our annual Five Dog Bone Awards. The pet-friendly companies that qualify for consideration are based on an Animal Fair Readership Survey. The final decisions for each category are made by a group of select pet-related experts that visit and inspect each nominated category.
Animal Fair would like to congratulate all the 2005 Five Dog Bone Award recipients for their dedication to providing the very best pet-friendly establishments catering to all the pets and their guardians!
Airline: JetBlue
Automobile: Jeep Grand Cherokee
Destination: Philadelphia
Hotel: Cypress Inn
Product: The Sherpa Bag
Resort: San Ysidro Ranch
Shelter: PAWS Chicago
PET-FRIENDLY AIRLINE 
JeTBlue Airways
Hats off to JetBlue airline for winning the Five Bone Dog Award for being a super pet-friendly way to fly as well as one of the most economic ways to travel. Recently they expanded their services and are becoming the most popular and affordable pet-savvy airline to take off in the past four years. JetBlue has added service to the Dominican Republic and will start to fly out of La Guardia Airport as well as JFK. They will soon begin expanding their services from Boston's Logan International Airport with non-stop flights to various cat and dog destinations all over the country. JetBlue plans to have 71 daily flights from New York to Florida and has just purchased an additional 223 aircrafts to keep up with its costumer's high demands. The airline will continue its pet passenger policy of only one pet per passenger-carrier and requests a fee of $50 per pet each way. A combined weight of pet and carrier may not exceed twenty pounds and a pet will count as your one personal item, unless you are bringing a certified service animal or a documented emotional support animal. You can purchase a carrier for your worldly canine or fast track feline at the ticket counter. The pet carrier has to be smaller than 18"x 15"x 8" and able to fit under the seat in front of you. Now you can take your furry pals with you to a number of destinations for a more than reasonable price and with the convenience of two New York airport locations in order to make traveling a more convenient experience. Make sure to enjoy one of JetBlue's 276 pet-friendly daily flights the next time you and your pet plan to take to the sky!
1.800.JETBLUE
www.jetblue.com/travelinfo
Pet-Friendly Product
The Sherpa Bag
With fifteen years of excellence serving the pet population, Sherpa, the original soft-sided carrier, is the winner of this year's Five Dog Bone Award for best product. Former flight attendant turned entrepreneur, Gayle Martz, designed the carrier to alleviate the anxiety one can feel when traveling without their pet by their side. Animal Fair is very excited to award Sherpa with this honor since we know how stressed our traveling companions can get when comfort is constricted while flying. As the company's motto states, it is "a leader in style, safety, and comfort," these soft-sided carriers can easily and comfortably be stowed underneath airline seats unlike other hard-sided carriers. The reliability of Sherpa bags has prompted many airlines to change their policies on pets in the cabin, and the bags are now approved for in-cabin flights on numerous airlines including American, Continental, TWA and Delta. Animal Fair's panel of judges also love that these stylish, lightweight, and functional carriers come in over a dozen different styles and with fun accessories! Both four-legged and two-legged customers will agree that Sherpa is the best way to get to the places you want to be with your furry friend!
800.743.7723
www.sherpapet.com
PET-Friendly AUTOMOBILE
2005 Jeep Grand Cherokee
When you're traveling in the new 2005 Jeep Grand Cherokee, you're not only driving in one of the most comfortable, stable, and technologically advanced automobiles, but you're also driving Animal Fair's Five Dog Bone choice for automobile of the year! We love the new Jeep because of its modern exterior, which includes smoother lines, jeweled intersecting circle headlights, and integrated turn signals. Two-tone leather lines the seats, satellite navigation keeps you and your furry friend from getting lost, and the stereo system is able to play MP3s of your pet's favorite doggie duets. Most importantly, the Jeep Grand Cherokee has enhanced safety features such as Pet Dividers & Screen Dividers that are pet barriers which safely keep your pet in the cargo area of your vehicle away from the driver and passengers. Most dogs and some cats have a bit of the wanderlust in their nature and that's why Jeep created a Pet Seat Protector, an easy-to-use protection for your seats against pet hair, as well as spills, snow, rain and sand. Animal Fair was especially impressed with the Cherokee's new reversible floor carpets that let pets cover up any dirty paw prints they may have left behind! We salute the new Jeep Grand Cherokee for continuing to keep family members and pets pleased and safe whether cruising through Manhattan's concrete jungle or the jungles of the Amazon!
800.925.JEEP (5337)
www.Jeep.com
Pet-Friendly SHELTER
PAWS Chicago
Animal Fair is proud to award Five Dog Bones to the PAWS (Pets Are Worth Saving) Chicago Animal Shelter. The hard work that PAWS has put into raising awareness of animal homelessness in the Chicago area has recently made a vast difference. Paula Fasseas, Founder of PAWS, and an executive in a Chicago-based corporation, decided to construct PAWS in 1997 after reading a news article about Chicago's pet overpopulation problem. Many animals were being euthanized because of the lack of available homes for these pets. In 1997 over 800 homeless cats and dogs were killed every week, totaling a staggering 42,561 deaths that year alone. Fasseas recruited other business leaders to join her in saving the animals one shelter at a time until this tragic situation was relieved. PAWS believes in a no-kill philosophy that helps pet owners to spay/neuter their pets through a free clinic located in some of Chicago's more
disadvantaged areas. They also help pets find homes through their Lincoln Park Cat Adoption Center juxtaposition, a project called Angels with Tails, which holds dog and cat adoption events every weekend at local malls, retail stores and banks. Animal Fair would like to congratulate PAWS for a job well-done in saving over 12,000 lives since 2001; reducing the killing rate by 32% in just seven years, and for helping to educate humans about the drastic problem of homelessness that many less fortunate animals had to endure for years.
773.843.2508
www.pawschicago.org
Pet–Friendly Destination:
Philadelphia city Of Brotherly and puppy Love
Dog lovers, we've found the perfect city to visit with your pet: Philadelphia. This year, the City of Brotherly Love has won Animal Fair's Second Annual Five Dog Bone Award for being one of the pet-friendliest cities in the world. Philadelphia has received the top honors this year because it has proven itself time after time in providing outstanding service to our four-legged friends!
Not only is Philadelphia rich with history, but it is also a magnificent metropolis, filled with beauty and a unique, dog-friendly charm. If you love spoiling your pet, you'll be pleased to learn that Philadelphia has it all, from world class dining to shopping for new doggie duds for your dog. Philadelphia, the city of dog-brotherly love, is the perfect getaway.
But where to begin? Here, we break down the absolute must do and see places on your visit.
Familiarize yourself with Philadelphia's legendary friendliness first hand by staying with your pooch at their world-class hotels.
LOEWS PHILADELPHIA HOTEL
Proudly boasting its motto, "Loews Loves Pets", Loews Philadelphia Hotel is a pioneer in the hotel industry, going out of its way to cater to pet guardians traveling with their pets. Featuring an a la carte menu for the Very Important Pet (VIP), pets are also provided with beds, bowls with place mats underneath in case your pet is a messy eater, as well as leashes and collars just in case you forgot yours. A twenty-four hour concierge is at your service and can give you re-commendations on reputable area veterinarians, pet shops, and other pet-related resources. A dog friendly walking route map is available at the concierge, and dog sitting or walking is also available for an extra fee. Bring your dog in for a fantastic meal at Sole Food, a pet-friendly seafood restaurant located in the hotel. Rates start at $129 per night.
1200 Market Street
215.627.1200
www.loewshotels.com/philadelphia
THE 1011 CLINTON HOTEL
A special treat for history lovers, the 1011 Clinton Hotel is where pets and their guardians can stay in a beautiful 1836 Federal Townhouse in the heart of historic Philadelphia. Clinton is a bed & breakfast that offers guests private suites instead of bedrooms and complimentary treats are also available at check-in. Located minutes away from the Dog Run at Seger Playground. Rates start at $145.
1011 Clinton Street
215.923.8144
THE FOUR SEASONS
The classy, upscale Four Seasons extends a hand to any and all paws that would like to accept the lavish treatment the hotel provides. Pets weighing no more than fifteen pounds can rest their weary paws with no extra fee. The Four Seasons requests advance notice of a pet before checking-in, and to kindly keep your dog leashed whenever outside of the room. Complimentary dog treats are provided upon arrival, and the concierge can recommend pet sitters or pet supplies. A first class choice, this hotel is sure to please all two and four-legged visitors. Rates start at $300.
1 Logan Square
215.963.1500
www.fourseasons.com
Outdoor Fun
What better way to enjoy the natural beauty of Philadelphia than by going for a walk in Fairmont Park, one of the largest city parks in the world. Established in 1855, Fairmont Park has over 8,900 acres and your dog will feel like its found a canine paradise. Among the many features are relaxing water front, tons of trails both gentle and steep, and awe inspiring tranquility that makes this a fun and adventurous day long excursion for you and your dog.
Where to Eat and Take Home A DoggIE Bag for You and Your Dog
Most Philadelphia restaurants understand that you don't want to leave your dog behind and will let you dine with your dog at outdoor tables.
DEVON'S SEAFOOD GRILL
Best known for its fresh seafood, Devon's offers water bowls for pets. Dogs are welcome to dine leashed at their outdoor tables. Lunch: $7-$12, Dinner: $8-$28.
225 S. 18th Street
215.546.5940
www.devonseafood.com
PEACOCK on the PARKWAY
A Mediterranean-eatery that provides treats and water for your dog. You and your dog will be quite happy sitting
adjacent to the tree-lined boulevard that culminates at the beautiful Philadelphia Museum of Art. Lunch: $10-$16, Dinner: $13.95-$27.
1700 Benjamin Franklin Parkway
215.569.8888
www.peacockontheparkway.com
THE BLISS 
This restaurant has a complete doggie menu and extra-wide sidewalk space to accommodate leashed canines. A truly dog-friendly place indeed! Lunch: $7-$20, Dinner: $12-$33.
220-224 S. Broad Street
215.731.1100
www.bliss-restaurant.com
Dress Your Dog Up In High Style
 POOCH
Pooch appeals to the most devoted of pet guardians. Local designer Nancy Adler uses vintage fabrics to make collars and leashes for pets and coordinating belts for people.
2020 Locust Street
215.735.0793
www.2020poochplace.com
BONEJOUR
Bonejour caters to both dogs and cats. They have a wall of dog fashions from the Canine Couture Collection and a slew of far more practical items too, including food, leashes and carrying cases, along with natural and holistic foods and remedies.
14 N. 3rd Street
215.574.1225
www.bonejourpetsupply.com
WHISKAZZ and PAWZZ
Cappi the Beagle greets customers at the door of Whiskazz and Pawzz, and shows off the large amount of dog and cat accessories, toys, books, and fashions available.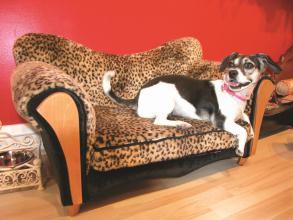 100 Chadds Ford Shops – Bldg. #1- Rte. 1 & Rte. 100
610.388.7010
www.whiskazzandpawzz.com
Shopping for You with Your Canine Companion
PETULLIA'S FOLLY
Many shops don't mind accommodating dogs either; like Petullia's Folly, an upscale designer clothing store which displays a "pet-friendly" notice on its door.
1710-1712 Sanson Street
215.569.1344
Stephanie@petulliasfolly.com
ANTHROPOLOGIE
Some residents claim that Anthropologie was one of the first stores to welcome dogs. Pet guardians can shop here for European inspired housewares and clothing.
1801 Walnut Street
215.568.2114
www.anthropologie.com
 VAGABOUND
Dogs can roam the aisles of Vagabound, a small shop filled with it's own line of knitwear for canines!
37 N 3rd Street
267.671.0737
A Historic stop for you and your dog.
RYERSS VICTORIAN MANSION
Formerly the estate of the Ryerss family, the villa is filled with one-of-a-kind treasures from their collection and travels around the world. It has been converted into a library and museum, and you will notice the Ryerss' love for animals based on the many portraits of their pets that hang in some of the galleries. The family's pets are buried in graves on the lawn that are marked by headstones, so watch where you step and let sleeping dogs lie. Also, keep your eyes open for the cubist sculptures by Jacques Lipschitz, a.k.a Philadelphia's pet sculptor!
Burholme Park
7370 Central Avenue
215.685.0544
www.philaparks.org
Maybe Philadelphia's new slogan should be the: City of Brotherly and Puppy Love!  Think about this while making plans to visit Philadelphia, which may be just about the pet-friendliest city in America! Have fun!
WHITE DOG CAFE
Founder Judy Wicks Honors a Miraculous Pooch in this Unique, Cozy, and Socially Aware Restaurant.
Judy Wicks is a Philadelphia-based entrepreneur and the owner of the wildly successful White Dog Café. A cozy, eclectically styled restaurant located in the University City section of town. The café is testament to Wicks' perfectly balanced combination of business skills and social activism. Initially a coffee and muffin shop run out of Wicks' home, the White Dog Café has expanded to include full menus that showcase dishes made with fresh, organic ingredients from local farms and blended in contemporary American recipes. In addition to offering great cuisine, the café is Wicks' base from which to lobby for social, economic, and environmental issues. The café is the first restaurant in Philadelphia to employ electricity generated by wind power. Not to mention, the atmosphere is very inviting. Customers can bask in a comfy ambiance, which fittingly reflects the rich flavor of its food. The décor is classic American with highlights of cultural flair influenced by Southeast Asian and Native American craft, never forgetting, of course, the café's principal inspiration: the white dog.
The myth of the white dog originated with Madame Blavatsky, the original tenant of the brownstone where the White Dog Café is currently housed. An eccentric, late 19th century writer, Blavatsky suddenly fell ill with an infected leg. Due to her spiritual faith, she refused medication, and doctors and surgeons recommended amputation. Instead of heeding their advice, she relied on the love and care of her white dog, which slept lying across her leg each night. Miraculously, her leg ultimately healed, and many believed it was the result of her beloved pet's nurturing.
Wicks created an entire enterprise inspired by this amazing canine. The namesake white dog is honored by the interior décor of the café, which has adopted the dog's image as a motif, revealed in quirky yet tasteful dog-inspired objects placed throughout the venue. Dog-shaped vases representing a myriad of breeds, filled with fresh flowers daily, sit atop each table. Lamps adorned with dogs, cast light throughout the cozy interior, and there is even a wall covered with photographs of people with their dogs, including snapshots of Wicks' loved ones, White Dog customers, and historical figures like Eleanor Roosevelt.
In addition to the delectable treats available at the café, a host of White Dog paraphernalia is available at Wicks' Black Cat Store, located adjacent to the café in a similar Victorian brownstone. The store also sells folksy home furnishings, crafts, jewelry and toys, which are all primarily made by local artisans. In keeping with Wicks' environmental and social concerns, much of the merchandise carried is made of recycled materials, and all international pieces are fairly traded.
An animal lover for as long as she can remember, Wicks is utterly devoted to animal causes. She rescued her own pets and actively contributes to animal charities and organizations. A percentage of the café's profits go to animal charities. Wicks often hosts guest speakers, such as Michael Fox of the Humane Society and author John Katz, all in an effort to raise awareness of animal issues. At the end of a busy day, Wicks relaxes with her golden mutt, Alice, (adopted from a shelter five years ago) and her two cats, Good Cat and Bad Cat (both found in an abandoned building).
To experience the White Dog Café's excellent cuisine or to participate in charities and events, such as Breakfast Talks, the International Sister Restaurant Program, and educational tour groups, contact Judy Wicks for more information.
The White Dog Café
3420 Sansom Street
Philadelphia, PA 19104
215.386.9224 – Ext. 101
www.whitedog.com
Pet–Friendly hotel: Cypress Inn
The Five Dog Bone Award judges were very pleased upon entering the Cypress Inn located in Carmel-by-the-Sea, California to discover that not only does the Cypress Inn love pets but so does the whole town! Carmel-by-the-Sea welcomes dogs that want to run free on their beaches and a number of restaurants allow dogs and some even feature a special dog menu. The Cypress Inn is no exception to the animal loving attitude of Carmel. The Inn originated as a painting studio built by watercolor artist, Sidney J. Yard in 1906, and was later turned into the Hotel La Ribera in 1929. Eventually the hotel became the Cypress Inn when coveted actress Doris Day, her son Terry Melcher (a 1960's record producer, songwriter and artist, who passed at the age of sixty-two) and Dennis LeVett took over. The Inn is located in the heart of Carmel and is only blocks away from shops, galleries, restaurants, and the village's famous beach. We were thrilled to find that the Cypress Inn offers amenities such as pet sitting services, in case your pup is too tired to join the rest of the crew for a late night gathering. Reservations are recommended for dining with your pet, afternoon tea time, and happy hour in their library bar.
The hotel is decorated with posters from Doris Day's movies and has a Mediterranean façade that looks out onto a garden courtyard. It was also exciting to learn that Doris Day actually lives in Carmel and looks after her own pets, as well as her animals living at the Doris Day Animal Foundation (DDAF) in Washington, DC. Day's son Terry Melcher was Director and Vice President of DDAF and the foundation has set up a tribute fund in honor of Melcher's memory in order to further support DDAF's animals. Suite prices range from $125 to $425.
There are a few standard rules that pet guardians must follow while visiting the Cypress Inn with their pets:
• Pets must not be left alone in the room.
• While in public areas of the Cypress Inn pets must be
on a leash or with their guardians at all times.
• Pets aren't allowed on the furniture in guestrooms or
public areas.
The Cypress Inn
Lincoln & 7th
P.O. Box Y
Carmel-by-the-Sea
CA 93921
1.800.443.7443
www.cypress-inn.com
Doris Day Animal Foundation
227 Massachusetts Avenue NE  Suite 100
Washington, DC 20002
202.546.1761 – Extension 2
www.ddaf.org
Pet–Friendly resort: San Ysidro Ranch
Animal Fair proudly awards San Ysidro Ranch our prestigious Five Dog Bone Award for the pet-friendliest resort. The beautiful San Ysidro Ranch is located in the exclusive enclave of Montecito, on over 500 acres in the foothills of Santa Ynez Mountains. The property features forty luxurious accommodations in twenty cottages and is a member of the Relais & Chateaux organization, which honors unique and independently owned hotels.  The ranch has a pet-friendly history and has accepted pets into its accommodations since opening as far back as the 1930's, when former owner Alvin Weingard's famed family of dachshunds welcomed animal guests.
At the time of registration your pet can be signed up for the "Privileged Pets" program.  Furry friends are only allowed to stay in the freestanding cottages, but they won't mind at all! Your dog will be pleased when entering its room to find special perks such as its own oversized cedar-stuffed fleece bedding and amenities that include special vitamin water and dish, tennis ball, chew toy and doggie bagels. The San Ysidro Ranch provides in-room pet massages and also offers in-room dining for your pooch!  Pets will enjoy the finest and freshest mix of organic vegetables, herbs and spices used in meals!
Privileged Pets Menu
Petite New York Steak $17.95
Baked Salmon $10.95
Feline Food $5.50
Ravioli $3.95
Cheeseburger $3.95
Dog Biscuits $3.95
Beef Jerky $3.00
After several months of temporary closure for renovations to twenty of the cottages and both the popular restaurants, The Stonehouse and the Plow & Angel, San Ysidro Ranch will reopen during the summer of 2005.  "We look forward to welcoming guests back to the Ranch – it is our guests who bring the personality to our surroundings," said managing director Duncan Graham. "It is so important that our guests and the community know that we are not changing the character of the Ranch in the least." Ranch rooms range from $499 to $549 – specialty suites and cottages range from $599 to $2,499.
A few pet-related guidelines that must be followed while
visiting the San Ysidro Ranch:
• Pets are welcome in the freestanding cottages only.
• Pets cannot be left unattended.
• Pets are not permitted in the restaurants or poolside
(with the exception of seeing-eye dogs).
• A $100 non-refundable deep cleaning fee will be charged at departure, per pet, per stay.
San Ysidro Ranch
900 San Ysidro Lane
Montecito, CA 93108
800.368.6788 or 805.969.5046
www.sanysidroranch.com
Comments
comments