In the roughly 40,000 years that humans and dogs have been companions, canines have served us so well, so often, and in so many ways, it practically defies the imagination. Dogs have been our eyes and our noses. They have jumped between children and deadly snakes. They have saved skiers buried by avalanche, and they have rescued families from burning homes. Dogs have guided the blind, tracked prisoners, and, of course, given unconditional love to countless generations  There is, however, perhaps no more stirring example of what the partnership between humans and dogs can be than Search and Rescue teams.
The word "heroes" gets used an awful lot these days.  Athletes are called heroes, as are comic book characters and movie stars. The real meaning of a hero is much different than just rich or famous, though.  A hero, in the highest sense, is someone who undergoes tremendous risk solely for the sake of helping others. A hero is someone who, through word and deed, shows us how to become better than we are.  A hero is, at last, as symbol for that which is good in all of us.
On September 11th, 2001, the whole world saw what American heroes can do and what American heroism is all about. They saw men and women of every color and creed working together in a brave and desperate attempt to save lives– and Search and Rescue teams were a critical part of the operations.
In fact,  S&R teams are perhaps the proudest example of what America's unity through tolerance and diversity can mean.  Not only do these crews consist of trainers of every gender and ethnic background, they include inter-species teamwork as well.
Rest assured, these dogs know what they are doing.  They know the risk and they know the joy of saving lives.  You can see it in their eyes.  Just like thousands of other everyday American heroes, rescue dogs live to serve, to sacrifice, to give of themselves so that others might live.
They deserve a medal, but are just as happy – maybe more so – to get a treat.  The dogs at the World Trade Center and Pentagon disasters came from all over the country. They came to sniff, probe, dig and signal.  They came to search and rescue.  They are trained professionals, and they came to work.
The brave dogs who served at the World Trade Center and Pentagon disasters came from all over the country.  At the World Trade Center site, commonly referred to as Ground Zero, the New York Police Department's Canine Unit led the efforts with roughly 350 dogs.  They were joined by the Federal Emergency Management Agency (FEMA), who marshaled forces and contributed about eighty of the most advanced dogs in the country.
These Federal "top dogs," – from German Shepherds and Labradors, to Golden Retrievers and Border Collies– are deployed in teams consisting of four dogs and their handlers. They serve in units which function like military reservists; continually undergoing specialized training and rigorous certification tests while awaiting a call to duty.
On September 11, that call came from the President of the United States. Shortly after the attacks, the state governors, following procedure, petitioned the White House for a Presidential order decreeing the need for Search and Rescue teams to be mobilized. The President signed the order, and FEMA went into action.  Within hours, the dogs were combing through the devastation in rotating 12-hour shifts.
Dog teams like those sanctioned by FEMA can be cross-trained but most– including those at the disaster sites in New York and Washington–  fall primarily into three basic categories of operation; Search and Rescue, dogs who look for evidence of life; Cadaver Dogs trained to find human remains; and Therapy Dogs who lift the spirits of workers and victims at disaster sites. The majority of dogs dispatched to rummage through the rubble of the Pentagon and World Trade towers were specifically trained to search for life amid the ruins, and bark when getting the scent of hope.
Mike Scott is a California fireman and dog trainer. He is also partner of Billy, one of the dogs who searched debris at the World Trade Center. "The dogs can cover a very large area in a short time with their nose. " Scott says, "A dog can search a 10,000 square foot area in minutes, and (we can) be confident nothing is there– or he can give us an indication if there is anything to concentrate on."
Sadly, aside from the first few hours after the attacks, there was very little of the triumphant barking which indicates signs of life are found. Yet, the dogs want to keep trying. "They love to work. They love to search," says FEMA Public Affairs spokesman Doug Welty.  "It's very frustrating for them when they don't find somebody or pick up a scent."
Not just any dog can make the top dog team.  FEMA sanctions only twenty-eight Urban Search and Rescue task forces in the entire country, and these inspiring creatures must undergo a certification process which is rigorous. The training often takes more than two years to complete.
After the puppy stage, if a dog has shown a strong "prey drive" he or she might become a good candidate for a rescue dog program. "It's a combination of wanting to go out and hunt or search for prey, and enjoying the reward of a toy," says Scott. "If you throw a toy into the bushes, and they spend an hour looking for it.. it is a personality trait of the dog.  Labs, golden retrievers, and border collies seem to have those personalities."
Rescue dogs don't get the job based on personality alone. "The standards for advanced certification include testing for agility on ladders, obedience, and direction control." Scott explains. "That combined with the search test."
This search test, at least the most advanced versions, often take two hours and are extremely demanding.  Six people are hidden randomly at three different search sites.  Trainers use distractions like food and sound, and the dogs must remain focused and independent as they search. A dog who finds five out of six subjects passes the test.
These painstakingly acquired skills were truly put to the test in the aftermath of the 911 attacks. In addition to the dangerous rubble of mangled wires, steel beams and body parts that could cause physical injury to the dogs, there was the added threat of contamination from hazardous materials like asbestos.
"When you handle these animals, you have to wear gloves at all times, because of debris you worry about contamination," states Dr. Laura Rand, a veterinarian who worked at the V-MAT (Veterinary Mobile Assistance Team) at the WTC site.  V-MAT is part of the American Veterinary Medical Association (AVMA).  They are all volunteers, and routinely pay out of their own pockets for their equipment and uniforms.  Both V-MAT and the Suffolk County SPCA came with mobile ambulance vans for treatment of dogs.
To protect the dogs as best they could, VMAT caregivers  including Rand at the V-MAT, consistently re-hydrated the dogs and gave them baths, including cleaning debris out of the eyes, ears and noses. "I was there for 14 hours on that Saturday," says Dr. Rand. In that span, she and other V-MAT vets treated eleven dogs, some multiple times.
Dr. Rand says it seemed that a lot of the handlers were more interested in the health of their dogs than in their own well-being.  "People at the disaster site were wearing face masks, " she explains, "But the dogs couldn't, simply because a dog needs a nose in order to adequately search." Thus, the dogs were more exposed to possible hazards. "These dogs are sticking their faces in the wreckage," says Dr. Rand, "Risking their lives."
Some would say this is unfair, forcing the dogs to face hazards their humans did not. Dr. Rand feels differently. She describes how, in a deeply moving and profound gesture of inter-species solidarity, many of the dogs' handlers flat-out refused to wear the recommended masks, insisting they join their brave animal companions in peril.  In fact, this sort of devotion seemed to be the rule, rather than the exception.
Ann Wichmann, a Colorado Task Force dog handler claims, "It was tough to wear a respirator because it was harder to command the dogs." Other handlers had different excuses. But whatever they may have cited as a reason, the fact is indisputable that the handlers just would not let their dogs face any dangers they weren't willing face as well.
We wish we could tell every single one of their stories. We can't, only because their heroism was in such remarkable abundance.  As you look at these pictures and read these stories, know that there are countless other examples of this undaunted American courage. Our admiration, gratitude,  and eternal remembrance goes out to them all.
"…looked up at me, grief-stricken. I know him so well, and he seemed overwhelmed by the smell of the death. He looked up at me like, 'Why?'"
At another point, Jenner was scratching at an area where the scent was stronger.  "Barking is a live find alert, " says Wichmann sadly.  "He just scratched."
But Jenner did go home a hero.  "In one case, he popped over and disappeared, and he found a firefighter. He usually gets a toy as a reward, but it wasn't the place for a real exuberant reward, so I rewarded him with my voice."
All the dogs from the Colorado Task Force did, however, get their reward — a big box of milk bones when they finally made it home.
WOODY
At work by September 12, Woody was one of the first FEMA search dogs on site at the World Trade Center.  Woody is a two and a half year old golden retriever, and this was his first disaster work.  His owner, Lieutenant Terry Trepanier of Ohio's Washington Township Fire Department raved over his dog's rookie campaign.
"I was impressed by how he worked, and by how all our dogs worked," says Lt. Trepanier.  "On Woody's first day out, he cut two pads on both of his hind legs.  A New York firefighter called out 'Hey Ohio! Your dog is bleeding.'"
At that point, because it was so early in the rescue effort, the vets had not yet arrived.  So Lt. Trepanier and a doctor– for people, not animals– bandaged up Woody right there on the disaster site.  They "super-glued" Woody's pads and put on booties to stop the bleeding. Then Woody went right back at it.
"He loves to work," boasts Terry Trepanier. "He is such a character.  Most of the guys joke around saying, 'Would you please put your dog on Ritalin?'"
UNO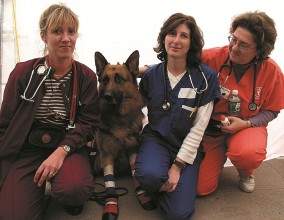 Like many rescue dogs, Uno is a German Shepherd.  But he is not a search dog.  He is what you call a comfort or 'Therapy Dog.'  Uno was on site to calm and console.   Uno was the first dog Dr. Laura Rand treated.
Dr. Rand and a vet technician wrapped up Uno's paws to put booties on his feet, so he would be protected while comforting workers on the rubble.  "We had been on-duty an hour," says Dr. Rand.
Pat Gartman, Uno's trainer from the Red Cross, liked the booties on her dog to fit a certain way so they would stay put.  At Ground Zero, another special touch was added. "We made an American flag with Uno's booties," says Dr. Rand.
After Dr. Rand gave Uno a physical, and he was outfitted with the protective (and patriotic) boots, he went out to the site to cheer up the firefighters and police officers. "A guy was crying and holding onto the dog saying, 'My buddy was there,'" she says.
There was constant noise from moving the debris," says Dr. Rand, but Uno took it all in stride. "He's a sweetheart," continues the doctor. "He was a doll, so mellow, not frightened of
loud noises."
OHLIN
"I got him as a pet," says A.J. Frank, a driver for Engine 2 Seattle Fire Department.  "He was going to be a buddy of mine and hang out with me, and Lt. Shoemaker of the Seattle Fire Department, said, 'Why don't you get into search?" Ohlin's first search was a fire in Washington," says Frank.
The nine-year-old chocolate Labrador has been working ever since.  Ohlin and Frank arrived in New York on September 18, started searching on September 19, and worked for seven days straight.
"Some things were organized, some things weren't organized. Welcome to disaster," says Frank. Frank and Ohlin were among the dogs and handlers sleeping in the 300 cots set up at the Javits Center.
"I got about 5 hours of sleep a night," says Frank. When the time came to work, though, both Frank and Ohlin were ready.  Still it was an incredible struggle.  At one point Ohlin was given 500 cc's of fluid to protect against dehydration.  "He was tired," says Frank, but weren't we all."
IVEY
Ivey and handler Nancy Hachmeister left Utah, arrived in New York on September 19, and started working the midnight shift. Unlike many dog handlers who double as law enforcement professionals or firefighters, Hachmeister works with computers as a LAN Administration specialist.  But living in Utah, she's also worked ski patrol and handled many dogs quite a bit.
Ivey is her six-year-old German Shepherd with training for both live search and cadaver recovery.  Unfortunately, the latter was all she was able to do. "We searched the Marriott Hotel, and we found several deceased people," says Hachmeister flatly.  "Then I gave her her ball, a tug ball, so she knows she did something good."
BILLY
"Billy's five years old. He is in his prime," says handler Mike Scott. "He has done a retaining wall collapse — small, local incidents in San Diego," Scott continued.  "But the World Trade Center…" The disaster was unlike anything either Billy or Mike had ever seen.
Billy was trained to find live victims, unlike cadaver dogs, who pick up the smell of death.  It was especially tough for those dogs at the World Trade Center, says Scott, because the smell of death was "everywhere."
"We got there on September 20 – we went to relieve the initial crews. We worked 12-hour shifts, which turned into 13 to14 hour shifts.  Billy went into voids, into holes.  We did what we were asked to do."
But Billy, and many other dogs, soon began wearing under the strain. "By the end of the week," says Scott, "the dogs were not their normal, perky selves.  We can't ask dogs to go out ten times and have no success, no reward. So, we would go out to a different building and hide someone in a mock scenario. They would find someone, get a toy and their morale would go up.
"When their tail is wagging they were re-motivated and ready to search again.  It is our job as handlers to keep it fun for them." Scott credits the National Disaster Search Dog Foundation for finding these dogs, giving them their initial training, and giving trainers like him the tools they need to be successful.  Scott estimates about twenty dogs from California worked at the World Trade Center site, and twelve of those were products of the NDSDF.
"Most are rescued from the pound, " he says. "Billy was on his way to the pound at 18 months old."
ROSELLE
Roselle is famous.  She's only a three and a half year old yellow Labrador, but she's been a frequent guest recently on CNN's Larry King Live.  That's because Roselle is a guide dog who helped save her owner Michael Hingson in the World Trade Center attack.  Hingson, who is blind, walked down 78 flights of stairs in 50 minutes, with Roselle's calm assistance.
"My job is to know how to get there.  Her job is to get us there safely," said Hingson.
Hingson arrived at his World Trade Center office in the North Tower at about ten minutes to eight to set up for a morning meeting, and Roselle settled into her familiar position under Hingson's desk for a snooze.  "She was sleeping under my desk when the plane hit," said Hingson.  "We thought the building was going to tip over.  The building doesn't sway like that."
Along with Roselle, Hingson was also with his colleague David Frank.  After directing others toward the exit, the three walked to the Sky Lounge on the 78th floor, where there was a bank of elevators.  "We smelled jet fuel," said Hingson. "I told people they should take the stairs."
On the long walk downstairs, Hingson felt people brush by him.  They were firefighters on their way up.  Other people exiting the building asked Hingson, "Do you need any help?" and "Is anybody with you?"  But Hingson was just fine with his friend Frank and the determined Roselle.  "I held onto her leash," said Hingson.  "When she's in harness, she focuses very well."
Though the smell of jet fuel and the tremendous heat in the stairwell were distractions, there were more to come.  "We got hit by a lot of water from sprinklers in the lobby," said Hingson.  Roselle was so thirsty, she stopped to lap up some water.  Then, once they made it out of the building, about a block away, the tower fell, and an avalanche of dust and concrete particles covered them.  The once yellow lab was now gray with dust.
Hingson and Roselle have only been partners for two years, but they worked well together and were able to escape the building.  Roselle is a product of California's Guide Dogs for the Blind (information below).
"Guide dogs and the people who use them are a very close-knit, coordinated team, or should be," said Hingson.  For her part, Roselle was instrumental.  "It's a team effort," said Hingson. "We fed off of each other.   What she did for me was pretty heroic."
DYLAN
"Dylan came in for a routine evaluation after working," says Dr. Mary Ann McBride, another veterinarian working the Ground Zero V-MAT site. "He had been sticking his head down in the holes.  He was such a happy, pleasant dog to be around.  He knew how to relax and would lie down when he could.  He was flat out tired.  But he was always ready to work," says Dr. McBride.
Darren Bobrosky is Dylan's trainer and a firefighter with the Berkley Fire Department.  "He is very efficient in his energy conservation, " he says. "When there is nothing to do, he does nothing. He'll get tired and slow down while working, but he won't stop.
"In the city, we had to keep him close at hand – he was tired of being confined. Once we got to work, it was time to search.  When we were heading up into the building, he was fired up.  He was pulling tugging hard on his leash, ready to get going."
"It is up to the handler to use their tool properly.  The dog is my tool. It's up to me to be able to read him."
Dylan, a seven-year-old German Shepherd, is officially certified as a Type 1 Disaster Search Dog, but also acts as a comfort dog.
"Rescuers and other workers were constantly coming up and petting him," says Bobrosky. "They got their 'dog fix,' so to speak."
When back in California, Dylan is simply a friend. "He is a very close companion.  He likes to go with me everywhere, he hangs right beside me, being my buddy.
LOUISE
On September 11th, 2001 a day so full of tragedy and sorrow; heroism, kindness and heart warming solace came from many unexpected sources.  One such unlikely hero is a bearded collie named Louise.  She is a large, gray Muppet-like "Rescue" dog with a knack for being in the wrong place at the right time.
She was rescued last Spring on Long Island, where she went from one home to the next until she finally became part of the McGrath family.  Abigail and Tony McGrath adopted Louise and brought her to their upstate farmhouse.  Soon Louise's days were full of happy frog-catching and defending the homestead from skunks.  But on September 11th, 2001 Louise and her family were on their way to Pearl Street to meet with an editor.  Abigail McGrath is a writer/producer and Tony McGrath is a folksinger and head of a theatre company.  They had recently wrapped filming and were on their way to look at their dailies when, "Something huge and shiny fell to the left side of the truck.  Immediately after something hit the roof and a big brown thing, like a bumper to a car, fell to the right."  Abigail explains, "Now I'm a New Yorker and I said to Tony, 'we have to take pictures of this in order to collect our insurance-  Pull over!'"  Abigail took Louise for a walk in search of a disposable camera.  She noticed the World Trade Center.  "It was as if there was a gas leek- papers blowing, black smoke, no flames, no sirens yet. Louise was acting strange, but then she's a strange dog."
Abigail put Louise back in the car and suddenly there was the deafening sound of a jet behind her.  Tony shouted, "Get down!  Get down!"  Abigail vividly recounts this moment with gallows humor, "I jump down and try to get under the car and my @?#%$ couldn't fit and I thought why didn't I go the gym?  I then hear a "BOOM!" and a total stranger dives under the car and says, 'there may be more coming, stay where you are!'  Then there was silence."  When the McGrath's came out from under the car, Louise was gone.  "She jumped out of the passenger window.  She is a bearded collie, " Abigail explains, "and the bread is known for their escape acts."
Tony and Abigail couldn't find Louise anywhere. After the first tower fell, Abigail remembers, "It was so dark you couldn't see where you were going.  A laundry truck was handing out towels, an act of kindness I shall never forget.  I was afraid they were going to get fired.  We walked to safety.  When we got home that night the phone rang and it was the Liberty Island Ferry saying 'We have Louise!'"
Chuck Ruch, an engineer for the ferry that runs between Glen Cove and Manhattan found Louise.  " I was crossing Manhattan when the second plane hit.  Louise was heading in the wrong way so I grabbed her leash and off we went.  We ran to the edge of the Hudson and a wave of debris came at us.  I broke into a yacht and carried Louise on board."  A New York City Patrol Boat arrived, but Chuck wouldn't leave without Louise.  "They took me and the dog and we made trips from Manhattan to Jersey City the whole night."  Louise stayed with the rescue workers and comforted the victims as they were ferried across to New Jersey.  Abigail explains, "She looks like a cartoon and makes people smile.  Just by being there she was doing her job.  Just by being something someone can hug.  The guards all knew when we came to pick her up who she was.  They said, 'Oh, you're Louise's mom!  She made us all
so happy!'"
The Dogs Go Home Heroes
Ann Wichmann gives a final, passionate tribute to all the creatures she calls her partners, her heroes, her friends. "The dogs are so empathic. They really feel what you are feeling. There was so much human grief…  All the dogs did a wonderful healing mission."
Wichmann finishes with a description of an incredibly moving scene. She tells how she happened to look over and see a firefighter. Lit by the unearthly white glow of emergency lighting, he was down on one knee, dirty and exusted, tenderly embracing an embattled, but unbowed rescue dog.
"It was just the two of them, " Wichmann says.
Two friends sharing a moment of compassion in the middle of a nightmare.
"These men were so grief-stricken they were unable to talk to anyone about how they felt. They wanted to talk to the dogs, though."
And the dogs listened, faithfully, to every word.
No one can truly know what a dog thinks when her or she is searching for life amid destruction, when rigorously training, or when gving comfort to the tried, the wounded, the anguished. But then again, no one really knows what the firemen of the NYPD were thinking when they rushed into that inferno time and time again to save lives, knowing it meant almost certain death. In the same way, no one knows exactly what went through the minds of the passengers who valainatly fought back against terror in the lonely skies over Pennsylvania.
Ultimately, it simply doesn't mater.  As F. Scott Fitzgerald once wrote, "Action is character." Thoughts, after all, are forever hidden.  Mere words come and go like ashes in the wind.  In the end, it is only what we do that counts; it is our deeds which mark the only full measure of our soul. And, as that is true for us, so it is true for all of God's creatures, great and small.
These dogs are heroes, all right. But they are more than that. They are American Heroes, and we will never forget the lessons they taught.
For the Best that Pet Lifestyle and Animal Welfare has to offer follow Wendy Diamond on Facebook, Twitter, and right here at AnimalFair.com!
Comments
comments