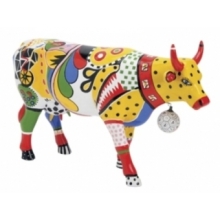 All summer long we here at Animal Fair watched our urban jungle turn into the world's biggest barnyard festival as crazy cows lined the streets and artists' imagination ran wild with bovine inspiration.
The Cow Parade was in town – an art exhibit and charity auction sponsored by New York City benefiting local charities. Since it began in Zurich, Switzerland in 1998, the parade has traveled to many major cities in the U.S. sponsored by local merchants, organizations and even private citizens.
The fiberglass masterpieces turned more than a few heads this summer as native New Yorkers and tourists alike gazed at the amazing grazers – new to Manhattan's asphalt culture. The beasts donned tutus, ticker tapes, putting greens and pop art, among other decorative details, capturing the attention and the imagination of many a viewer.
The charity auction following the exhibition raised over $1,000,000 with the highest bid going to "Tiffany Cow" painted by Adele Moros and sponsored by Emigrant Savings Bank. The sky-blue cow painted with a natural floral design was purchased for $60,000. Other favorites were "Cow-to Book" painted black with brown bookshelves by Zora Janosova (for Borders Books & Music). "Miss Lacy Mae" decorated a pink clown collar and painted with a circus theme by Macy's Parade Studio (for Macy's) and a burgundy and white jewel encrusted co, "Jewels by Cartier (for Cartier). The cows sold for $24,000, $16,000 and $13,000 respectively.
"Why cows? Who chose them out of all of the animals they could have used?" asked one on-looker from Westchester at Cow-Parade New York. Officials at Cow Parade Holdings said the choice of the cow was whimsical and fun. They added that studies have shown the cow to be the most universally loved animal.
The Cow Parade exhibit moo-ved out of New York on October 1, 2000. Until the fiberglass phenoms come to your neck of the woods, we have them here for you.
By Cathy Doe.
For the Best that Pet Lifestyle has to offer follow Wendy Diamond on Facebook, Twitter, and right here at AnimalFair.com!
Comments
comments