Our beloved Lucky, who lost her battle with canine  spleen cancer, has been honored with The Lucky Diamond Critical Care Ward dedication in her name at The Humane Society of New York. We are grateful, but quite honestly she deserves the recognition. After Wendy Diamond adopted the little Maltese, Lucky in 1999, she was instantly inspired to create Animal Fair Media. Since, the media mindshare has been committed to animal adoption and welfare, related organizations, and generating a public awareness campaign championing the underdog!
"We decided to name this ward in honor of Lucky and her brave fight against cancer," said Sanda DeFeo, The Humane Society's Executive Director.
Alongside Wendy, Lucky worked tirelessly with media outlets and lead the societal call to help homeless animals everywhere! By the time Lucky passed the number of animals euthanized in local shelters each year dropped dramatically from 12 million annually to five million.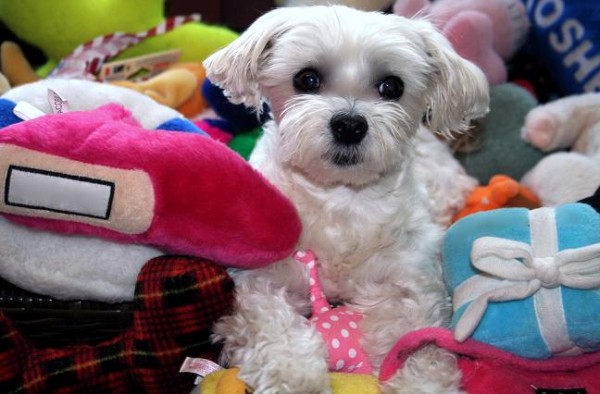 "I rescued Lucky but in retrospect Lucky rescued me and gave me the greatest gift – a purpose in life," Wendy has said describing their lasting bond.
The 7th Annual New York's Funniest Reporter Show (www.nyfunniestreporter.com) took place on Thursday, September 27th at the famed Comic Strip Live Comedy Club. The hysterical night featured six media professionals each doing five minutes of standup comedy in order to raise money for the Lucky Diamond Critical Ward Unit at the Humane Society of New York (http://www.humanesocietyny.org/). Clayton Morris, Fox and Friends Weekend Anchor, stole the show and won the 2012 New York's Funniest Reporter! The greatest laugh of the evening was … so many homeless animals will benefit and hopefully find loving parents!
Together, Wendy and Lucky hosted and produced four annual Animal Fair Media animal-related charity events, Paws For Style, Howloween Pet Costume Benefit, St Pawtricks, Canine Comedy, Cinco de Pawyo, Yappy Hour and Toys For Dogs. All donations from these events over the past decade raised thousands of dollars benefiting The Human Society of New York, as well as raising animal adoption awareness.
Animal Fair Media continues to produce annual events, but now Wendy's newly adopted Coton, Baby Hope will help host the events. Baby Hope will carry on Lucky's lasting legacy of animal welfare and rescue, and also animal cancer awareness.
In Lucky's constant quest to give back (and get some treats in return), Lucky served as the Chair-Dog for the Katrina Pet Memorial, Grand Marshall of Barkus, as well as the American Cancer Society's Bark for Life and hosted 1000′s of fundraisers in her lifetime. She was the only civilian dog admitted into the United Nations, and inspired the White House Pet Correspondents Benefit.
Lucky was inducted to Guinness Book of World Records as the most photographed dog with of all time! Over 300 world-renown A-list celebrities, politicians, athletes and entrepreneurs of the 21st century have been photographed holding Lucky at charity related events including; Betty White, Bill Clinton, Kayne West, Regis Philbin, Rosie O'Donnell, Dave Matthews, Barbara Walters, Sting, Cloris Leachman, Kelly Ripa, Hugh Hefner, Kim Kardashian and many others!
The Lucky Diamond Critical Care Ward at The Humane Society of New York will carry on Lucky's legacy of saving and helping animals in dire need, providing pet parents and animals affordable critical health care that they might not have received otherwise. Lucky Diamond was the sweetest, purest, and funniest soul. She was totally without prejudice, she didn't care if you were chubby or thin, black or white, rich or poor, furry or not. Lucky was truly one of a kind, and there will never be another dog like her! We miss you dear Lucky, and wherever you are running right now in the big doggie park in the sky, thank you for all you've done to help animals in this world!
For the Best that Pet Lifestyle and Animal Welfare has to offer follow Wendy Diamond on Facebook,Twitter, and right here at AnimalFair.com!
Comments
comments