Memorial Day kicks off the official fun and hot summer season! Summer means outdoor activities for you and your pets to enjoy. Make the best out of the summer holidays with these helpful facts and tips!
1. Heatstroke 
Heatstroke occurs when normal body mechanisms cannot keep the body's temperature in a safe range. Animals do not have efficient cooling systems (like humans who sweat) and get overheated easily.
• Rapid panting
• Bright red tongue
• Red or pale gums
• Thick, sticky saliva
• Depression
• Weakness
• Dizziness
• Vomiting – sometimes with blood
• Diarrhea
• Shock
• Coma
What You Should Do
Remove the dog from the hot area immediately. Prior to taking him to your veterinarian, lower his temperature by wetting him thoroughly with cool water (for very small dogs, use lukewarm water), then increase air movement around him with a fan. CAUTION: Using very cold water can actually be counterproductive. Cooling too quickly and especially allowing his body temperature to become too low can cause other life-threatening medical conditions. The rectal temperature should be checked every five minutes. Once the body temperature is 103ºF, the cooling measures should be stopped and the dog should be dried thoroughly and covered so he does not continue to lose heat. Even if the dog appears to be recovering, take him to your veterinarian as soon as possible. He should still be examined since he may be dehydrated or have other complications.
Prevention
Any pet that cannot cool himself off is at risk for heatstroke.
Following these guidelines can help prevent serious problems.
• Keep pets with predisposing conditions like heart disease, obesity, older age, or breathing problems cool and in the shade.
• Provide access to water at all times.
• Do not leave your pet in a hot parked car even if you're in the shade or will only be gone a short time. The temperature inside a parked car can quickly reach up to 140 degrees.
• Make sure outside dogs have access to shade.
• On a hot day, restrict exercise and don't take your dog jogging with you. Too much exercise when the weather is very hot can be dangerous.
• Do not muzzle your dog.
• Avoid places like the beach and especially concrete or asphalt areas where heat is reflected and there is no access to shade.
• Wetting down your dog with cool water or allowing him to swim can help maintain a normal body temperature.
• Move your dog to a cool area of the house. Air conditioning is one of the best ways to keep a dog cool, but is not always dependable.
To provide a cooler environment, freeze water in soda bottles or place ice and a small amount of water in several resealable food storage bags, then wrap them in a towel or tube sock. Place them on the floor for the dog to lay on.
2. Thunderstorms and Fireworks
What causes fear of storms and other noises?
It is unknown why some pets become afraid of noises; it is a common problem in dogs, but less so in cats. The fear can soon become a phobia, which is defined as a persistent, excessive, and irrational fear response. In the case of thunderstorms, pets may also be fearful of storm-associated events such as a change in barometric pressure, lightning, electrostatic disturbances, and even smells associated with the storms. Noise phobias can include fear of thunderstorms, firecrackers and gunshots.
What are the signs of noise phobia?
Different animals may display different signs of noise phobias which include:
Hiding (most common sign in cats)
Urinating
Defecating
Chewing
Panting
Pacing
Trying to escape (digging, jumping through windows or going through walls, running away)
Drooling
Seeking the owner
Not eating
Not listening to commands
Trembling or shaking
Vocalizing (barking or meowing)
How is noise phobia treated?
There is no guarantee that a noise phobia can be totally resolved, but in many instances the fear can be managed effectively. The effectiveness of treatment depends on a number of factors including the severity of the phobia; how long the pet has had it; whether it is ongoing, seasonal, or unpredictable; and the amount of time you are willing to commit to the behavior modification techniques.
3. Change environment: By changing the environment of the animal during the storm or noise, the anxiety level can be reduced. Changing the environment may reduce the volume level of the sound or help make the pet less aware of it.
4. Increase vigorous exercise: The pet should receive vigorous exercise daily, and more so on a day when the fear-producing noise is likely to occur. The exercise will help to tire the animal, both mentally and physically, and may make her less responsive to the noise.
5. Reduce or block the noise level: "White noise," such as running a fan or air conditioner may aid in blocking out some of the fear-producing noise. Playing a TV or radio can have a similar effect. Allowing the pet access to the basement or a room without outside walls or windows may decrease the noise level. Closing the windows and curtains can also help reduce the noise.
6. Create a safe haven: Some pets feel more comfortable in a small space such as a crate or a small room like a bathroom (run the fan and leave the lights on). Some pets seek out the safety of the bathtub or shower during a storm. If the pet is comfortable in a crate, the crate can be covered with a blanket to add to the feeling of security. The door to the crate should be left open and the pet should not be confined to the crate, which could dramatically increase the stress level.
7. Project a calm attitude: Consult with a veterinarian experienced in animal behavior problems, and/or an animal behaviorist if your pet is showing signs of noise phobia. They can help develop a treatment plan for your pet.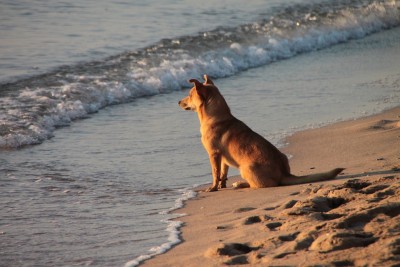 For the Best that Pet Lifestyle and Animal Welfare has to offer follow Wendy Diamond on Facebook, Twitter, Instagram and right here at AnimalFair.com!
Comments
comments