Dogs are a man's best friend! The cutest snuggler and all around amazing companion. The dog-parent relationship is sacred and should be shared in every instance, especially the water. However, not all dogs know how to swim instantly and may need some help learning. Remember, dogs are just as fragile as humans when it comes to learning how to swim. It is important to be patient, loving, and always remember to have a little fun when conquering this milestone!
1. You want to make sure your dog is comfortable. Providing ample treats, words of encouragement, a shallow area to dip in his toes, and even a life vest will give your dog the inspiration he needs to put the doggy in doggy paddle.
2. Don't worry if your dog is nervous at first – it's completely normal for a dog to sniff the water, bark at his own reflection, and have a face off with the waves.  Let your dog get acquainted with the water on his own time.
3. Once your pup is properly befriended the mighty water, try to sweet-talk him into the water.  Some dogs might still be a bit nervous and might require you to physically bring them into the water.
4. As soon as you both are immersed, gently ease your dog out into deeper waters. Once he feels at ease, let him test out the water himself with a couple of solo strokes. Keeping your tone positive and encouraging will also help your dog feel more relaxed as he heads into deeper waters. Try playing catch or offering treats if your dog still seems hesitant.
5. Finally, make a video or take a picture of this learning moment and upload it to all social media platforms. Your dog's cuteness and accomplishment deserves to be shared with the world!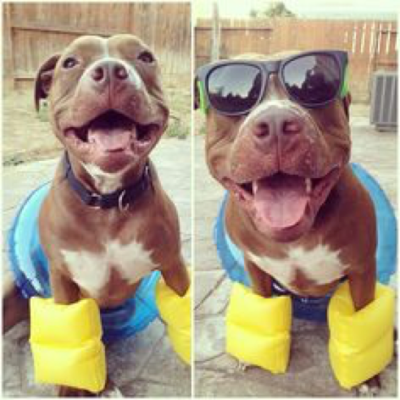 Comments
comments