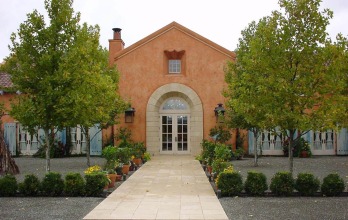 Any weekend is a great time to take a drive to a winery – that welcomes dogs! When you think of a winery, you probably think of lush green vineyards with row after row of crisp tasty abundance. You dream of barrel after barrel of wine stacked on top of one another holding what certainly tastes like heaven. You envision bottles of red and white filled with the exquisite vintage tastes of the past. But you don't think of dogs, do you? Here's a toast to the cast of canine connoisseurs who preside over the grapes.
Swanson Vineyards
Established in 1985, Swanson Vineyards is a family-owned winery that produces 25,000 cases annually. Swanson Vineyards is owned by W. Clark Swanson, Jr. who began his wine business in 1985 after moving to the Napa Valley area. Swanson's daughter, Alexis is the Marketing Director of the winery and the proud owner of Lafitte, one of the family's winery dogs, an eight-year-old wire-haired dachshund. Also an irreplaceable member of this productive family affair is Harvey, a seventeen-year-old precious male dog of questionable pedigree.
"Lafitte and Harvey bring charm and humor to Swanson and people love the two persnickety little boy dogs," says Alexis Swanson. "They are the original bon vivants." Lafitte doesn't dabble in alcoholic beverages, but prefers sweets, while Harvey fancies any ruby red elixirs.
These penchants for all things naughty and indulgent are in charge as they allow life to revolve completely around them. "The Swanson world is all about a pink tasting salon, small dogs, chocolate bonbons and red table wines," says W. Clark Swanson, Jr. Lafitte and Harvey's presence has enhanced the business with their energy and magnetism. "They are our business," says W. Clark Swanson, Jr. "We have tastings and wine clubs named after these two distinguished men, they send out their own quarterly newsletters and throw fancy parties."
Swanson Vineyards focuses on three core wines: Pinot Grigio, Merlot and Alexis, which is a proprietary Cabernet Sauvignon based blended wine. The Vineyard also produces smaller quantities of Syrah, Cabernet Sauvignon, Sangiovese, Rosato and Late Harvest Semillon. All Swanson wines are 100% estate grown, produced and bottled.
Swanson Vineyards
1050 Oakville Cross Rd.
P.O. Box 148
Oakville, CA 94562
707.944.0905
For the Best that Pet Lifestyle has to offer follow Wendy  Diamond on Facebook, Twitter, and right here at AnimalFair.com!
Comments
comments