Animal lovers know in their hearts the benefits of being around four-legged creatures. And for years, research and science have been showing the positive impact animal-assisted therapy has for patients, families and caregivers. That is why the Westminster Kennel Club created their Angel On A Leash program –  providing patients and their families with another path of healing through animal-assisted therapy. This popular program is proving there is more to puppy love than meets the eye.
"Combining my passion for dogs and past history working with animal assisted therapy  inspired the program " said David Frei, president of the Angels On A Leash.
The program works with some of the best medical centers in the country including Morgan Stanley Children's Hospital, Portland Providence Hospital, Ronald McDonald House New York, Shriner's Hospitals for Children, and Memorial Sloan Kettering Cancer Center.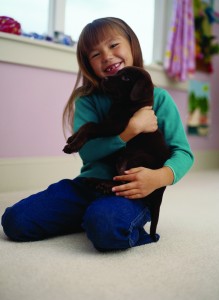 "Therapy was really hard so being around the dogs made it easier and more fun. I would walk the therapist, holding the dog's leash and it would guide me," said 13-year-old Joey DiSanto, who underwent a heart transplant at Morgan Stanley Children's Hospital (a part of New York Presbyterian).
"On a basic level, it's just a visit," explained Frei when asked how the program actually works. "When a dog comes into the room, the energy changes for everyone: the patient, the family, and the health care professionals. It gives everyone a chance to smile."
Treatments and rehabilitation can be very hard on children who are suddenly surrounded with unfamiliar settings and situations. The comfort of a friendly and loving therapy dog helps to put at least one part of their treatment in terms that they understand and enjoy.
"It's truly a blessing to be able to bring a means to joy for children in the healing process," says Chaplain Cherilyn Frei, Director of Spiritual Care for the Ronald McDonald House of New York and (and also the wife of David Frei). "The children respond so well to the dogs. You can see how energized and enthusiastic the children are on the days the dogs visit."
A recent study published in  the American Journal of Critical Care shows that animal-assisted therapy improves cardiopulmonary pressures, neurohormone levels and anxiety in patients with heart failure. In addition, a University of Wisconsin-Madison Children's Hospital study confirms that hospitalized children are happier when they get a chance to interact with dogs than when they are given organized play time.
Angels On A Leash accepts volunteers of dogs and parents and according to Frei, "It's a wonderful way to spend time with your dog and do something good at the same time."
For more information visit: angelonaleash.org.
For the Best that Pet Lifestyle and animal welfare has to offer follow Wendy and Lucky Diamond on Facebook, Twitter, and right here at AnimalFair.com!
Comments
comments