"Dogs will forget what you said, dogs will forget what you did,but dogs will never forget how you made them feel."    Wendy Diamond's Quote  – Inspired by Maya Angelou's writing!
Family, friends, former President Bill Clinton, First Lady Michelle Obama, and Oprah Winfrey gathered Saturday afternoon to honor the passing and pay tribute to one of the greatest writers of our time, Maya Angelou.  They honored her at Wake Forest University in Winston-Salem, N.C., where she taught for 32 years.
Oprah Winfrey said holding back tears, "Maya Angelou is the greatest woman I have ever known, she was my anchor. So it's hard to describe to you what it means when your anchor shifts."
Maya Angelou, one of America's most famous and inspirational women and poets, passed away in her home on May 28th in Winston-Salem, North Carolin.
The famed author received more than 30 honorary degrees from universities around the world.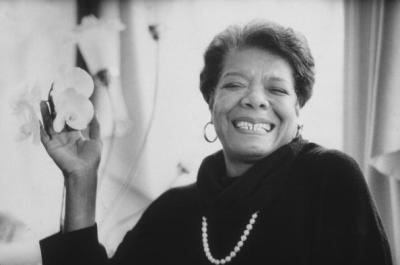 Her most famous book — I Know Why the Caged Bird Sings — was one of  Angelou's seven autobiographies, which focus on her childhood and early adult experiences chronicling her life up to the age of seventeen, and brought her international recognition and fame. She started writing poetry at the age of nine-years-old, and went on to write 12 best-selling books, and 39 publications.  Throughout her life she was a global muse and mentor to international leaders and celebrities, including Oprah Winfrey and Hillary Clinton.
Angelou is alternately described as a "voice of our time" or a "legend" or any number of glowing designations, but the foundation for those accolades has been her ability to be supremely engaged, endowed with a power to participate in her life in ways that can only be called courageous.
She is a formidable icon, 6 feet tall, with a speaking voice cadenced like an epic poem and a presence that evokes an aging African warrior queen. She is the woman who rarely took a pass, the one who forged ahead, challenged herself and changed the world in small and large ways for more than 80 years.
It is hard to grasp how the great-granddaughter of a slave who was born poor in 1928 St. Louis managed to overcome circumstances and lead such a rich and triumphant life. Born Marguerite Ann Johnson (she changed her name decades later when she was a singer), she was only 3 when her parents split up, and she and her brother, Bailey, were shipped off to her paternal grandmother, Annie Henderson, in Stamps, Ark. Those were the days of picking cotton and colored-only schools and occasional lynchings, but the children managed to thrive, reading books voraciously while being nurtured by a grandmother who ran a relatively successful general store.
But life for young Angelou would change within a few short years. After moving back to St. Louis with her mother, 8-year-old Angelou was raped by her mother's boyfriend, Mr. Freeman. The girl confided what happened to her brother, who told the family. Mr. Freeman was arrested but spent only a day in jail; upon his release he was kicked to death, presumably by Angelou's uncles. When the child learned that Mr. Freeman had been murdered, she had a revelation that she herself was the instrument of his death. She reasoned that her voice had killed him; had she not told of the crime, he might still be alive. She was resolutely mute for the next five years.
– See more at: http://www.success.com/article/maya-angelou-voice-of-our-time#sthash.yaeKd0Lj.dpuf
"I had to trust life, since I was young enough to believe that life loved the person who dared to live it." That is how Maya Angelou recalls herself at age 30, yet the statement holds true today. Angelou is described as a "voice of our time" or a "legend", with a speaking cadenced like an epic poem and a presence that evokes an aging African warrior queen. She is the woman who rarely took a pass and always challenged herself – she inspired and changed the world for more than 80 years.
Rest In Peace Maya Angelou … you will be missed and never forgotten. Thank you.
Watch this inspirational video of Maya Angelou as she shares wise words to live by.
For the Best that Pet Lifestyle has to offer follow Wendy Diamond on Facebook, Twitter, and right here at AnimalFair.com!
Comments
comments