Perhaps one of the most thrilling uses of cameras is to photograph wildlife.  The excitement and serendipity that interact when snapping shots of a macaw in flight, for example, can truly mesmerize.
However, for those who have never done it before and do not have the equipment (let alone know what equipment they need), it is easy to miss out on the opportunity.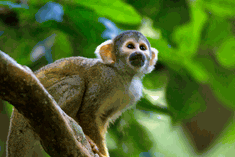 One photographer, Jeff Cremer, runs an incredible program—"Rainforest Expeditions" (PeruNature.com)—in Peru that brings travelers on a photo tour of the rainforest.  Jeff's Rainforest Expeditions offer the opportunity to immerse oneself in the wildlife as a photographer, without feeling overwhelming or clueless.  As he puts it, "Travelers get to experience what it is like to be a National Geographic wildlife photographer.  Trips are geared towards beginner and intermediate photographers who may not have the knowledge or have made the investment in equipment to take professional quality photographs. A wildlife photographer needs three things to be successful: Equipment, Technique and Opportunity."
Jeff, who himself supports the Prairie Dog Coalition, which helps relocate prairie dogs to new homes after their habitats have been destroyed by things like housing developments, has been a long time lover of science and nature.  He appreciates photography as a means of documenting the world around him as he continues to explore it. Some of his favorite animal models are his family's pets. Jeff barked that growing up he had a lot of hamsters, kangaroo mice, dogs, cats, rabbits, turtles, birds, a raccoon and even a chinchilla!
"About 10 tears ago I took a close up photo of some ants eating nectar on a flower," Jeff says.  "It was cool to be able to zoom in and see the ants interacting in their own little world. That photo really piqued my interest in photography and I started to peruse it more."

Recently, we sat down to ask Jeff a few questions about photographing animals, so that everyone could have a leg up! Here are Jeff's Top 5 Tips for an amateur taking photographs of a wild animal:
Equipment – It's good to have good equipment, such as big lenses, to take pictures of birds and distant animals, as well as specialized macro lenses for close-up photos of butterflies and ants.
Technique – Knowing the proper way to use the equipment is very important.
Opportunity – Being in the right place at the right time is very important.
Knowing your subject – If a you know the behavior of the animal you're trying to photograph, you are able to get closer and wait for the perfect moment to take the photo.
Animals in action – I always try to capture images of wildlife doing something—not just a portrait. Images of birds eating fish, or macaws preening, are always good. I am also always on the lookout for rare animals such as jaguars and pumas.
If you're feeling enticed enough to take one of Jeff's incredible photography tours, absolutely do!   "The photographer is a special breed of traveler.  Enticed by objects and scenery that others may overlook, travel photographers search for that special place where they can find one amazing sight after another.  The Peruvian Amazon is that special place.  Be accompanied by a professional photographer eager to show you how to get pro shots in workshops that will teach you how to use our top quality equipment, and in the jungle for hands on instruction.  Travelers have the chance to experience what it is like to be a National Geographic wildlife photographer."- Jeff Cremer
You can find out more about Jeff here: JeffCremerPhotography.com,
And visit the photography tour page here: perunature.com/tambopata-photography-tour-packages
For the Best that Pet Lifestyle and Animal Welfare has to offer follow Wendy Diamond on Facebook, Twitter, and right here at AnimalFair.com!
Comments
comments