No matter the season of year you walk your dog, looking and feeling good enhances the overall healthy experience, for you and your dog. And you never know who you might meet … could be the perfect breed for you!
Yes, to comfort, jeans, and comfy shoes
The key to a day at the dog park is comfort, since your goal at the park is to let your dog have some fun. Nothing clingy, tight, or unpredictable. Keep it simple but not sloppy. Know what you feel good and look great wearing. Sweat pants are cozy but if it brings out the worse in your lower half, opt for the perfect jeans. We all own that one pair of perfect jeans. It's easy to move in and doesn't fall off your hips when you do. It is the "self sufficient jeans". They don't need assistance staying up. A loose fitting jean is perfect, especially on warmer days. For women, pants will always be the most complicated part of fashion due to the fact that everyone is shaped differently. Skinny jeans are for skinny people. Normal sized people should wear wider, looser pants. Figure out what fits well with your shape and stick with it.
For the dog days of Summer, Capri's are great. For the ultimate comfort try a light khaki Capri. Gap is the reigning King of khaki Capri's. For those with knock out legs, shorts will always be cooler but there is a height limit, Daisy Dukes can't go everywhere. As for shoes, sneakers will always be the most comfortable, but flats are a close second. No heels! Flip flops are a summer fave but they have to be beyond cute to make up for that awful noise. Sometimes they just don't belong outside.
Autumn and Winter are all about sweaters, coats, scarves, and gloves. Staying warm is important for you and your pooch! Also salt from the street snow plowing can get stuck in your pet's paws! Really important that you and your pup have proper foot-paw wear to avoid slippin', slidin', and salt! Booties for Fido might be a necessary buy!
If your goal is to meet Mr. Right, grab those perfect jeans, pair it up with a form flattering top (casual but still noticeable), and the flats. You can pull off this same look with a pair of Capri's. You want to look good without looking like you planned it. Designers are adapting active sportswear into their collections. The top designers are bringing comfort and glam together with track pants, hoodies, and T-shirt dresses. Ever hear of high-heeled sneakers? Donna Karan is no stranger to that concept with her urban charged line DKNY Sport.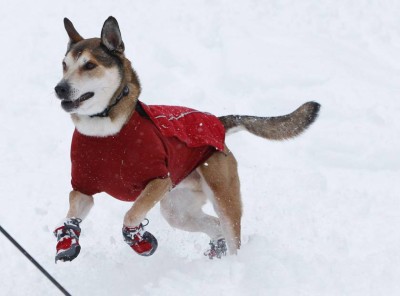 A day with pooch and friends? We all pretend that we go out with our girlfriends just to relax and laugh, but we're usually checking out our surroundings, or hoping our surroundings are checking us out. So the outfit we just discussed is most acceptable.
Why should your dog walk around naked when you strut in top fashion? The King of Polo's has designed only the best for Man's Best Friend. The Dog Polo shirt, in the Polo signature cotton mesh, short sleeved, ribbed collar and cuffs, is available in stunning hues. French Turquoise, Classic Kelly, Newport Navy, Sun Orange, and Cottage Pink. Your dog can match or compliment you, and for $32, why not?
For the cooler days and bigger spenders, the Polo Player dog sweater will boost any dogs ego. For $95, Fido can run around amongst his peers in a flat-knit wool and cashmere sweater. Is your dog more of a "rebel without a cause"? How about the Skull-Crossbones sweater? Definitely a Ralph Lauren fan fave, a 100% cashmere, cream colored, knit-Skull and Crossbones motif with signature RL logo on the back, and a ribbed turtleneck. True to Ralph Lauren style.
Whether it is a rainy day at the park or just your dog feeling tired, a pet carrier is the most convenient way to transport your pet. For small dog owners this can also be fashionable. No more boring black or brown carriers made of hideous looking nylon, you can still look chic.
Fancylulu.com  manages the chic look without chic prices. "Chewnel" is a European style tote bag. Quilted pink or black, with accessible front flap pockets for the essentials of a day out. Dog bone shape bows accent the pockets giving off the appearance that this $35 bag cost as much as its inspired namesake. "Bark Jacobs" will make Marc Jacobs beyond proud and flattered.
For the Uptown girl, this kelly green bag with a silver studded accent, lives up to the posh attitude that most small dogs convey. For the those with a flare for color, the "Cancun". A Caribbean vibe straw bag, FAUX leather trim in Sunny Orange with silvertone grommets and accents. It's a taste of the tropics! Some fashionable dog bags lack in practicality of cleanliness but this bag has a machine washable soft fleece- lined bottom. The best part of this bag? It doesn't look like a pet carrier. You might be tempted to use it without your pet.
For the Best that Pet Lifestyle and Animal Welfare has to offer follow Wendy Diamond on Facebook, Twitter, and right here at AnimalFair.com!
Comments
comments