Baby Hope Diamond
(2005–2018)
Wendy Diamond and the entire Animal Fair Media team are saddened to announce that Baby Hope Diamond, the Coton du Tulear beloved by thousands of people around the globe, passed this morning, after a nine month-long battle with congenital heart failure.
The following is a reflection on Baby's passing from Wendy:
Baby Hope taught me about having hope no matter what. She was a true gift to me when I needed it the most.
In 2012, a friend asked me to foster a senior dog named Baby. I never planned on keeping her for very long. I already had my Maltese, Lucky Diamond, who had been my constant companion for the previous 12 years. But this little Coton de Tulear, although a little "ruff" around the edges, captured my heart with her heaven-sent caring canine ways. When I decided to adopt her three weeks later, I gave her the middle name of "Hope"—the gift she had given to me during a particularly difficult time. For though not many people knew it, Lucky was nearing the end of her life.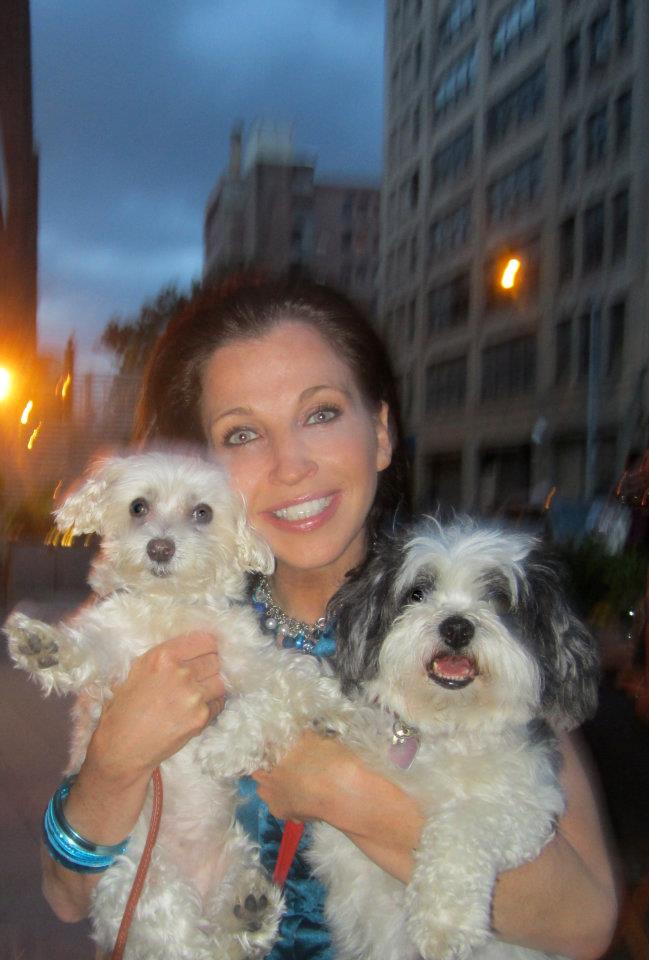 The morning Lucky passed over the Rainbow Bridge, I awoke to find Baby Hope nestled right up next to her. It was as if they had their own spiritually divine canine code. Baby Hope comforted Lucky as her soul jumped to the big doggie park in the sky. This is simply who Baby Hope was—a loving and giving furry soul.
Baby greeted everyone, whether two or four-legged, with her welcoming wagging tail, and her soulful deep eyes.  Sweet Baby Hope was simply one beautiful and classy canine, and brought unconditional love and hope wherever her four paws took her. She rubbed snouts at the local park dog run during the day, and wore the finest designer doggie duds at charity events benefiting other animals by night! Baby Hope might have been a senior dog when I adopted her, but she possessed the eagerness and spirit of a young pup whenever  it came to it rising to the occasion of supporting the underdog.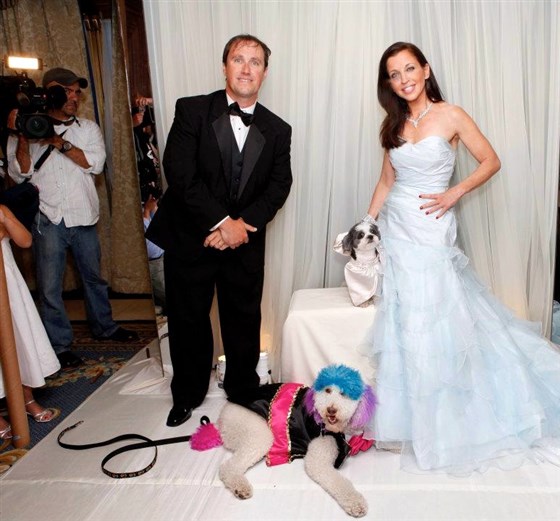 Baby Hope had become known far and wide for her affiliation with charitable causes, from assisting veterans with PTSD to fundraising for animal rescue/welfare. Shortly after being adopted by Diamond, Baby Hope gained national headlines and was inducted into the Guinness Book of World Records for tying the knot at "The Most Expensive Pet Wedding in History." Held on July 12th, 2012 in New York City, the swank affair included a multi-tier cake designed by the Food Network's Cake Boss Buddy Valastro, and benefited The Lucky Diamond Critical Care Ward at Humane Society of New York to carry on Lucky's legacy to provide pet parents with affordable critical health care.
Among the celebrities and notables Baby Hope joined to support animal welfare include basketball great Shaquille O'Neill, SNL's funnyman Alec Baldwin, Daily Show comedian Jon Stewart, Glee's Jane Lynch, Rapper LOGIC, iconic entertainers Lady Gaga and Tony Bennett, legendary actor James Earl Jones, Chicago Fire's Taylor Kinney Law and Order's Danny Pino; Craigslist Founder Craig Newmark, Reddit founder Alexis Ohanian, husband of Serena Williams and countless more.
Baby Hope was a regular on the media circuit promoting animal rescue and welfare  appearing on NBC Today Show, ABC, NBC, CNN, Fox, Access Hollywood, promoting animal rescue welfare and has millions of dedicated followers who supported her on Social Media.
Baby Hope inspired my Best Selling Book How To Train Your Boss To Roll Over.  After I learned the alarming statistic that a Veteran affected by Post Traumatic Stress Disorder (PTSD) or a Traumatic Brain Injury (STI) commits suicide every 65 minutes (according to the Department of Veterans Affairs), I dedicated her "How To Train Your Boss To Rollover" book tour to raise money for a little organization at the time was only known in Florida – K9s For Warriors.  The tour far exceeded expectations and we raised enough money for 25 Veterans with PTSD to receive rescued trained service dogs!
After witnessing Baby Hope's brave fight with heart failure, in her honor, I am committing myself to bringing greater awareness to congenital heart failure (CHF) in animals. It's estimated that 7.8 million dogs in the United States have heart disease—a whopping 10 percent of all dogs in the United States.
I'm beyond grateful for the outpouring of generosity and support from friends and strangers who know exactly how much Baby Hope meant to me, and the pure inspiration she gave to so many. Baby Hope's life and legacy of saving the underdog will be celebrated, and her mission will carry on.
Baby Hope is survived by Happy Diamond, a Coton du Tulear breed rescue I adopted in 2017. And though Baby Hope was a one-of-a-kind girl who could never be replaced, she taught Happy the tricks and trade of being the furry mascot for Animal Fair Media.
I know Lucky held a glorious space for Baby Hope in Hound Heaven, and greeted Baby with karmic spiritual treats and a blessed place to transition, run, roll over, and rest. And I'm also quite sure Lucky and Baby Hope have much to bark about.
Baby Hope will always hold an irreplaceable piece of my heart, with memories unending. She was the furry light of my life. Thank you, Baby Hope, for saving me. Together we advocated for countless homeless animals in need of love and shelter. You'll be truly missed, but your animal advocacy legacy will live on always.
Till we meet again my sweet, sweet Baby Hope….
 "You need HOPE to have a dream and Dream to have HOPE." – Wendy Diamond (quote inspired after I adopted Baby Hope)
D-g Bless,
Wendy Diamond
In lieu of gifts and dog treats – supporters are encouraged to honor Baby Hope's life and legacy by donating to Lucky Diamond Critical Care Ward at The Humane Society of New York:  humanesocietyny.org.
Please view this memorable video of Baby Hope Diamond
For the Best that Pet Lifestyle and Animal Welfare has to offer follow Wendy and Lucky Diamond on Facebook, Twitter, and right here at AnimalFair.com!
Comments
comments