In Barcelona, while some are caught imbibing, others just sit by the feet of those who are imbibed. In Paris, while some strike a pose, others just retire at the pointy-toed chaussures de femmes. Either way, these dogs have definitely been caught living the good life – the life that's been coined as a dog's life!
Photographer Kamil Salah has been photographing dogs for many years. What started as a class assignment has grown heads and tails to become a passion. His work has gotten celebrity attention (Julianne Moore owns one of his photos), and has been on display at some of the trendiest locale hot spots in New York City. He even has a book of celebrity dogs  featuring the dogs of Bruce Weber, Sigourney Weaver, and Marc Jacobs among many others.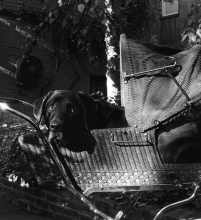 His photos have an international flair, as many are set in the warm climates of Mexico, Spain, Turkey and Greece. And then there's France. What can we say? Any dog lover knows that France is a dog's best friend, and as Salah spends his days in the fashion industry, Paris finds its way into many backgrounds of his pampered pet photos.
Practicing his technique on friends' dogs took a backseat two years ago, when Kamil got Molly, a miniature Dachshund, who has become a favorite subject of his work. He takes her everywhere with him, from New York movie premieres, restaurants and swimming lessons, to (but of course) fashion weeks all over the world. Enjoy a little taste of Salah's work, ending naturally, with his best dog and friend.
For the Best that Pet Lifestyle and Animal Welfare has to offer follow Wendy Diamond on Facebook, Twitter, and right here at AnimalFair.com!
Comments
comments