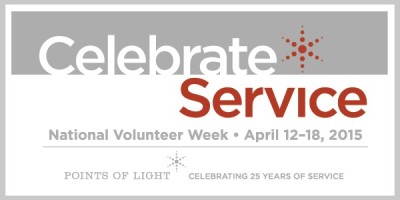 We hope you  supported National Volunteer Week this week!  Established in 1974 by Points of Light, an organization dedicated to volunteer service, this inspiring week has become an annual tradition to remind people how rewarding it can be to give back to your community. However, this does not have to be just one week a year! Setting aside a few hours to volunteer in your community every week, or even every other week can keep that warm and fuzzy feeling of giving back going all year long.
Here is a list of 5 tips to get you started on being the best volunteer you can be:
Find a cause or service that you are passionate about. Do you love helping animals? Look into volunteering at your local animal shelter or even fostering an animal in your own home. Are you committed to helping feed the homeless? Contact your local homeless shelter or soup kitchen to see how you can become involved! Simple Google searches can reveal a large number of opportunities in your area.
Have a special skill set to share with others? Utilize this talent when giving back! Perhaps you are talented at organizing large groups of people or events? This skill set can be a great advantage to many groups looking to fundraise that would be happy to have this expertise on board!
Consider the time commitment you have to offer, and align your volunteering with your availability. If your schedule is jam-packed, it may be helpful to look into opportunities that only require a monthly commitment, possibly in the form of event attendance. Do you have a lighter schedule? Many organizations require a weekly commitment minimum, which your schedule just might be able to accomodate!
Encourage your friends and family to join you! The saying goes, "time flies when you're having fun," so why not bring this fun to your volunteer work? Bringing along friends and family, or making friends along the way, is a great strategy to make your volunteer work more enjoyable, as well as expanding the impact you have by recruiting more members.
Research the opportunities in your area and get started today! Below are some helpful tips to get you started on giving in your community! Check out these websites to find local opportunities or volunteer centers in your area, such as:
pointsoflight.org – Points of Light can help you find a volunteer center in your community to get started
serve.gov – United We Serve is President Obama's nationwide service initiative that can equip you with the tools you need to become involved
volunteer.gov – Find natural and cultural volunteer resources all over the country
humanesociety.org/community/volunteers/ – The Humane Society of the United States can help you to find volunteer opportunities specific to your state/city
While National Volunteer Week is important in motivating people to get involved, it functions as a great reminder that there needn't be a special occasion for us to contribute to our communities! Hopefully this event has inspired many to check out the resources necessary to start giving back in your neighborhoods.
Comments
comments