Everyone is tempted to share pizza with their pup. But don't do it!
We all know that dogs shouldn't eat chocolate, but what in pizza could be so bad? It's really just dough, tomatoes, and cheese (delicious, delicious cheese), right? Almost. Even though all three of those ingredients are perfectly fine for dogs (assuming your dog isn't lactose intolerant), pizza isn't.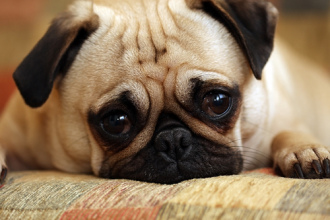 But if problem isn't the dough (though uncooked dough is another no), the tomatoes, or the cheese, then what is it? Well, we all know that if pizza really was just dough, tomatoes, and cheese it would be pretty dull. No sauce? No toppings? No, thank you! But that is just the problem. The sauce and the toppings are just where the danger lives,  and the reason we can't share this tasty treat with our favorite pals, when we hang out.
The issue with pizza is something familiar to cinema vampires everywhere – garlic! Garlic and onions contain thiosulfate, a chemical compound that our poor pouches just can't digest. In large amounts it can even hurt or kill your precious furry baby. To make matters worse, onions also contain allyl propyl disulfide, which can permanent damage to your dog's red blood cells, causing anemia and oxygen deprivation. Onions can also cause dermatitis and liver damage. All this on top of the fact that the amount of fat in pizza is bad for puppy's tummy!
Don't worry though, just because your dog can't eat human pizza doesn't mean you can't chow down together! There are lots of recipes for dog friendly pizza treats (like this one – http://www.wfla.com/story/23474792/daytime-pizza-for-dogs) and if you're not so culinary minded, don't worry, just keep a treat on hand, your darling definitely won't mind!
For the Best that Pet Lifestyle has to offer follow Wendy Diamond on Facebook, Twitter, and right here at AnimalFair.com!
Comments
comments