Rejuvenate in dog-friendly Northern California!
If you're looking for a vacation destination, look no further than Northern California. There's something there for everyone (and their dog!): breathtaking views of parks like the Presidio and the Golden Gate Bridge, delicious and indulgent wines at some of the world's best vineyards, luxurious hotels that you and your pup can put your feet up at, and plenty of opportunities for exercise on beautiful hiking trails and mountains. In short, what's not to love?
Winter, spring, summer or fall, Northern California truly has it all. In 2010, U.S. Census Bureau population data estimated that the dog-friendly locale's population swelled to 14.5 million people with 7 million of those people living in the Bay Area. But while a permanent cross-country move can seem drastic, a weekend getaway is exactly the opposite.
Throw yourself a bone and pack up your puppies—adventure awaits!
Hike All Morning and Drink All Afternoon in Napa Valley
Temperatures in Napa Valley can range from the mid-70s to over 100 degrees at certain points of the year,  so your hike may get sweaty at times, but the view that you and your pups will see will certainly make up for it. Let Bowser and Brutus lead you on the 7.6-mile loop of the Sugarloaf Mountain Trail that begins inside the Skyline Wilderness Park. You'll witness the full range of Mother Nature's bounty, from grasslands to lakes to mountaintops, as well as wildlife.
Details: Skyline Wilderness Park, 2201 Imola Avenue, Napa, CA 94559. From the intersection of Imola Avenue and Soscol Avenue/Highway 121, proceed east on Imola Avenue. The entrance to the park is over a mile down the road on the right. Bring excess water and wear long pants.
When water can no longer quench your post-adventure thirst, it's time to switch to wine.
Bounding up to greet you when you arrive at Peju, one of Napa Valley's family-owned and sustainably farmed vineyards, is not an overeager owner; it's Cassis, the winery's year-old Newfoundland puppy.
She has a sweet patch of white fur on her chest and a penchant for hanging around the tasting room, where she and your furry companions can play while you enjoy music by the quirky musician Alan Arnopole (he raps… and yodels!) and sip Peju's decadent Cabernet Sauvignons, Merlots, Cab Francs, Sauvignon Blancs, and other blends from their four estates.
Details: Peju Province Winery, 8466 St. Helena Highway, Rutherford, CA 94573. Open 10am to 6pm daily. Reservations unnecessary for parties fewer than seven people.
Now, maybe your pup has an eye for pointillism, or maybe you're in the mood for more wine. No matter the reasoning, your visit to Napa would be incomplete without the Wine and Art Exploration Experience at HALL Wines' St. Helena location. On par with the state's conservation efforts, HALL Wines St. Helena was the first winery to become LEED® Gold Certified in California in 2009, and just three years ago was awarded another LEED® Gold certification for its advanced production facility and tasting room.
That's where you'll try their artisanal Cabernet Sauvignon while learning about and viewing the dramatic artistry of influential masters like John Baldessari, Ivan Navarro, Nick Cave, and others. Owners Craig and Kathryn encourage visitors to bring puppies along to view their expansive private collection of artworks.
Details: HALL Wines, 401 St. Helena Highway, South Street, Helena, CA 94574. Wine and Art Exploration Experience tours at HALL Wines' St. Helena location occur every Sunday at 11am, for $40 per person. The art collection is curated by Shore Art Advisory's Virginia Shore. Reservations unnecessary for parties fewer than seven people.
Leaving Napa Valley—with or without a hangover—doesn't have to be entirely disheartening. Bring the wine country home, or maybe onto the next leg of your travels, when you buy bottles from ONEHOPE, a commerce company extension of the ONEHOPE Foundation that strives to impact the community and greater good with proceeds earned from products sold.
By selling wine, gifts, coffee, and more, ONEHOPE has aided in 33,050 animal adoptions, among their other tremendous efforts. Knowing that your purchases help pooches is an indescribable feeling, one that parallels the combination of sunlight and sipping in Napa Valley that is sure to be inscribed into memory. Maybe by the time you return on your next trip, ONEHOPE's vineyard estate, currently under construction, will be open and ready for your enjoyment.
Details: www.onehopewine.com; prices vary.
Pal Around with your Pups in Mark Zuckerberg's backyard!
The cozy family- and dog- friendly community of Los Altos, a mere hour and a half drive from Napa Valley, feels like home even to the most distant of newcomers, travelers, and furry friends. Facebook's founder lives in the city with his wife, baby, and Hungarian sheepdog named Beast.
Ten minutes up the road is Silicon Valley, the heart of the tech industry in the United States. You and your pup can see all the new gadgets at Facebook, Google, Apple, and many more!
Exercise the day away by exploring the Rancho San Antonio Open Space Preserve, where 24 miles of hiking trails and a working farm await.
Details: Rancho San Antonio Open Space, Cristo Rey Dr, Los Altos, CA 94022. (650) 691-1200.
Then, when exhaustion calls, the dreamy Enchanté Boutique Hotel is a relaxing sanctuary in the technology hub of Silicon Valley. The Parisian-style chateau is equipped with a luxurious library and gourmet menu in its own Campagne One Main Bistro, as well as a plethora of dog-friendly services and rooms.
After wagging their tongues out the car windows down the Pacific Coast Highway, your pups will be pleased by the Enchante's specialized canine concierge, stocked with treats and other slobbery surprises.
Details: Enchanté Boutique Hotel, One Main Street, Los Altos, CA 94022. (650) 946-2000. Complimentary breakfast provided.
See It All in San Francisco
There's Alcatraz; the Coit Tower; the cable cars; the Painted Ladies; and the Fisherman's Wharf… But the best way to see San Francisco is with leashes in hand, experiencing the city with your best furry friends.
The city's hotspot to frequent is Presidio, the National Park at the Golden Gate. Hikes offering gorgeous views of the structural landmark and the sprawling water of Mountain Lake beckon owners and their dogs alike with endless activity and possibility of meeting new, paw-some friends.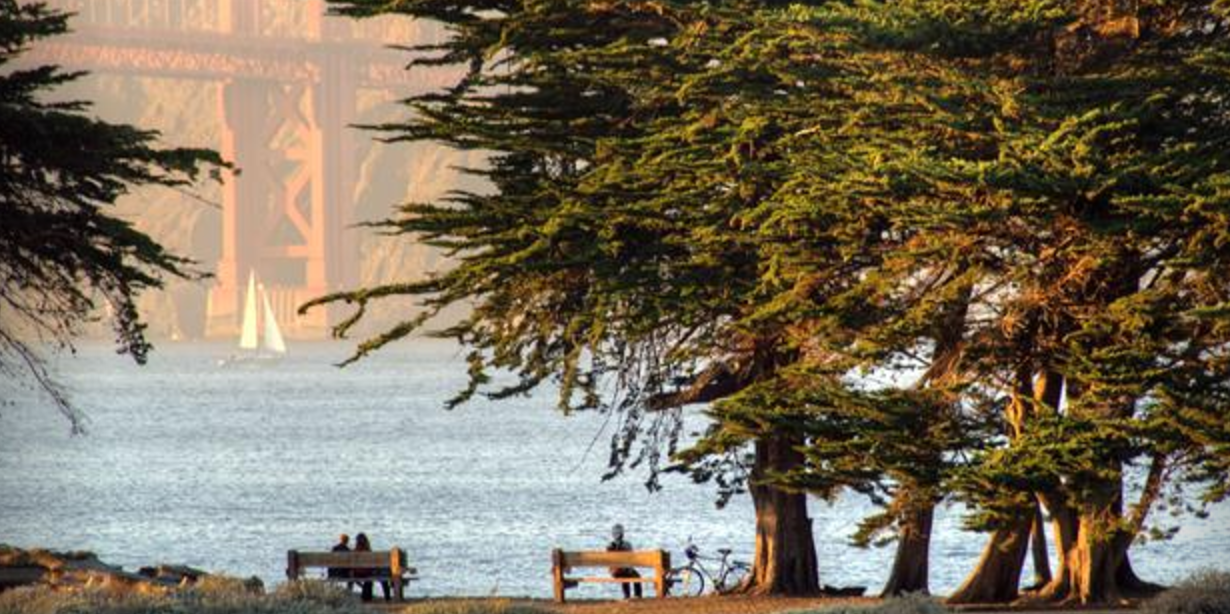 Winding walks like the Golden Gate Promenade/Bay Trail connect the Marina district to the Golden Gate Bridge in a 4.3-mile stretch, where Brutus and Bowser can sniff the wildflowers and splash in the wetland.
Details: Click here!
If you haven't gotten enough outdoor time with your pups, take them out to Crissy Field to see some perfect panoramic views and give your best furry friends some much beloved beach time. The area is famed for being an off-leash heaven for dogs, though the running trails require them to be on leashes – we wouldn't want Bowser accidentally running into someone training for a marathon!
Details: Click here!
Continue your authentic adventure by unwinding at the Inn at the Presidio, where doggies are welcome to roam in the natural beauty of the historical elegant architecture.

22 spacious rooms, including 17 suites with fireplaces, are housed in a Georgian Revival-style building restored from its original use as part of the area's former U.S. Army post. Walking distance from every attraction, this hotel is the perfect place to call home base when looking to see a different side of San Francisco. No doubt, Bowser and Brutus will feel right at home on the communal pet porches and in their comfy Inn-provided dog beds.
Details: Inn at the Presidio, 42 Moraga Avenue, San Francisco, CA 94129. One time $40 cleaning fee if you bring your furry friends.
We promise you and your pup will enjoy Northern California!
For the Best that Pet Lifestyle has to offer follow Wendy Diamond on Facebook, Twitter, Instagram, and right here at AnimalFair.com!
Comments
comments