Right as we're all shaking off the winter blues, we jump headfirst into the excitement that is March Madness! The highly anticipated college basketball tournament has people everywhere making brackets and betting on who will be top dog. Although we aren't experts on basketball…. we can bet on one thing for sure: Watching the tournament with your dog will be a slam dunk!
The Most Loyal Com-paw-nion of All!
We've all been that friend that has spent time with an adorable couple and felt a little… well…  awkward. No one likes third-wheeling. Your dog is guaranteed to love you more than anyone on the planet and all your friends will be jealous of your unconditional love and cuddles. Snuggle up!
Howl for the Foul Shot!
Your pet will always woof for the same team as you, so no need to worry about annoying fans of your rivals getting on your nerves. Sit in anticipation as the ball goes around.. and around the rim…. SCORE!
Nothin' but Net! Cheer With Your Pet!
Lots of sports fans get really involved with the game. We can practically feel the court shake with the steps of the all-stars (good thing we can't smell them!). Whether it's an injured player, a missed shot, or worst of all, a lost game, our pets will always be there to give us a furry hug when we get stressed out or upset. Feel free to cuddle 'em in celebration, too!! Research shows that petting dogs releases a hormone called oxytocin which lowers stress levels and generally makes people and animals happier.
Raise the Ruff – Let's Paw-ty!
Feel like going out with your not-so furry friends? Take Fluffy or Scruffy or Spot along for the ride!! Every year, more and more restaurants and bars are becoming dog-friendly, so your partner-in-crime is welcome to share in on the excitement, if they're a social pup. Make it a fun time for all of you!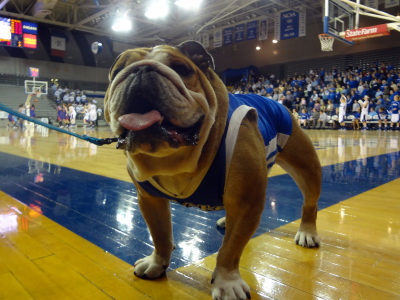 Life's Ruff.
Let's be honest here… we don't want to put in the effort every day. Slip into your basketball shorts and your favorite old t-shirt! Your dog won't judge you and you don't have to worry about cleaning up your living room for human guests. Give your pooch a high-five (or four…) and jump on the sofa! After all, the only thing you need is each other!
Get Your Snout in the Game!
Once the game is over, your pup will always be up for a workout with you. Get out and exercise! Where's your team spirit? A healthy pet is a happy pet!
If you find yourself dogless, consider becoming a puppy parent today! There are tons of animals out there that need to be rescued, and you might be the lucky one to do it!
For the Best that Pet Lifestyle and Animal Welfare has to offer follow Wendy Diamond on Facebook, Twitter, and right here at AnimalFair.com!
Comments
comments