Winter vacation is coming up, and you're sick of the lack of snow- all you want is a WHITE Christmas this year. You decide you want to travel someplace cold for the holidays to guarantee your dream holiday; but you're not into skiing or snowboarding. You don't travel the world to try the different foods… You travel the world to see the different animals. So where should you go?
One word: Iceland.
After all, the name itself implies that it is the land of Ice. And it is, especially in the winter and early spring months, the country is particularly frigid due to not actually the temperature itself, but instead the insanely strong, whipping wind.
That doesn't sound too pleasant, I know. But you're in it for the animals, and the things you'll see and experience, not for a chance to lay in the sun on the sand. Anyone who's been there will tell you; no matter the season you go, it's worth it.
One of the most important factors is that the country is famous for having some animals that you can't find many places:
1) Whales
There are many different species of whale that travel through the fjords; most commonly the minke and humpback whales, and different porpoises and dolphins. However, if you're like me and want to see the world-renowned orcas, you can find them here as well. Orcas most commonly swim through the fjords in the winter months, while humpbacks are porpoises are easier to find year round. There are many whale-watching trips that will take you out to find them, and the great part is, that once you do, these aquatic beauties take an interest in you too. Many times the whales and dolphins while approach and circle boats to study the passengers on board with the same curiosity that you have in them.
2) Reindeer
The reindeer originally were imported from Norway to Iceland in the 18th century. There are about 3,000 wild reindeer living in Eastern Iceland. You can drive through the countryside there and witness herds of them running in the distance. Additionally, certain towns have tour companies that will take you out to see the deer, as well as educate you about them. Now, who doesn't want to see Santa Claus' favorite form of transportation?
3) Arctic Foxes
This brilliant creature actually changes the color of its fur depending on the season; brown in the summer, and white in the winter. Their population is thriving since the foxes were actually living there since before the time of the Vikings. There's an Arctic Fox Center in Suoavik, which is cozy and houses a museum about the foxes in the area. Many wildlife trips will also look for these illusive animals.
4) Icelandic Horses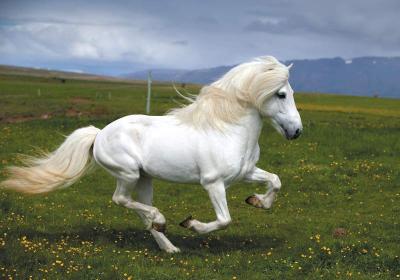 This breed of horse is pure and rare, mainly because it is illegal to import any foreign breeds to the country. Believe it or not, it's also actually illegal to bring an Icelandic horse back to the country once it has been abroad. This type of horse is famous for the fact that it has 5 gaits, rather than 4. The tölt, is pretty much just a really smooth version of a trot. Vikings would use it to travel long distances since it's the most comfortable gait a horse can have. You don't have to be an avid equestrian to try these special horses out; many horses are trained to be calm and 'trail-ride friendly', so that tourists can go for a leisurely lope down the beach.
5) Puffins
Puffins are a fluffy little kind of bird with black and white feathers and a signature colorful beak! There are 3 kinds of puffins, but the Atlantic Puffin is the one you'll see in Iceland! They love the ocean and they stay mainly by the water. Iceland is the very best place to see these cute, fluffy fellas, as there are ten million puffins living there: the most out of any country in the world. If you want to be sure you'll see these majestic birds, take the Puffin Watching Tour in Reykjavik. They see puffins every time they go out looking and the fun and beautiful boat trip is just a bonus!
If you do your research online, you'll find that the typical 'tourist season' for Iceland is the summer. This is for good reason; Icelandic winters are harsh and frigid. The summers, however, are gorgeous, with all the volcanoes covered in green and the birds openly flying through the sky. However, it depends upon what you would travel there for. Many travelers go there for the killer whales and the Northern Lights; both of which are optimal during the winter, despite the frigid weather.
The Northern Lights are one of the most spectacular things you could ever hope to see. Like something from a dream, colors swirl around your head and into each other like an intricate dance.
Here are some companies that offer wildlife experiences in Iceland:
Discover the World – Killer whale and Northern lights based trips.
Wildlife Iceland     – Embark on bird, whale, or wildlife watching tours.
NatureTrek    – Search for multiple species of birds, whales, and other animals, along with the Northern lights.
Holmur Reindeer Trip – Witness reindeer in their natural environment during the fall, winter, and spring.
 Iceland Encounter  – Search for the Arctic Fox while still experiencing other animals in the wild.
But where would you stay? We have a few pet-friendly places!!
Room with a View Luxury Apartment Hotel – No matter what you're looking for, you can find it here. Located in the beautiful city of Reykjavik, Room with a View is in a beautiful, centric location, and traveling with animals is no issue!
Hótel Grímsborgir – This deluxe hotel has a variety of rooms available. It's only 45 minutes away from Reykjavik, there is plenty to do and explore within the Golden Circle. Don't forget to gaze out your window at night – the Northern Lights are visible from here! The owners of this hotel are very friendly and chatty and they'd love to help you find activities to do that day such as b=horseback riding or swimming!
Go explore the magical place that is Iceland with your pooch! It will be like you're transported to a whole other land, and who better to adventure with than your four-legged friend?
For the Best that Pet Lifestyle and animal welfare has to offer follow Wendy and Lucky Diamond on Facebook, Twitter, and right here at AnimalFair.com!
Comments
comments