Wendy Diamond and the entire Animal Fair Media team are truly brokenhearted to hear that Gourmet Advisory Services Founder, Legendary Wedding Planner, and Animal Rescue Supporter Harriette Rose Katz died. For over 40 years Harriette was recognized as a NYC event industry pioneer and powerhouse entrepreneur. She was a lifelong animal enthusiast, and a dear friend.
We are sending our deepest condolences to her entire family, including daughter Melissa Rosenbloom and niece Claudia Warner, both worked closely with Harriette for over 25 years at Gourmet Advisory Services, and will carry on Harriette's event planning legacy and torch.
The Wall Street Journal crowned Harriette, "The Queen of Top-of-the-Line Social…"
When Harriette heard that Animal Fair Founder Wendy Diamond's Maltese Lucky Diamond was diagnosed with canine spleen cancer, she didn't hesitate to pick up the phone and console Wendy.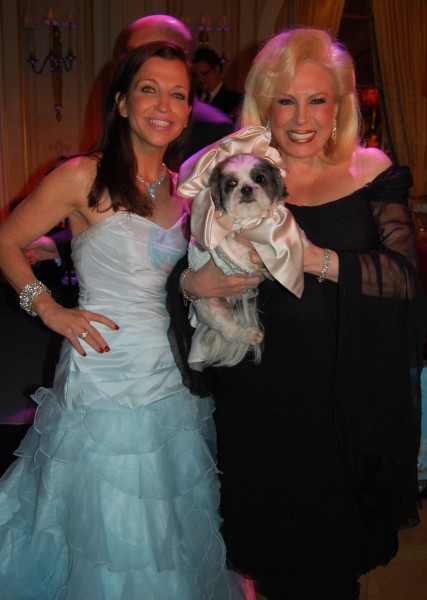 They decided to plan a spectacular celebration of Lucky's life that turned into a pet wedding for Wendy's new Coton de Tulear rescue Baby Hope, as a fundraiser honoring her late Maltese Lucky and benefitting the Humane Society of New York. Harriette graciously volunteered her time, connections, and resources to make MAGIC happen! As only the iconic event pioneer could!
The wedding took place on July 12th, 2012 at Manhattan's legendary Jumeirah Essex House Hotel on Central Park.
Harriette put together a world class wedding planner dream team including:
Bentley Meeker, lighting guru, who has been showcased at both the MoMA and Guggenheim created the magical ambiance.
Fancy That created and design a one of a kind pawprint in honor of Lucky to be placed on our programs.
Watch this video of Triumph the Insult Comic Dog Officiating The Wedding:
The one and only Triumph the Insult Comic Dog brought the house down in laughing tears officiating this one of a kind wedding.
The savory reception was catered by Jumeirah Essex House Chef Nate the James Beard Award recipient, along with Sushi Chef James Chung from Ichiban Sushi. Les Compagnons dog inspired wine was flowing throughout the night!
The Lucky inspired Wedding Cake was designed by the one and only TLC's Cake Boss Buddy – They also aired the wedding on his show featuring the effervescent Harriette and Wendy (and ofcourse Baby Hope)!
Halo, Purely For Pets, co-owned by Ellen DeGeneres provided an all natural pet food buffet for all our four-legged guests! Halo won the first ever National Canine Cancer Foundation Seal of Excellence for their pure and healthy pet food.
World renowned Dog Designers Roberto Negrin and Anthony Rubio created one of a kind Designer wedding Flower Dog outfits as well as Roberto lavished Groom Chilly's Tuxedo outfit!
Couture designers Michelle and Henry Roth created Baby Hope's spectacular wedding dog gown valued at $6,000!
The wedding had a fuchsia theme, with flowers for the wedding designed by Floralia Decorators at the Waldorf Astoria, whose clients include Kathy Hilton, Sony Music, USA Films, and even former President Bill Clinton!
The Hank Lane Orchestra, a seven piece orchestra who has provided entertainment for the American Ballet Theater's Spring Gala, performed for the guests, along with renowned jazz trumpet player Dominick Farinacci. Opera and pop singing sensation, Nathan Pacheco (compared to Andrea Bocelli) wowed the event attendees with his vocal performance. And they kept their promise and the music was low for those with dog ears!
Thanks to Harriette's vision, efforts, philanthropy, and generosity – AnimalFair.com's Most Beautiful Pet Wedding in History honoring Lucky Diamond's Life & Legacy was a huge success! We won the Guinness World Record for "The Most Expensive Pet Wedding In History" with a total of $158,187.26! All total the amount was over $275,000 all donated by the most amazing Wedding Dream Team! This was a SUCCESS – Proceeds of this extraordinary benefit supported the Lucky Diamond Critical Care Ward at the Humane Society of New York to support people who can't afford critical care for their pets!
Wendy Diamond's heartfelt words, "Heaven is lucky to have you Harriette, and we can only imagine all the entertaining and otherworldly events you'll be planning for the all two-legged and four-legged blessed guests… Thank you Harriette for the special and unforgettable memories you created for so many of us throughout the years."
For the Best the Pet Lifestyle, Travel and Animal Welfare has to offer follow Wendy Diamond on Facebook,Twitter, Instagram and right here at AnimalFair.com!
Comments
comments