Canines and coffee – doesn't get better than this! The Dog Café in Los Angeles is the bark of the town! This breed of café is the first to serve up coffee and dogs ready for adoption to animal lovers.
The Dog Cafe's Mascot – Sharkie
Owner and animal rescue advocate Sarah Wolfgang worked with animals for over 15 years mostly in Korea, where dog-adoption friendly cafes are all over the place. The Dog Café is serving now but the grand opening is on April 7th!
The Dog Café is where canine customers order specialty dog-safe coffees and teas, and also offers a lounge where pooch patrons are free to interact with animals after signing a waiver and paying a fee. Hopefully they fall in puppy love and foster or adopt a dog in need of a loving home, over a cup of coffee….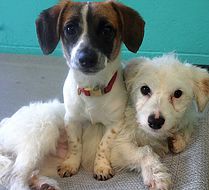 Adoptable Bart & Lisa –  The Dog Cafe's Pups
View this link of The Dog Café dogs up for adoption!
Wolfgang howled about her venture as "a cool community center" that's "part coffee shop and part dog lounge."
Check out this video of Sarah Wolfgang talking about her new café where dogs can be adopted!
The Dog Café Grand Opening: April 7!
240 N. Virgil Ave (Unit 13)  
Los Angeles, CA 90004
Where Virgil Ave., Silver Lake Blvd., and Temple St. meet!

213.810.2872
For the Best that Pet Lifestyle has to offer follow Wendy Diamond on Facebook, Twitter, and right here at AnimalFair.com!
Comments
comments